Jeremy Hunt unveils plan to fine doctors who move abroad after training
New recruits must dedicate four years to the NHS - or face paying back some of the £220,000 cost of medical school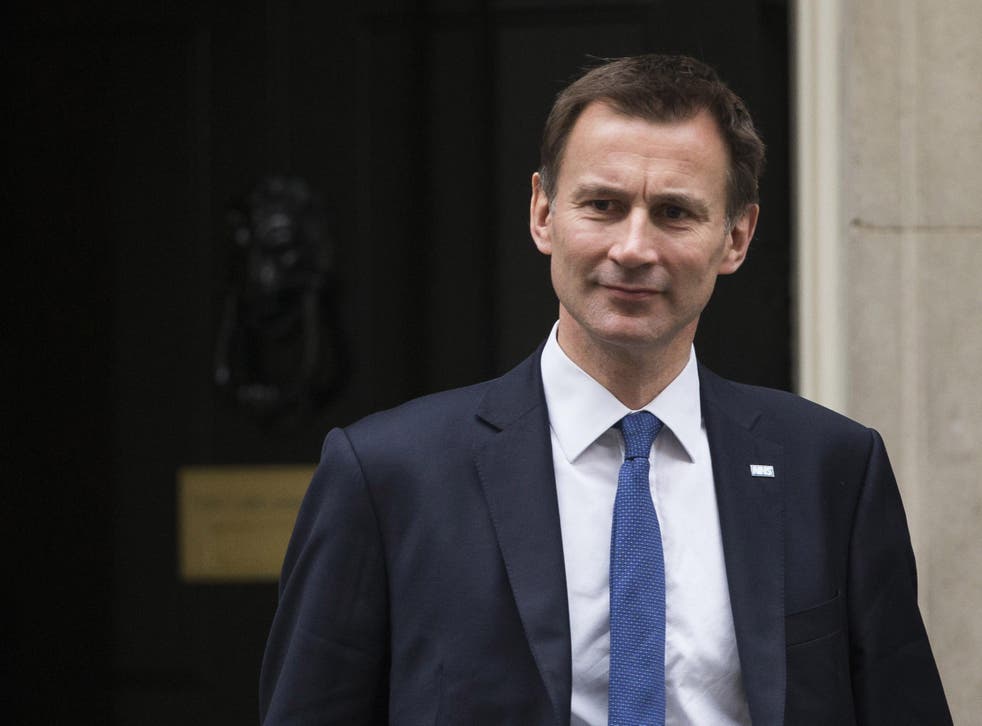 Junior doctors could be fined if they move abroad soon after finishing their training, under controversial plans to tackle the NHS recruitment crisis to be unveiled today.
Jeremy Hunt will risk a fresh clash with the medical profession by vowing to punish new recruits who flee the UK for countries such as Australia, Canada and New Zealand.
The Health Secretary – who will announce a £100m plan to train an extra 1,500 doctors a year – will demand greater loyalty to the health service in return.
Those recruits will be required to work for the NHS for at least four years after graduation, or be forced to repay some of the £220,000 bill for their training.
A source told The Independent: "We are announcing a commitment to fund many more home-grown doctors. What we want is for them to guarantee us a period of service in the NHS in return.
"It's people who are trained at the taxpayer's expense and then very quickly move abroad – that's what we are trying to disincentivise.
"It costs £200,000 to train every doctor, so we think it's reasonable to expect that the NHS will benefit from that investment."
But the move was immediately criticised by the British Medical Association (BMA), which said Mr Hunt should tackle the underlying reasons for doctors opting to move abroad, or to quit.
Theresa May accuses junior doctors of 'playing politics'
They were longstanding "chronic staff shortages", particularly in emergency medicine and general practice, fuelled by the anger provoked by the imposition of the new junior doctors' contract.
Dr Mark Porter, the BMA's council chair, said: "The Government must tackle the root causes of this workforce crisis and the reasons why so many UK-trained doctors are considering leaving the NHS, rather than forcing doctors to stay in the health service.
"Demotivated, burnt-out doctors who don't want to be in their jobs will not be good for patients."
And the Nuffield Trust, an independent health charity, also suggested Mr Hunt should be addressing the "morale problem" in the NHS.
Nigel Edwards, its chief executive, said: "We need to be looking closely at why we are losing skilled doctors to other countries, rather than compelling them to stay."
Up to 5,000 doctors are believed to leave the UK every year, attracted by much-higher pay, a lower cost of living – and no out-of-hours work, in some cases.
The Department of Health will consult on exactly how to punish newly graduated doctors who emigrate in future, but the model will be the existing "return of service" commitment in the armed forces.
Fighter pilots, who each cost around £4m to train, must serve for 12 years before they can "buy themselves out" and take up lucrative private-sector posts.
It is unlikely that new doctors will be forced to work four consecutive years in the NHS, to avoid trapping part-time staff – or those who opt for charitable work overseas.
In his conference speech, Mr Hunt will announce his intention to scrap the current 6,000-a-year cap on students at medical schools, with extra places available from the 2018-19 academic year.
That cap currently forces universities to turn away half of applicants, he will say – at a time when hospitals expect to have to look after one million more over-75s within the next five years.
The idea is to end the UK's reliance on doctors from overseas. One in four of the medical workforce has moved to this country – "often taken from developing countries who need them".
Mr Hunt is also determined to reduce the NHS's use of expensive agency staff, after hospitals ran up a £3.3bn annual bill, including £1.2bn on medical locums.
He will tell the Conservative Party conference: "We need to prepare the NHS for the future, which means doing something we have never done properly before: training enough doctors.
"Currently a quarter of our doctors come from overseas. They do a fantastic job and we have been clear that we want EU nationals who are already here to be able to stay post-Brexit.
"But is it right to import doctors from poorer countries that need them, whilst turning away bright home graduates desperate to study medicine?"
Mr Hunt will acknowledge it will take several years to fully train the new doctors, but will set a target to make the NHS "self-sufficient" by 2025.
But Diane Abbott, shadow Health Secretary, said that target was "nonsense", with the NHS in a "perilous state" and facing demands for huge efficiency savings.
She said: "The reality is that Hunt has lost the trust of the medical profession and is the least popular health minister in recent history.
"Morale amongst NHS staff is at rock bottom and Hunt has shown once again just how little regard he has for the hard-working people that keep our health service running."
Join our new commenting forum
Join thought-provoking conversations, follow other Independent readers and see their replies