John Bickley: Ukip candidate for Oldham by-election poses a real threat to Labour's heartland
Ukip's candidate explains why voters are turning away from Labour after the leadership's response to the Paris attacks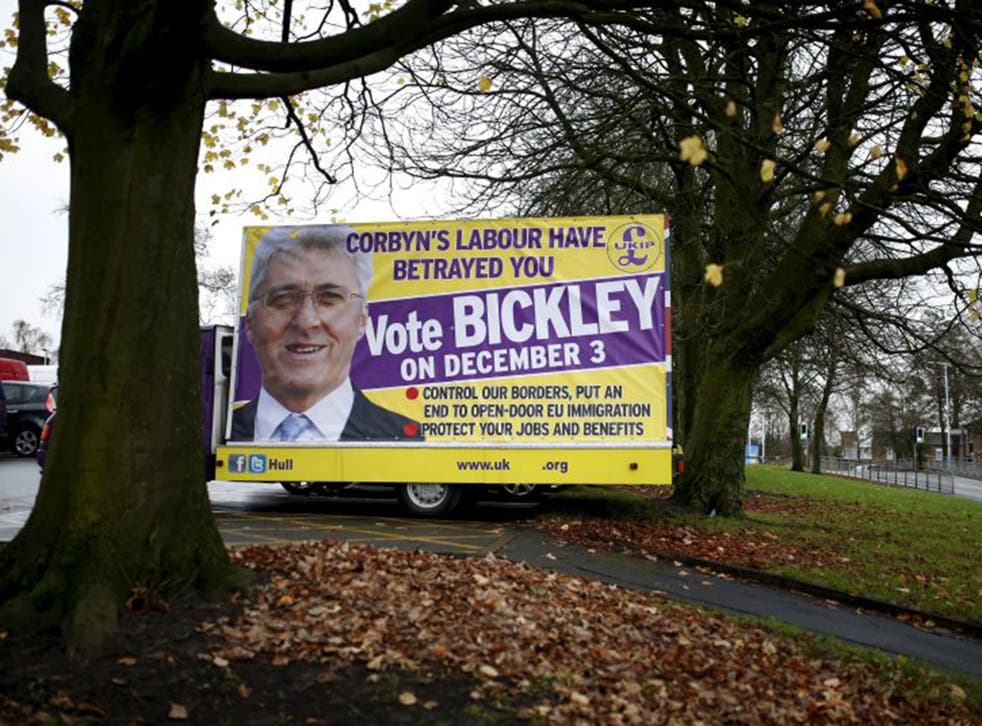 The long campaign of non-precision mail strikes that has rained down upon Oldham West and Royton during the past four weeks is clearly having no effect, yet at 23.32 on 26 November, the Labour Party reversed its decision to commit sandals on the ground.
It's possible that it was the biggest crisis of his leadership so far that prevented Jeremy Corbyn from spending his day knocking on doors in the less desirable end of Oldham, but winning the top job didn't make him cancel his address to the North Islington Nuclear Vegans Club, so something must be amiss.
To their credit, the people of Oldham gave off no signs of being upset that the leader of the Labour Party would not be coming after all.
They know as well as anyone that these are unprecedented times. For almost a hundred years they have lived under a one-party state. In May, despite the nationwide collapse of Ed Miliband's party, long-serving MP Michael Meacher (who passed away in October) increased his majority here to 14,738.
Now, it's clear, there is a refugee crisis, and for once it is Ukip activists tearing down the floodgates. As locals made their way from Friday prayers at the Werneth House Islamic Centre, they found a short wall of purple rosettes waiting for them, and the outstretched hand of John Bickley, the Ukip candidate in Thursday's by-election, which will be far closer than anyone might have dreamt possible not all that long ago.
According to Labour's own polling, a 15,000-majority could come down to as little as 1,000. A less overtly political source, the bookies, have brought Ukip's odds down from 20/1 to 2/1.
"Looking at the Labour Party now, it looks like a reverse version of Spitting Image, but with real people," Bickley says. "It's as if someone is deciding, 'Who's going to write the script today, that's completely unbelievable.' Except it's really happening."
Beforehand, the Ukip team briefly worked out a strategy of sorts, with the help of a local Muslim council candidate. "I will explain we are not racist," he said. "Then I will bring them to you." But it was hardly needed. Several people happily stop to chat, nodding along seemingly in agreement with the same old messages: that Labour doesn't represent the working-class any more; that mass immigration isn't a race issue, and so on.
"Three weeks ago, I thought, 'This is as safe as it comes for Labour,'" Bickley says. "Now everything's changed. We're in with a shout. The response of the Labour leadership to Paris has changed everything. If I was to win this next week, Corbyn will not last long.
"If Corbyn was here on the streets it would not be a very pleasant experience for him, which probably explains why he's never been here since he launched his candidate. And who can blame him? If I was a Labour candidate, I'd be saying to him, in the nicest possible way, please keep away from Oldham West and Royton. If that's the situation you're in with the leader of your party, you're in trouble."
That candidate, Jim McMahon, 35, the leader of the local council, has had plenty of ground support. Yvette Cooper was knocking on doors on 27 November, as was Chris Leslie, Labour's shadow Chancellor for a few weeks before Corbyn gave the job to his mate McDonnell. Leslie, pointedly, says he responded to the Spending Review by reading not from Mao's Little Red Book of Communism but "from the Big Blue Book of the Office for Budget Responsibility".
"We should be holding this seat just as well as we did in May," he says. But he confesses it has not been an easy day. "A lot of people don't know there's a by-election going on. And there's been a lot of that thing where you walk down a driveway, they see the rosette, the curtains twitch and they don't answer the door.
"Immigration hasn't even been discussed. We haven't addressed ourselves at all to the reasons we lost in May."
Corbyn might not be striding the streets of Oldham – his face is barely on the leaflets – but if the battle is lost, there can be little doubt as to who will be its most high-profile casualty.
Labour 'close to losing seat to Ukip over security fears'
Labour Party internal polling suggests that it is within 1,000 votes of losing the Oldham by-election to Ukip.
Canvassing by activists over the past few weeks has found that swathes of voters who backed Labour in May are preparing to desert the party in the by-election, in what should be one of its safest seats.
Senior figures close to Labour leader Jeremy Corbyn are understood to be "very worried" and fear the party could lose the seat.
Some of the canvassing was carried out before the terrorist attacks in Paris and party staff said Labour's apparent "soft" line on national security had gone down badly in the traditionally working-class area. "People are saying they are not going to vote for us because of it," said one Labour staffer.
The campaign group supporting Mr Corbyn's leadership will bus in Labour activists from major cities across the UKon 28 November to help win backing from swing voters.
Join our new commenting forum
Join thought-provoking conversations, follow other Independent readers and see their replies