Judges 'on side of foreign criminals' says Theresa May as Tories repeat threat to quit human rights convention
Home Secretary said she would end 'abuse' of article 8, which protects right to family life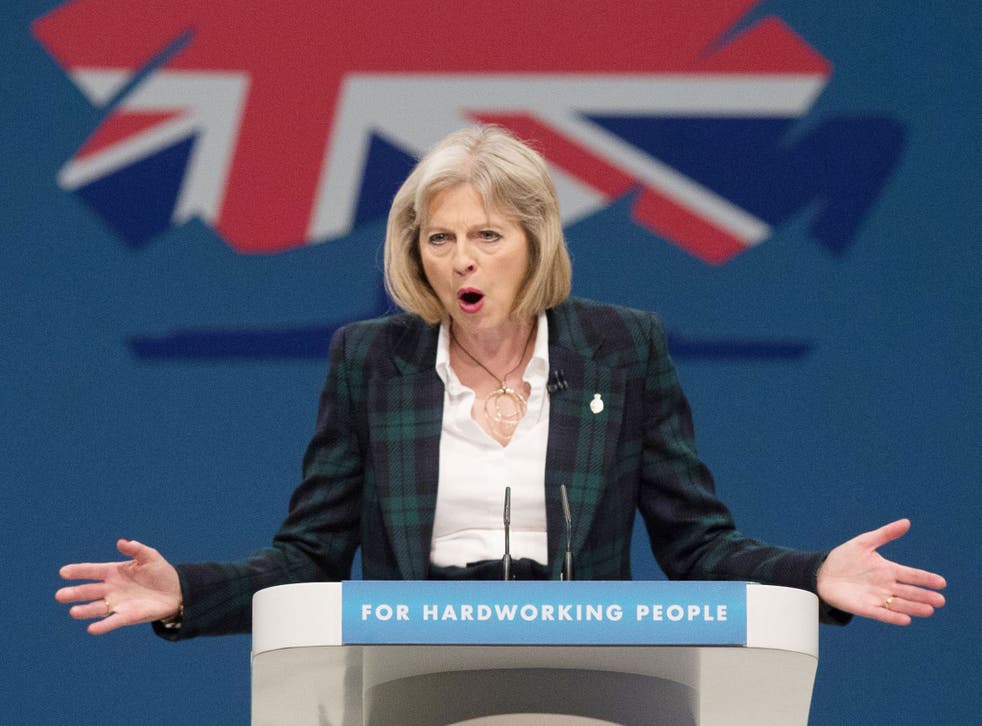 Theresa May mounted a provocative attack today on some judges for being "on the side of foreign criminals" when they interpreted the European Convention on Human Rights in British courts.
Speaking at the Tory conference in Manchester, the Home Secretary reiterated that a future Conservative government would be prepared to quit the 62-year-old convention.
Ms May threatened exit from the ECHR - a move opposed by many within the party - as she set out plans to deport suspected foreign criminals before their appeals against removal are heard.
Mrs May told activists that a commitment to scrap the British Human Rights Act would be included in the next Tory manifesto, but said the party supported leaving the convention if that is what it would take to "fix our human rights laws".
She said a forthcoming Immigration Bill would make it easier to deport illegal immigrants.
The Home Secretary said it would end "abuse" of article 8 of the ECHR, which protects the right to family life.
And in an onslaught on the judiciary, she claimed judges sometimes wrongly treated it as an absolute rather than a qualified right, accusing them of "putting the law on the side of foreign criminals instead of the public".
Mrs May said: "I am sending a very clear message to those judges - Parliament wants the law on the people's side, the public wants the law on the people's side, and Conservatives in government will put the law on the people's side once and for all."
She said: "At the moment the system is like a never-ending game of snakes and ladders with almost 70,000 appeals heard every year.
"The winners - foreign criminals and immigration lawyers, while the losers are the victims of these crimes and the public," she said.
"Where there is no risk of serious and irreversible harm we should deport foreign criminals first and hear their appeals later."
Tim Hancock, the Campaigns Director at Amnesty UK, said: "The drum-beat of threats to scrap human rights protections is deeply worrying, and would seriously erode access to justice in this country."
David Cameron indicated on Sunday that Britain could withdraw from the ECHR and said he would do "whatever it takes" to ensure that Britain can throw out people who pose a threat to the country and have no right to be here.
But Attorney General Dominic Grieve warned that pulling out of the convention could cause the entire system to collapse, meaning countries with poor human rights records would be under less pressure to improve and treaties such as the Good Friday Agreement, which paved the way for peace in Northern Ireland, could be broken up.
Join our new commenting forum
Join thought-provoking conversations, follow other Independent readers and see their replies