Junior doctors: Andrew Mitchell's daughter calls for Jeremy Hunt to go for 'alienating an entire generation'
Dr Hannah Mitchell says she is unlikely  to practice medicine in the UK if the new contract is imposed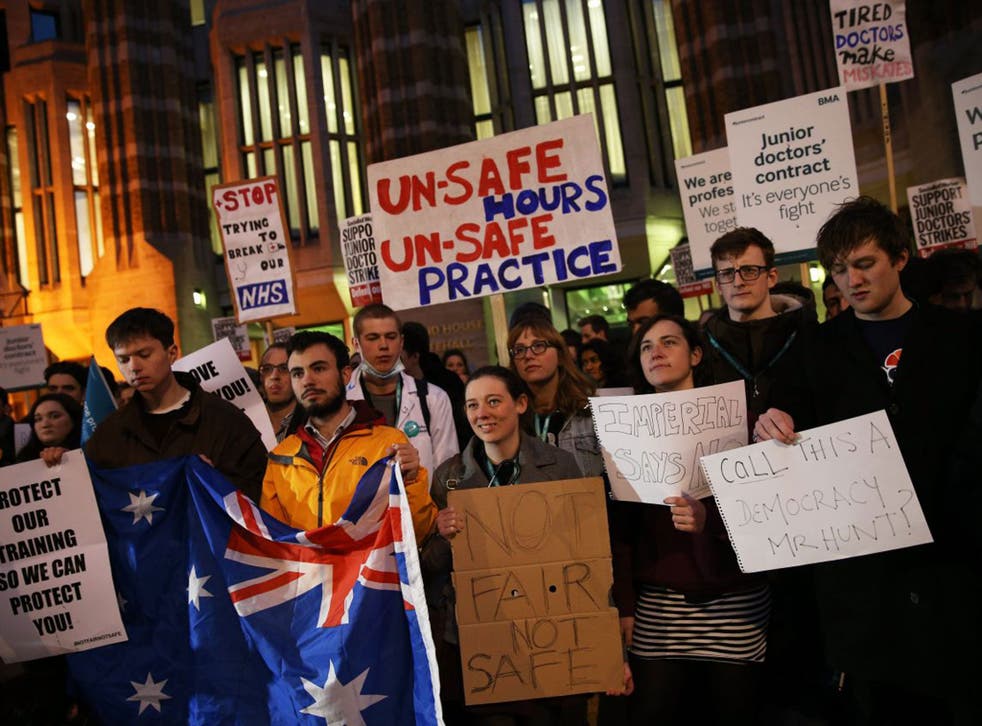 The daughter of former Conservative cabinet member Andrew Mitchell has called on Jeremy Hunt to be sacked for alienating "an entire generation of junior doctors".
In a letter to the Guardian, Dr Hannah Mitchell - a junior doctor currently working on a research project in Botswana - accused the Health Secretary of misusing statistics and "painting [them] as the problem".
She said: "What Jeremy Hunt has managed to achieve is nothing short of spectacular. Health secretaries have come and gone, imposing new measures of varying unpopularity on the NHS but not one has managed to so completely unite doctors in their dislike and alienate healthcare workers across the board in the way he has.
"He says we lack vocation, he paints us as the problem. The morale of the workforce is at breaking point, with [the] imposition [of the contract] the goodwill of doctors who work hours beyond those they are rota-ed and paid to do will dry up."
She said she is likely to seek permanent work in South Africa after he research trip ends and is "unlikely to return to the UK" if Mr Hunt imposes his proposed new contract on doctors.
Mr Hunt announced in Parliament that he will "unilaterally" impose a contract on Thursday after talks brokered by the mediation service Acas broke down.
Junior doctors went on strike on Wednesday in protest at the proposed changes to their terms of employment which will re-define anti-social hours and make it cheaper for hospitals to make doctors work on weekends and evenings.
They say they are already at breaking point in terms of the number of hours they are working and that the changes will affect patient safety by encouraging dangerous shift patterns.
A survey reported by the Independent on Wednesday found that over 90 per cent of junior doctors would leave the profession if the contract was imposed without agreement.
In pictures: Junior doctors protests in UK

Show all 10
Dr Mitchell accused Mr Hunt of "demonising" the British Medical Association - which has led the protests - and said junior doctors had "no confidence" in him so be "must be sacked".
Speaking to the Guardian, her father Andrew Mitchell said there was not "a three line whip in the Mitchell household" and there is "no dad in the country who is prouder of his daughters and the fantastic doctor that Hannah has become".
Mr Mitchell famously lost his cabinet position after an alleged altercation with a police officer outside Downing Street where was accused of calling the man a "pleb".
Join our new commenting forum
Join thought-provoking conversations, follow other Independent readers and see their replies