Just how much is Jeremy Hunt really to blame for the junior doctors' strike?
The Big Question: What the dispute is about - and what both sides want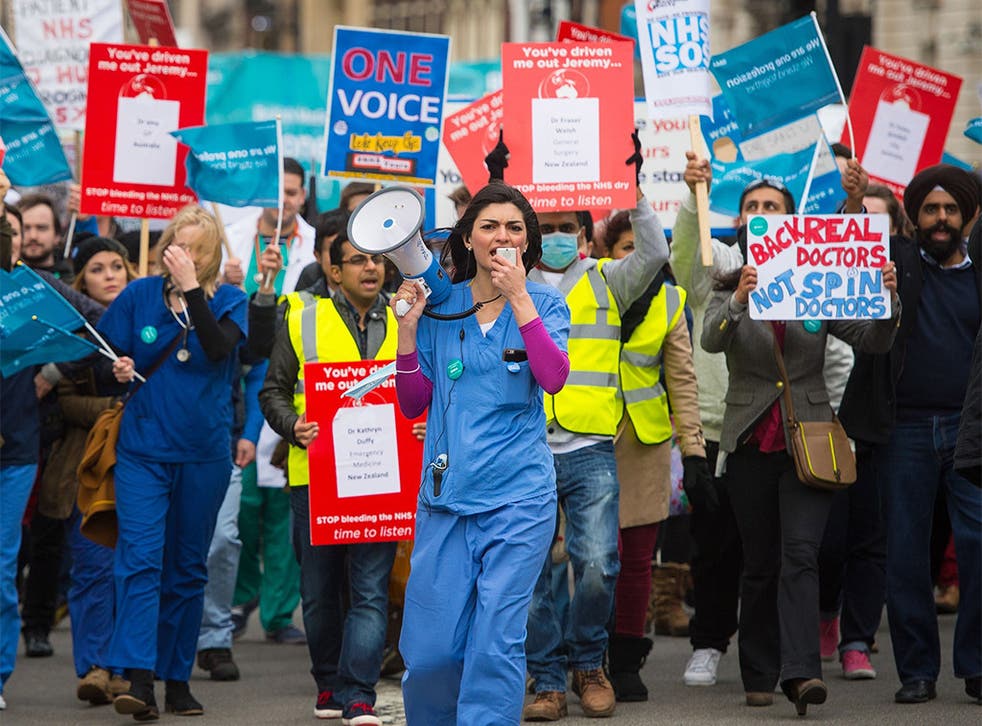 Why are we asking this now?
Junior doctors go on strike on 10 February, for the second time in their long-running dispute with the Government over proposed new contracts.
The role played by Jeremy Hunt, the Health Secretary, in negotiations, has come under ever closer scrutiny. This week sources close to the BMA claimed that he had personally vetoed an offer of deal that would have settled junior doctors' concerns and allowed the Government to deliver some of their reforms, without any extra cost.
What's the dispute about?
The new junior doctor contract.
What does the Government want?
The crux of the new contract is a cut to doctor's weekend pay. The offer has gone through many changes, but the current one still proposes to remove pay premiums for working Saturdays before 5pm. The Government says it wants to do this to make it easier for hospitals to roster junior doctors at the weekend to address evidence of higher mortality among patients admitted Friday to Monday (a phenomenon that has not been directly linked to junior doctor staff numbers).
Critics of the Government say their only goal is to cut costs, and to set a precedent that would allow them to cut the weekend pay of other NHS staff groups. It should be noted that Junior doctors have been offered a basic pay rise to make up for the cut to weekend pay, as well as time-limited pay protection for anyone who loses out heavily.
What do junior doctors want?
Recognition that they should be paid extra for working the weekend, evenings and nights, and a contract that ensures they are not over-worked. They would also welcome much more investment in the NHS to pay for more doctors to fill rota gaps on already under-staffed wards at many hospitals around the country.
So could Jeremy Hunt have averted the strike this time?
In theory, yes, by giving doctors' union the BMA everything they want – but that was never going to happen. Good progress has been made in the talks since the New Year, and the only major remaining issue is the question of whether Saturday working should attract a pay bonus. Sources close to the BMA say that a proposal to move to a system of lower value pay premiums for Saturdays was rejected by Mr Hunt himself, despite it being cost-neutral (one of the Government's prerequisites).
Lowering the cost of weekend rosters for hospitals is the Government's primary goal in all of this, so Mr Hunt is unlikely to accept a contract that recognises Saturdays as different to weekdays.
In pictures: Junior doctors protests in UK

Show all 10
Why has Jeremy Hunt himself been the focus of so much anger?
In fairness to him, attracting the ire of the medical profession is the norm for health secretaries, particularly Conservative ones. Remember how much anger Andrew Lansley attracted?
However, junior doctors are particularly angry with Mr Hunt because of the way he has framed the debate as being about avoiding unnecessary deaths in hospitals over the weekend.
While there is some evidence that patients admitted at the weekend are more likely to die within 30 days, this is a complex issue which is has never been directly linked to junior doctor staff numbers, so Mr Hunt's emotive evocation of these stats as a justification for the new contract has infuriated medics, who, let's not forget, understand the reality of coping with life and death in a hospital, and don't like to see it turned into a political football.
Andrew Marr reads junior doctors' letters to Jeremy Hunt
So who's mainly to blame?
According to the latest poll, most of the public now believe it's the Government. The IPSOS/MORI survey for the Health Service Journal found that 64 per cent think "the government is more at fault for the dispute lasting this long" than junior doctors.
Join our new commenting forum
Join thought-provoking conversations, follow other Independent readers and see their replies