Keeping Trident 'stops nuclear blackmail,' claims cross-party commission
Report out this week is set to rile campaigners, who say findings are bizarre and ought to be shelved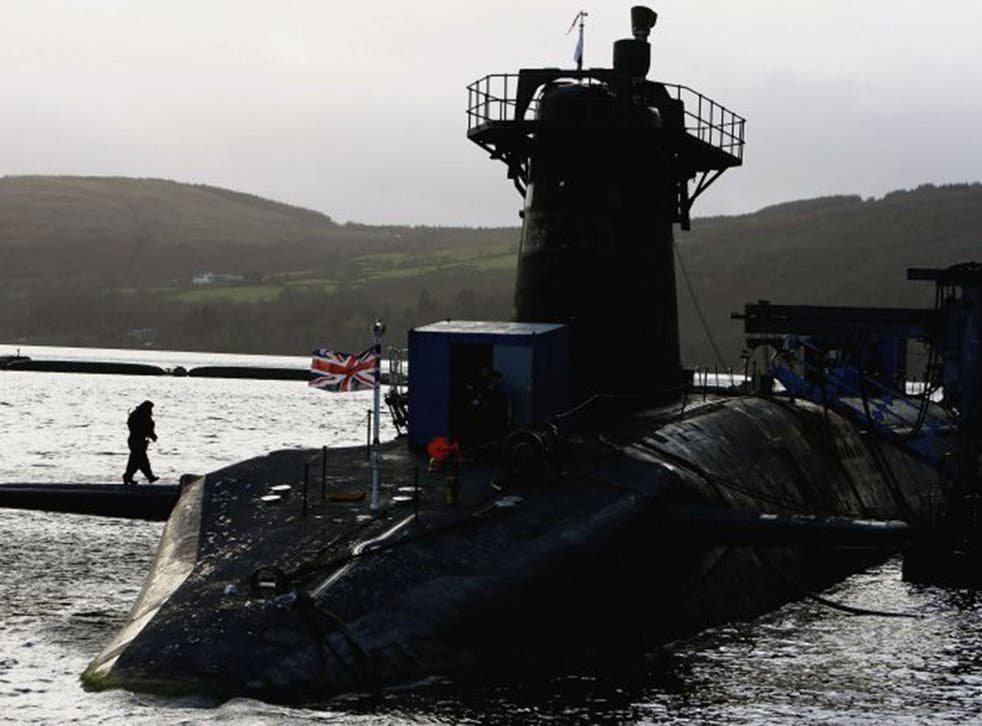 Britain should delay the decision on renewing the country's Trident nuclear deterrent beyond 2016, according to a cross-party commission led by two former defence secretaries and a former leader of the Liberal Democrats.
But the Trident Commission is expected to infuriate campaigners by concluding that the deterrent is still necessary to prevent "nuclear blackmail".
The Labour peer Lord Browne of Ladyton, the Conservative grandee Sir Malcolm Rifkind, and Sir Menzies Campbell, who led the Lib Dems in 2006-07, think the ageing submarines carrying Trident could remain seaworthy for longer than originally envisioned. A decision on whether to replace the submarines with four Successor class vessels for £20bn is due in two years' time.
In March, the Defence Secretary, Philip Hammond, announced that the oldest of the four existing submarines, HMS Vanguard, would have its reactor refuelled for the second time since entering service in 1993. The MoD is now confident that the subs, built to last 25 years, can remain in use until the late 2020s, although Mr Hammond has insisted that this and any further refuelling "would not affect our plans" for the next wave of Trident submarines.
The commission is also understood to suggest that the Government should declare that Britain would use Trident only in the event of a nuclear attack. The missiles would not, therefore, be deployed if a country used biological or chemical weapons on Britain, part of what the report calls a "glide-path down towards disarmament".
The commission, which also includes the former ambassador to the United Nations Sir Jeremy Greenstock and the ex-chief of defence staff Lord Guthrie of Craigiebank, wants countries with nuclear weapons to eventually declare a "no first use" policy. The missiles would then be fired only in retaliation for a nuclear attack on an allied country.
The report argues that keeping Trident is not justified on grounds of maintaining the UK's military status, but says: "If there is more than a negligible chance that the possession of nuclear weapons might play a decisive future role in the defence of the United Kingdom and its allies" then they should be retained.
Anti-nuclear sources said last night the high-profile report, to be published on Tuesday after a three-year inquiry, was "bizarre" and should be "quietly shelved". The commission has been funded by several organisations that want nuclear deterrents to be dismantled, including the Ploughshares Fund and the Joseph Rowntree Charitable Trust.
Campaigners are angry that the commission did not seem to consider whether the billions poured into a replacement for Trident would be better spent on conventional arms or other sectors of the economy, such as healthcare.
Alexander Kmentt, the anti-nuclear Austrian government's director of disarmament, visits Parliament on Wednesday. He will try to convince the UK to attend a conference on the humanitarian impact of nuclear weapons after it boycotted two previous events.
Join our new commenting forum
Join thought-provoking conversations, follow other Independent readers and see their replies