Keith Vaz accused of 'bullying members of staff in House of Commons'
MP allegedly made comments about a clerk's race and fertility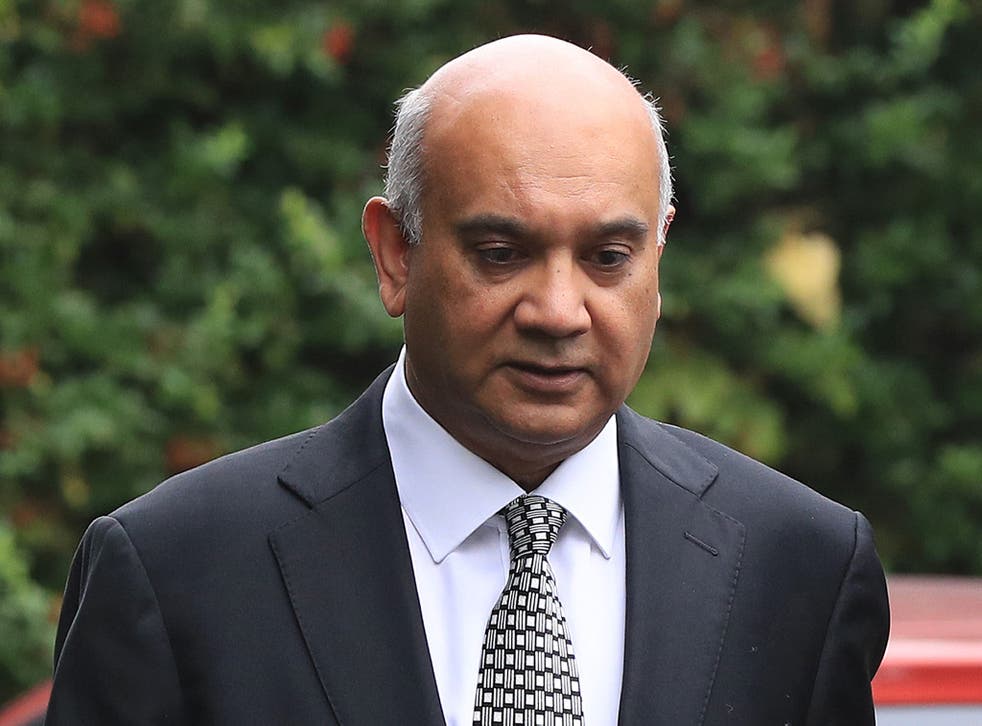 Veteran Labour politician Keith Vaz has reportedly been accused of bullying from a number of clerks as they tried to uphold the rules and processes in the House of Commons.
The MP for Leicester East allegedly made comments about one clerk's race and told her she was bad at her job because she was "not a mother", when she raised an issue about him not following rules and standards.
Jenny McCullough told the BBC's Newsnight she was repeatedly on the receiving end of Mr Vaz's bullying and was forced to leave her job because of his behaviour.
Mr Vaz has denied the allegations.
Ms McCullough served as the second clerk of the Home Affairs Select Committee which Mr Vaz chaired from 2007 to 2016, until he was forced to quit after the Sunday Mirror revealed he had engaged in unprotected sexual activity with male prostitutes and had said he would pay for cocaine if they wished to use it.
She told the programme that he made the comments when she attempted to enforce a set of rules that designed to stop professional visits abroad turning into personal holidays or business trips.
During a trip to Russia and Ukraine she allegedly attempted to highlight to him that he had not followed protocol on a number of occasions.
When she did so, she said Mr Vaz launched a "tirade" against her in a hotel lobby.
"At one point during this tirade, he told me that I wasn't capable of serving the committee because I wasn't a mother," she told Newsnight. "All I knew was it wasn't normal to be harangued about my fertility status in the reception of a hotel room, at public expense in front of my colleague on the team.
"I think there were other members of the committee there, I think there may have been some foreign office staff and other guests of the hotel."
She also alleged that Mr Vaz made jokes that Ms McCullough was a security threat, on account of her Northern Irish background and accent.
The treatment continued well after the trip had come to an end, she said, adding that she was eventually asked to stop coming to team meetings because her presence resulted in Mr Vaz being too disruptive and not getting any work done.
She said when she highlighted the treatment to her managers, it was treated as though it was normal.
UK news in pictures

Show all 50
"It was as though there was something wrong with me, that I was too sensitive, that this was normal. And I found that a really hard response to deal with because they seem content to let Keith Vaz deliver this lesson to me by his treatment of me," she said.
She said she did not put in a formal complaint because she was "afraid" of Mr Vaz and that as he was well connected she "thought it could only end badly".
Ms McCullough is not the only clerk to raise a complaint about Mr Vaz's behaviour, the programme reported.
A House of Commons spokesperson said it strived "to be a responsive and supportive employer and we do not tolerate bullying or harassment of any kind. We are aware that in the past the House has not had a robust process in place to deal with instances of bullying and harassment. However, we are confident that our new Independent Complaints and Grievance Policy will mean that allegations can be dealt with effectively and sensitively."
They added: "In addition the House has agreed to set up a new independent inquiry looking into historical allegations of bullying and harassment, which we expect to report in six months' time."
Mr Vaz denied berating Ms McCullough and said he did not "at any time insult her maternal status".
He told Newsnight: "I find these allegations insulting and appalling."
He added: "I had always believed Ms McCullough and myself had a good working relationship. If she was unhappy on any committee visit (or more generally), neither Ms McCullough nor anyone else made me aware of it, either before, during or in the 10 years since the events are claimed to have taken place."
A representative for the MP also told the programme that he "did not berate Ms McCullough at any stage whether before during or after the Russia trip, nor did he at any time insult her maternal status".
They added: "Furthermore, our client finds the allegation that he would make insulting jokes about anyone on the basis of race extremely offensive and would never trivialise a person's ethnic background. ​No complaint or allegation of this nature has ever been brought to his attention. Our client had considered that he and Ms McCullough had previously had a good working relationship, and had always considered her to be very effective as a clerk."
Join our new commenting forum
Join thought-provoking conversations, follow other Independent readers and see their replies