Labour spokesman Keir Starmer tells MPs that Theresa May's plan is not 'hard Brexit'
Pro-EU Labour MPs are scathing, but the party's spokesman says it will not be a 'hard Brexit' - 'if the Prime Minister achieves all she has set out to achieve'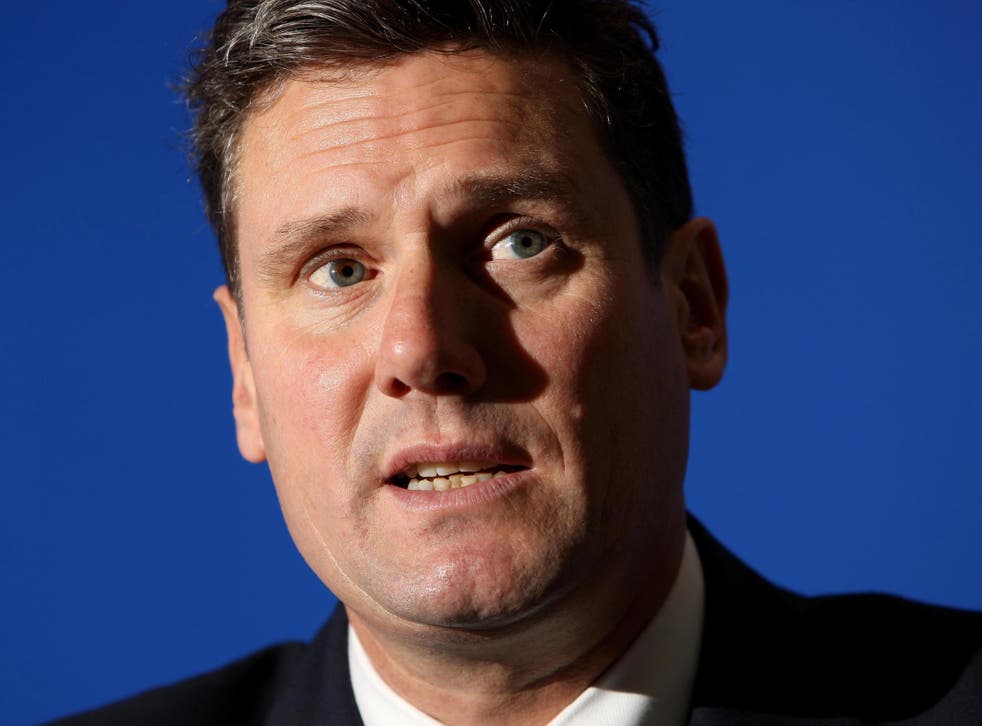 Labour's Brexit spokesman provoked surprise by telling MPs that Theresa May's strategy would "fall short of hard Brexit" if she achieves her aims.
Sir Keir Starmer broke with the Liberal Democrats and Greens by arguing the Prime Minister had tempered her plans and "accepted" some of Labour's demands.
The comments came despite Ms May threatening to quit the EU with no fresh trade agreement, saying: "No deal for Britain is better than a bad deal for Britain."
And they were in stark contrast to the anger of some Labour MPs, who warned of Britain crashing out with no replacement for the single market – at huge cost to the economy.
One, Pat McFadden, asked Brexit Secretary David Davis what assessment had been made of the effect of leaving the single market on "trade, jobs and prosperity" – but got no answer.
He told Mr Davis: "Today is what you get when you let immigration policy dominate economic policy."
Another, Chuka Umunna, warned that Britain could be on a path to trading with the EU on World Trading Organisation rules "with ten per cent, 13 per cent and up to 40 per cent tariffs on cars, clothes and meat".
But Sir Keir seized on the Prime Minister suggesting she wanted Britain to retain a form of "associate membership" of the customs union, rather than leave outright.
Most business leaders are desperate not to leave the union, which allows exporters to sell in the EU without having to fill in forms or go through customs checks.
Sir Keir also said a promised "comprehensive trade agreement" with the EU would require independent jurisdiction, probably by the European Court of Justice – regardless of Ms May's pledge to pull out of it.
He said: "For many months, we in Labour have been demanding the fullest possible access to the single market, emphasising the risks of leaving the customs union, arguing for a collaborative relationship with our EU partners, emphasising the need for transitional arrangements and the need for entrenchment of workers' rights.
"Today the Prime Minister has rightly accepted these in her plan. I acknowledge that."
Sir Keir said the plan had "given little detail", but added: "If the Prime Minister achieves all she has set out to achieve, she will fall short of hard Brexit that many in business and trade unions have feared."
Instead, Sir Keir - like Jeremy Corbyn - focused his fire on what he called the threat to "destroy" the current economic model, by turning Britain into a tax haven, saying: "That would be an act of huge self-harm".
Sir Keir pulled his punches despite Mr Davis making clear there would be no white paper published to fully flesh out the Brexit plan – as Labour has demanded.
The Brexit Secretary made clear today's speech was "the plan", saying: "I said we would present a plan as quickly as possible - and that's what we've done."
Mr Davis also told MPs: "There is no circumstance in which we will rip up workers' rights" – before admitting he could only make that commitment while he was in the job.
And he did not rule out an immigration deal to allow in EU citizens if - as one Labour MP phrased it – "they have a job offer in the UK".
Join our new commenting forum
Join thought-provoking conversations, follow other Independent readers and see their replies