Osborne accused of 'extreme and ideological' cuts in plan to run £23bn budget surplus
Chancellor wants to reduce Government spending to 35 per cent of GDP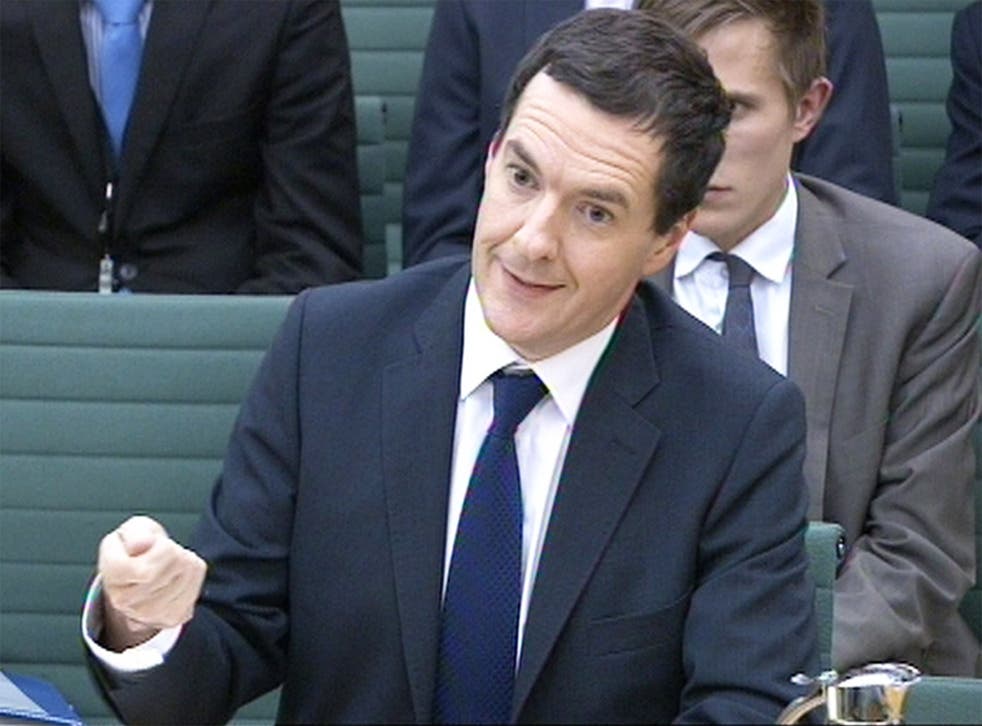 Labour warned that a Conservative Government would make "extreme and ideological" spending cuts after George Osborne admitted he wanted to run a £23bn budget surplus by 2020.
The Chancellor denied that it would be irresponsible to reduce Government spending to 35 per cent of Gross Domestic Product, saying it stood at that level Britain under Labour in 1999 and insisted it was right to get debt down.
Questioned by the Commons Treasury Select Committee, Mr Osborne tried to turn the tables on Labour by challenging it to spell out £30bn of cuts or admit that it would hike taxes. On Monday, Labour announced it would vote for the Chancellor's "charter for budget responsibility", which includes £30bn of savings to balance the books on day-to-day spending on public services by 2017-18.
Chris Leslie, the shadow Chief Treasury Secretary, said: "George Osborne has finally admitted he approved the plans for deeper cuts which the Office for Budget Responsibility (OBR) says will take public spending as a share of GDP back to 1930s levels."
After his Autumn Statement this month, the Chancellor attacked the BBC for making a parallel with the depression of the 1930s.
Mr Leslie said: "After two weeks when the Tories have tried to say it's somehow the BBC's fault, George Osborne has come clean that these are his plans. The Tories are now pursuing increasingly extreme and ideological plans for much deeper spending cuts which go well beyond balancing the books."
Mr Osborne announced that his sixth and final Budget of this parliament will take place on 18 March, seven weeks before the general election. He said: "Anyone expecting unaffordable pre-election giveaways will be disappointed because we will stay on course to prosperity."
The Chancellor hailed as "a major moment" official figures showing that wages had overtaken inflation. Pay for the three months to October rose by 1.4 per cent year on year, with regular pay excluding bonuses at 1.6 per cent.
He also trumpeted statistics showing that unemployment dropped below two million, after it fell by 63,000 to 1.96m between August and October, the smallest quarterly fall for a year. The Office for National Statistics reported that 30.8m people were in work, the highest since records began in 1971, and 588,000 up on a year ago.
In an end-of-term address to Tory MPs tonight, David Cameron said that the latest economic figures showed that Britain is "on the right track". He said the election would be a choice between "competence" and under the Tories and "chaos" under Labour. His message to voters was: "If you vote Ukip, you are almost certainly voting for chaos, not competence."
Labour's hopes were raised by an ICM poll for The Guardian showing a fall in Tory support since the Autumn Statement. It put Labour on 33 per cent (up one point), the Tories on 28 per cent (down three points), Ukip unchanged on 14 per cent, the Liberal Democrats on 14 per cent (up three points) and the Greens on five per cent (down one point).
Only 16 per cent of people supported Mr Osborne's plan to clear the deficit through cuts and without tax rises. A majority (55 per cent) believed the Chancellor was going too far and "imposing cuts that will endanger important public services".
Join our new commenting forum
Join thought-provoking conversations, follow other Independent readers and see their replies