Labour's candidate in Gorton by-election accused Israel of genocide in leaked audio
Afzal Khan has apologised for the remarks made in 2002 – but he tweeted a link comparing Israelis to Nazis in 2014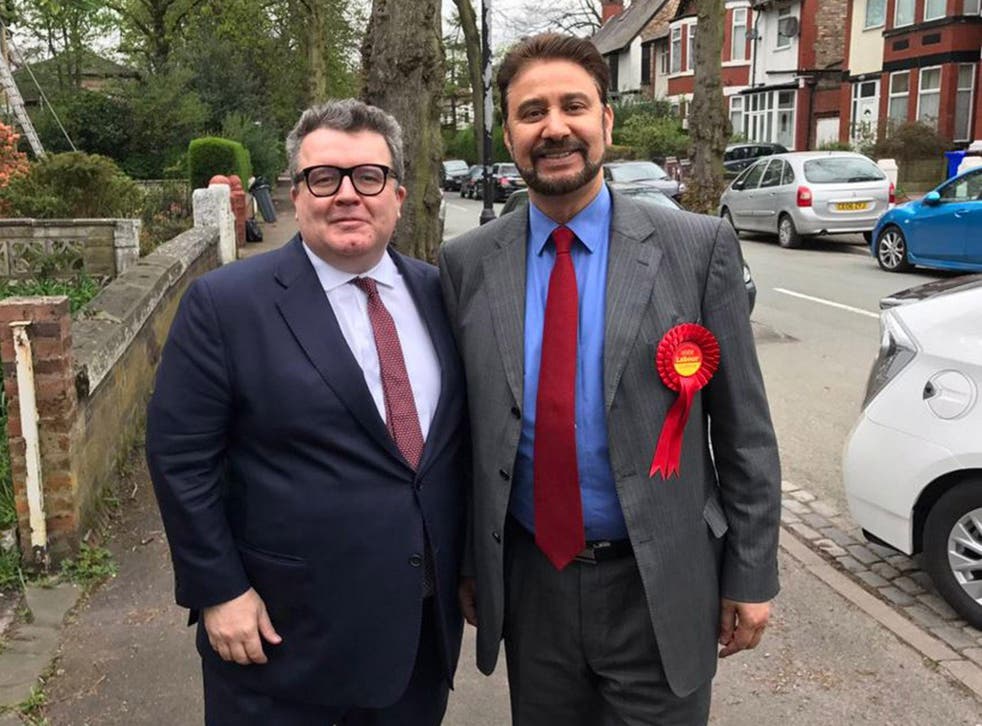 The Labour candidate in the Manchester Gorton by-election has come under fire after an audio recording of him accusing Israel of genocide emerged.
Afzal Khan spoke at an anti-Iraq War rally in 2002 where he questioned the then-US President George W Bush's motivations for the invasion when at the same time he was allowing the former Israeli leader Ariel Sharon to "commit genocide against the Palestinian people".
In the recording, which was obtained by political blog Guido Fawkes, he said: "We talk about Saddam being an evil dictator, we all agree about that. But what about the other dozens of dictators who America calls their friends?
"And what about that man of peace Ariel Sharon? Who makes mockery of the word peace. Who's been committing genocide against the Palestinian people.
"What about him? Of course we need to deal with Saddam, but far more pressing issue is the problem of Palestine [which has] been suffering from more than 50 years."
The politician, who has served as a Labour MEP for the North-west of England since 2014, has since apologised for the comments, saying it was 15 years ago and he now "strongly supports a two-state solution with Israel and Palestine".
But in 2014 he was condemned by the Campaign Against Anti-Semitism (CAA) for a tweet in which he linked to a blog post saying "the Israeli Government are acting like Nazis in Gaza".
When he was appointed as the official Labour candidate in the by-election to replace Sir Gerald Kaufman - who died in February - the CAA said: "If Khan believes that Israeli policy is to act like Nazis then he is an anti-Semite.
"If that is so, and he is selected as the Labour Party candidate in Manchester Gorton, the Jewish community could be in for years of torment — the Labour Party would have swapped one anti-Semite for another."
The group highlight the international definition of anti-Semitism, which was recently adopted by the British government, and which says "drawing comparisons of contemporary Israeli policy to that of the Nazis" is anti-Semitic.
UK news in pictures

Show all 50
They condemned Labour's decision not to investigate the tweet – or a speech given on the parliamentary estate by Sir Gerald in 2015 where he claimed "Jewish money" was being used to subvert the British government.
But they expressed "surprise" that it was Mr Khan who was making the comments as he was awarded a CBE in 2008 for his work on interfaith dialogue as the co-founder of The Muslim-Jewish Forum of Greater Manchester.
It comes as Mr Khan condemned Ken Livingstone for repeatedly claiming Hitler was a Zionist after the former London Mayor was suspended from the Labour party for a year this week.
Mr Khan told the Manchester Evening News there was "no place for anti-Semitism" in the party but stopped sort of saying whether Mr Livingstone should be permanently expelled.
Other Labour figures, such as deputy leader Tom Watson who was out on the campaign trail with him when the audio emerged, have argued the former London mayor should be kicked out of the party.
The controversy is the latest salvo in an ongoing scandal about anti-Semitism within the party.
Labour leader Jeremy Corbyn has come under heavy and sustained criticism for his perceived reluctance to do anything about the growing number of Labour activists associated with him who have been accused of anti-Semitism.
Last year a report on anti-Semitism was branded a "whitewash" after its author Shami Chakrabarti cleared them of the charge but said they needed to stop using anti-Semitic language such as "Zio" and to stop referring to Hitler.
Britain's Chief Rabbi Ephraim Mirivis later said her credibility "lies in tatters" after she was awarded a peerage by Mr Corbyn a few months later.
Mr Khan told The Independent: "I did not then – nor do I now - endorse the content of the article I tweeted. I have a long track record of fighting racism – including anti-Semitism. I was new to Twitter and made a mistake, which I apologised for.
"In 2008 I was awarded a CBE in part for my work encouraging greater understanding between Muslims and Jews. As an MEP I have continued this work on the parliamentary intergroup against anti-Semitism. I would urge people to judge me on my track record."