Nice attack: Owen Smith delays Labour leadership challenge to Jeremy Corbyn
'In light of the heartbreaking news from Nice, I am cancelling today's campaign launch. Solidarité et fraternité avec le peuple Français'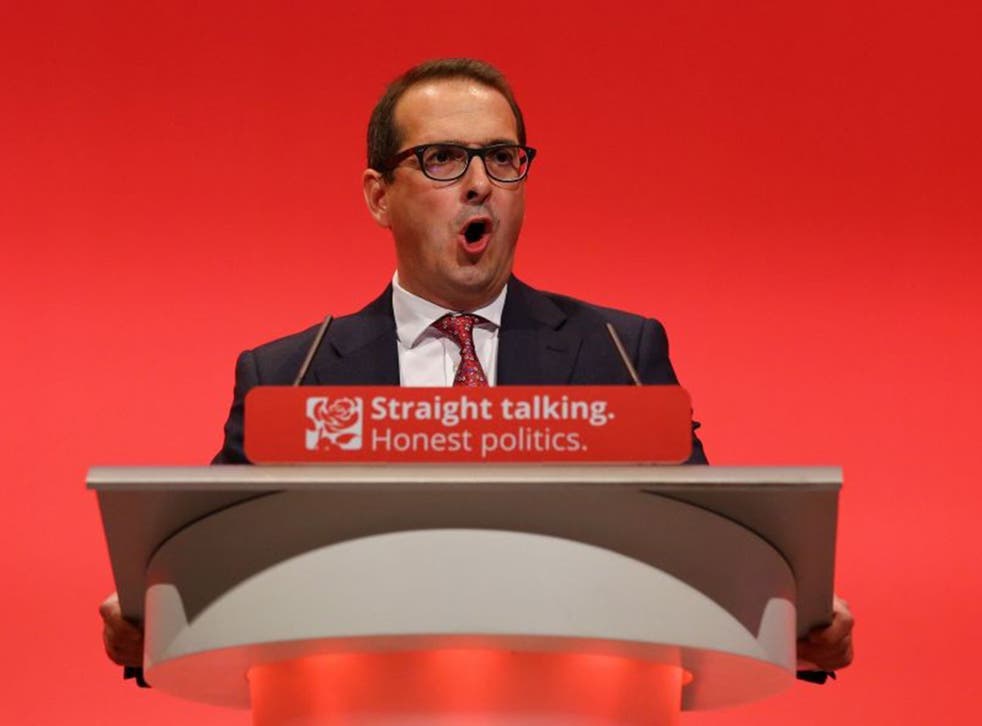 Owen Smith has delayed the formal launch of his challenge against Jeremy Corbyn for leadership of the party in the wake of an atrocity that killed dozens on the seafront in Nice, France.
At least 84 people are believed to have been killed, including a number of children, after a lorry ploughed through a large crowd celebrating Bastille Day. Mr Smith, the former shadow work and pensions secretary, called off the event on Friday morning.
Mr Smith posted on his Twitter account: "In light of the heartbreaking news from Nice, I am cancelling today's campaign launch. Solidarité et fraternité avec le peuple Français."
The Labour leader Jeremy Corbyn, meanwhile, added: "Shocking and horrific attack in France. My thoughts are with the victims & their families. Solidarity with emergency services & people of Nice"
Mr Smith was due to launch his leadership bid at a rally in his constituency, Pontypridd, and was expected to claim that he is the only candidate in the race "that can step forward and secure Labour's future". He will add, when the event is rescheduled, that the on-going fight within the party has created a "moment of deep peril for Labour".
His backers believe he has a decisive advantage – in the wake of the Chilcot report – as he did not vote in favour of the Iraq War because he was not an MP when the decision to go to war was made in 2003.
"The Labour Party must pull through this crisis and unite, we owe it to the millions of people across Britain who look to the Labour Party to provide hope and optimism for their lives," Mr Smith will say.
"So now it falls to a new generation of Labour MPs to step forward and secure Labour's future. I am the only person in this race that can do that. It's not enough just to talk about being anti-austerity, Labour needs to set out the details of how we overcome Tory austerity and secure the next Labour government that delivers investments, not cuts."
He is expected to add: "It is in my town that my politics, my socialism, is rooted. I was 14 when the miners' strike began and we had friends and family who were at the heart of that terrible year-long strike. For me it was an awakening, a moment when I saw what solidarity and community really meant and how politics can make – or break them."
Of all the Smiths, does anyone know who Owen Smith is?
Angela Eagle, the former shadow business secretary, has already launched her campaign and both contenders, alongside Mr Corbyn, have been invited to take part in a hustings in front of their fellow Labour MPs at lunchtime on Monday.
But there is growing pressure from fellow MPs for one of the two challengers to drop out, to give the other the maximum chance of defeating Mr Corbyn. One senior Labour source told The Independent that it "makes total sense" for one of the challengers to step down. They added the decision should be made shortly after the hustings event next week.
Mr Smith's bid comes after delegates at Unite's conference in Brighton passed a motion demanding the controversial move which Labour MPs fear would be used by Mr Corbyn's allies to launch a purge against them.
The union also overwhelmingly voiced support for Mr Corbyn as he faces attempts to try to oust him.
Meanwhile, one of Labour's biggest donors announced he will legally challenge the party's decision to allow Mr Corbyn onto the leadership ballot without seeking nominations from the Parliamentary Labour Party. Michael Foster, whose family has given £400,000 to the Labour Party, said he was concerned over the "apparent manipulation" of party rules by the party's governing body.
Owen Smith's reaction to Jeremy Corbyn's party conference speech
On Tuesday the National Executive Committee (NEC) voted 18-14 to allow Mr Corbyn onto the leadership ballot without the backing of 51 MPs or MEPs.
And under revised rules, supporters who want to register to get a vote in this year's leadership contest will have to pay £25 – compared with £3 in 2015. Party members will get an automatic right to vote only if they have been members for at least six months, eliminating the 130,000 who have joined since the referendum, believing they would get a vote.
But a spokesperson for the Jeremy For Labour campaign said: "A Labour subcommittee can't just make up rules to get the result they want; they have to be accountable to our party. This confusing rollercoaster of changes does absolutely nothing to promote the positive and healthy party culture we need.
"Worst of all, they seem to have pulled a Wonga – fleecing up to £6 million from new members over the last half a year and then charging them another £25 to vote. This cynical approach is precisely what turns people off from politics, and will price out the very people that Labour was founded to empower."
Join our new commenting forum
Join thought-provoking conversations, follow other Independent readers and see their replies