Labour leadership: Ed Miliband allies accuse union of trying to stitch up leader appointment
A close ally of Miliband said that the 'one member, one vote' reform is 'now being hijacked by unions to deny party members and supporters real choice'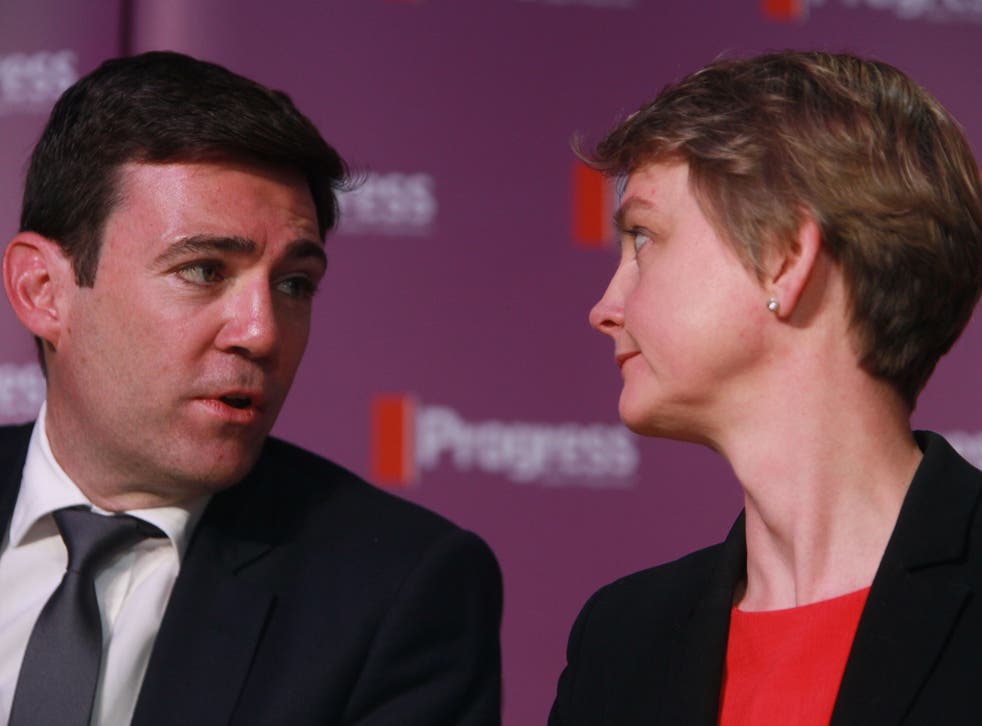 Allies of Ed Miliband accused Britain's biggest trade union of trying to keep modernisers off the ballot paper in the Labour leadership election amid fears that it could be limited to a two-horse race between Andy Burnham and Yvette Cooper.
The bitter row between senior Labour figures and Unite intensified as it was claimed that the union was putting pressure on Labour MPs not to nominate modernisers Liz Kendall, Mary Creagh and Tristram Hunt in the election to choose Mr Miliband's successor.
A candidate needs to be nominated by 35 MPs – 15 per cent of the 232 elected this month. Mr Burnham and Ms Cooper, who are both expected to win the backing of some union leaders, are confident of clearing the hurdle and there is speculation they have already have more than 100 nominations between them.
Who will be the next Labour leader?

Show all 7
There are fears that modernisers, who are unlikely to be endorsed by any union bosses, could be squeezed out, limiting the choice in the "one member, one vote" ballot in September of Labour members, registered supporters and union members who become "affiliated supporters".
Allies of Ms Kendall insisted she would "get the numbers" but condemned attempts to limit the field. "There are people who want to close this down to make it a coronation for Andy Burnham," one Kendall supporter. "It won't wash with the public."
Speaking to The Independent, a close ally of Mr Miliband expressed concern that the "one member, one vote" reform he pushed through last year is "now being hijacked by unions and union-backed candidate to deny party members and supporters real choice."
Lord (John) Hutton of Furness, the Blairite former Cabinet minister, said: "We need to have the fullest and widest debate about our future direction. Any attempt by the trade unions to restrict or narrow the choice open to party members would be completely mistaken and wrong. We need a candidate who can broaden our appeal beyond our core vote. If we appeal just to the trade unions, that will end in predictable defeat. Only a tiny proportion of the population are in trade unions."
He said Labour should "skip a generation" and elect an MP who entered Parliament in 2010 – which would rule out both Mr Burnham and Ms Cooper.
Baroness (Sally) Morgan of Huyton, a former minister who was political secretary to Tony Blair, said: "We have just suffered a catastrophic election defeat and need the widest possible debate about how we rebuild support for the party. To try to close down that debate prematurely is both arrogant and plain wrong."
Barry Sheerman, the Labour MP for Huddersfield, claimed that Unite supporters are putting pressure on MPs, especially newly-elected ones, to support "one or other candidate," and if possible to "keep some candidates below the 35 threshold." He added: "It was a fix by Unite's merry men in 2010 that stopped David [Miliband] and we cannot have that again."
But Unite denied the claims. A spokesman said: "We utterly reject these unsubstantiated allegations Barry Sheerman has made against Unite. They are false and totally without foundation. It is time for Barry Sheerman to either present his evidence to the appropriate authorities in the Labour Party or do the honourable thing and withdraw them."
Last night the Burnham and Cooper camps denied they were trying to keep rival candidates off the ballot paper and insisted they wanted the party to have the widest possible choice. Ms Cooper named 14 backers, including several frontbenchers.
In a significant move, Ms Cooper launched a strong attack on Ed Miliband's "anti-business" stance and promised to rebuild Labour's relationship with business if she becomes party leader. She said his attempt to divide companies into "predators and producers" was "a mistake", adding: "It sounded anti-business, anti-growth and ultimately anti-worker for the many people employed by large companies in the UK."
Ms Cooper, the shadow Home Secretary, said Labour should drop its opposition to George Osborne's decision to cut corporation tax to 20 per cent. As leader, she would set up a business advisory group and invite bosses who did not support Labour to join it, to ensure no more "rude surprises [for business] that backfire."
Calling for a "fresh start," Ms Cooper said: "Labour has to show we want to build businesses up not knock them down. We want everyone to have the chance of the best jobs in future, and make the most of our great talents as a country…Too often in the past our rhetoric undermined that positive relationship with business and with the creation of jobs and wealth. We can't let that happen again."
Unite will discuss calls from some branches to disaffiliate from Labour at its conference in July. But Len McCluskey, its general secretary, insisted there were "no plans" to break the link.
Baroness (Margaret) Prosser, the union's former deputy leader, criticised Mr McCluskey for suggesting previously that the union might walk away from Labour if it did not choose the right leader. "The idea that the whole focus of Labour's proposal or offer ought to be around organised Labour is just daft," she said. "We have to be able to say that a Labour government is going to be there for all kinds of people."
Labour leader ballot: The rules
The election will be conducted on a one-member-one-vote system. It will be open to party members, affiliated supporters (members of a union or socialist society) or registered supporters (who sign up online and pay £3).
Voting forms go out on 14 August, for return by 10 September. The result is announced two days later.
Join our new commenting forum
Join thought-provoking conversations, follow other Independent readers and see their replies