Clive Lewis calls for Royal Family referendum
UK must hold referendum on abolishing royal family, Labour leadership candidate says
'Let the British public decide what the future of the monarchy is,' says Clive Lewis
Labour leadership candidate Clive Lewis has called for a referendum on abolishing the monarchy.
The Norwich South MP said the public should be allowed to vote on "what the future of the monarchy is" and claimed there was widespread support for the royal family being "scaled down".
Mr Lewis was one of the first candidates to enter the race to succeed Jeremy Corbyn, although he is struggling to reach the 22 MP nominations required to progress in the contest.
Answering questions following a speech in south London, he said: "I think a lot of people would like to see the monarchy scaled down – there's been a lot of talk ... that the monarchy is quite large and there are a lot of people being paid by the public purse.
"But one of the things I always talk about is democracy ... so why not have a referendum in this country on the future of the royal family?"
The battle to replace Jeremy Corbyn as Labour leader

Show all 8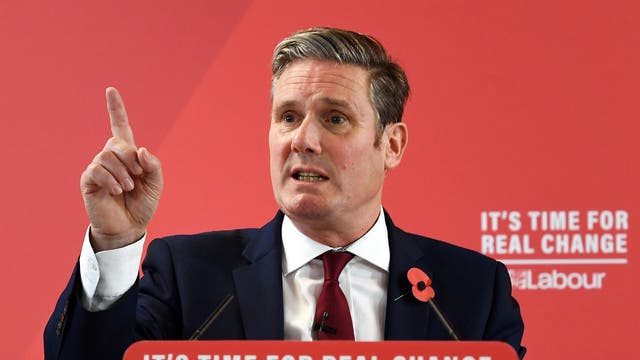 He continued: "We're a democracy, I'd rather see us as citizens than subjects in the 21st century. Let's talk about what a modern state looks like and what the role of the royal family would be in that.
"I'm in favour of more democracy – let the British public decide what the future of the monarchy is and what shape it should be. I don't consider myself a subject, I think I'm a citizen of this country and I think the vast majority of people consider themselves citizens."
The suggestion comes after a torrid few weeks for the royal family, during which Prince Andrew was forced to step back from public duties over his relationship with paedophile Jeffrey Epstein, and Prince Harry and Meghan Markle caused shock waves by announcing they were abandoning most of their royal duties.
Mr Lewis said: "As regards to the royal family, I completely respect the right of Prince Harry and Meghan Markle to do what they've done – it's a matter for them.
"I think it's extremely unfortunate and a sign of the media we have that they feel they have to do this. If you look at the intrusion on their lives, if you look at the racism that Meghan Markle has experienced in the British media then I can understand why given what's happened."
However, he later clarified his comments about the monarchy, insisting he had not called for the royal family to be abolished.
He tweeted: "In response to my comments about the royal family. I didn't say they should be abolished, I have lots of respect for the hard work they do. I simply think the question about their size and the money they receive should be one for the public. Asking these questions is democratic."
Join our new commenting forum
Join thought-provoking conversations, follow other Independent readers and see their replies