Labour outraged as Ukip accuses party of ignoring child sex abuse across the country
Exclusive: Leaflet distributed in Rochdale claims 'politically-correct' Labour councils 'looked the other way while grooming gangs raped our daughters'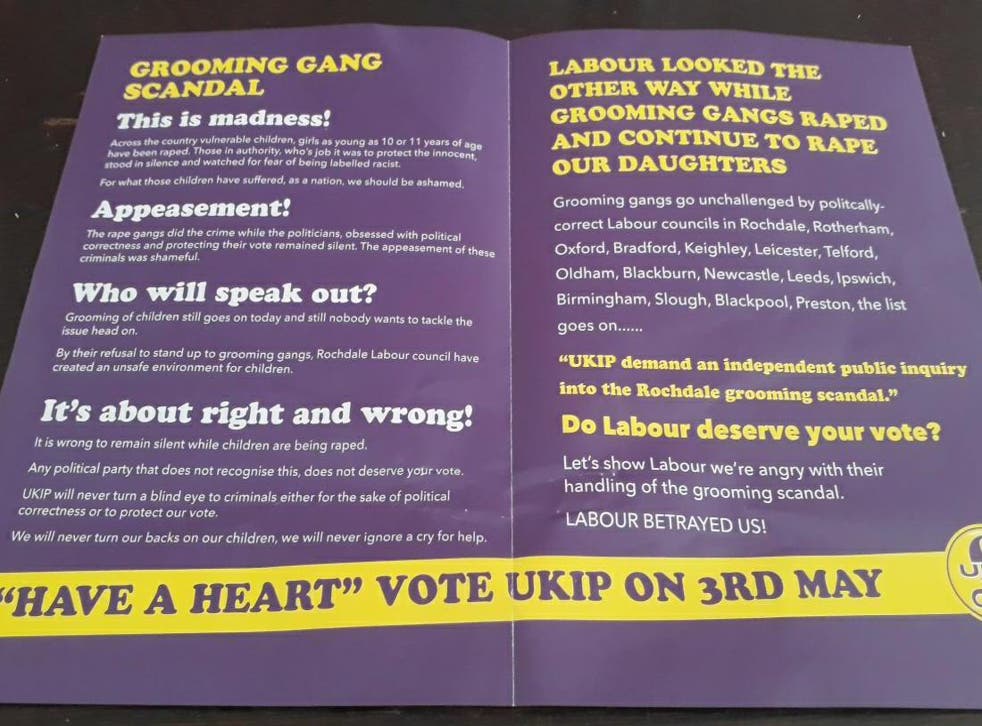 Ukip has been accused of making "completely untrue and grossly offensive" claims after it suggested Labour had ignored sexual abuse of children in towns and cities across the country.
A leaflet distributed by the party ahead of local elections on Thursday claimed "politically-correct" Labour councils had "looked the other way" while grooming gangs "raped our daughters".
It listed 16 areas Ukip claimed had suffered from sex abuse scandals under Labour councils, adding: "Labour has betrayed us."
The leaflets, seen by The Independent, were distributed in Rochdale, where 19 men were convicted in recent years for abusing at least 47 girls.
The claims were furiously denied by Labour, which said they were designed to distract from Ukip's "descent into irrelevance". Ukip provided no evidence to support the allegations.
A similar claim made by a Ukip MEP about three Labour MPs led to her being successfully sued for libel, leaving the party on the verge of bankruptcy.
Jane Collins had falsely accused Sir Kevin Barron, Sarah Champion and John Healey of knowingly ignoring child sex abuse in Rotherham. A judge ordered Ukip to contribute £175,000 to the damages she was made to pay, forcing the party to launch a fundraising campaign to help cover the costs.
The Ukip leaflet given to residents in Rochdale claimed Labour councils had turned a blind eye to the sexual abuse of children.
It said: "Labour looked the other way while grooming gangs raped and continue to rape our daughters."
UK news in pictures

Show all 50
"Grooming gangs go unchallenged by politically-correct Labour councils in Rochdale, Rotherham, Oxford, Bradford, Keighley, Leicester, Telford, Oldham, Blackburn, Newcastle, Leeds, Ipswich, Birmingham, Slough, Blackpool, Preston, the list goes on...."
"Do Labour deserve your vote? Let's show Labour we're angry with their handling of the grooming scandal. Labour betrayed us!"
Another part of the leaflet shows all the towns mentioned connected to a dot labelled "Labour". It says: "All these towns are under Labour control. All these towns have had child sex slave scandals."
Ukip provided no evidence to suggest any of the local councils in the areas mentioned were aware of child sex abuse before it was brought to light.
A Labour spokesperson said: "This completely untrue and grossly offensive. Ukip is sinking ever lower in a desperate attempt to escape its descent into irrelevance.
Ukip has been contacted for comment.
UKIP MEP Gerard Batten says 'extremist' mosques should be banned in Britain
It comes as a Conservative council candidate was suspended for distributing a leaflet claiming Labour was responsible for hepatitis in part of the Midlands.
The leaflet promoted Kamran Razzaq, who is standing for a seat on Dudley Council in Thursday's local elections.
It listed "hepatitis" alongside "decline of our area" as problems it said "Labour have delivered".
Comparing a long list of what it said were Conservative successes, the leaflet claimed Ukip had only delivered "two defibrillators" and "petitions" to the council ward.
A Conservative Party spokesperson said: "Kamran Razzaq has been suspended and an investigation is underway."
Register for free to continue reading
Registration is a free and easy way to support our truly independent journalism
By registering, you will also enjoy limited access to Premium articles, exclusive newsletters, commenting, and virtual events with our leading journalists
Already have an account? sign in
Register for free to continue reading
Registration is a free and easy way to support our truly independent journalism
By registering, you will also enjoy limited access to Premium articles, exclusive newsletters, commenting, and virtual events with our leading journalists
Already have an account? sign in
Join our new commenting forum
Join thought-provoking conversations, follow other Independent readers and see their replies