Is Labour panicking over Ukip? Fears growing that Nigel Farage's party could eat into the white working class vote, admits Peter Hain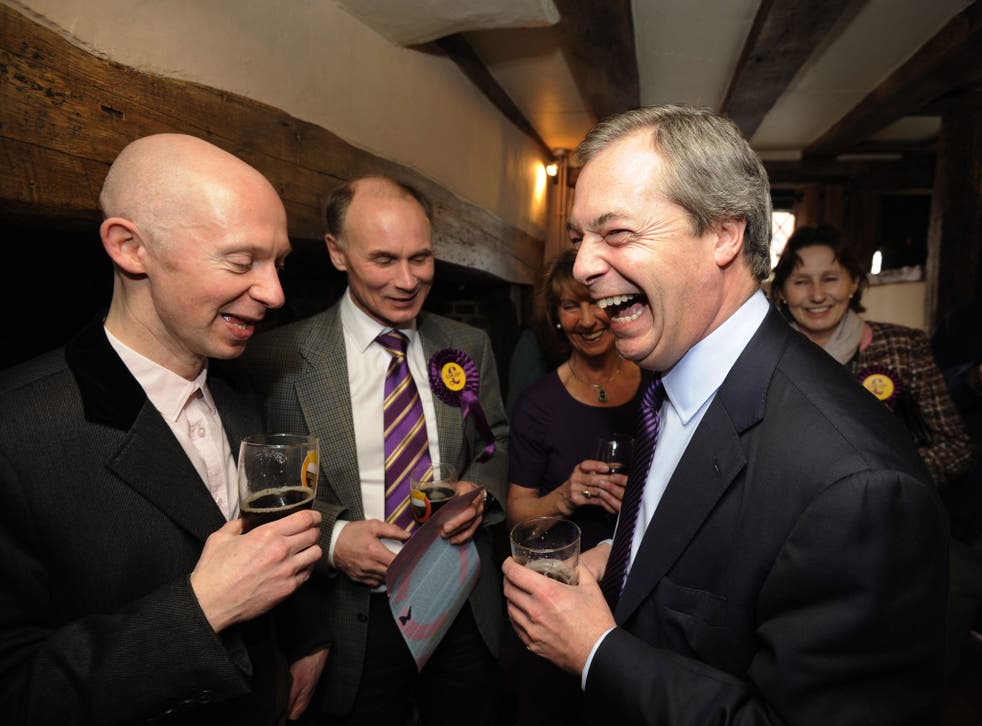 Labour has been warned that it risks underestimating the threat posed by the UK Independence Party because Nigel Farage's party is appealing to Labour's traditional working class base.
Peter Hain, the former Cabinet minister and a close ally of Ed Miliband, said that Labour is seen by many people as part of the "political class" and should not assume that Ukip will take votes only from the Conservatives.
He told The Independent: "Ukip is hoovering up the anti-politics vote. It goes beyond Europe and even beyond immigration. Some of it is plain bigotry. A lot of it is deep, deep antagonism to the political class, of which all the major parties are part. Under New Labour – and it has still not been wiped away - there has been a big disillusionment with us as a party among white working class traditional Labour supporters."
Mr Hain, MP for Neath, said: "Under New Labour it took the form of people thinking the party is not speaking up for their concerns on the lack of housing; the relentless decline of traditional male working class jobs in heavy industry. In areas where the Labour core vote is strong – the North, Scotland, Wales – we still have to win back that constituency."
The former Work and Pensions Secretary is voicing in public what a growing number of Labour MPs are now saying in private. He said: "We are in a four-party fight. Anyone who does not understand that is living on another planet. I don't think anybody in the Westminster bubble should underestimate the depth of that disaffection against all of us, of whatever party. The MPs' expenses scandal was toxic and there is a sense that for a number of years, the major political parties are not speaking up for the ordinary person."
Mr Hain believed Ukip's main threat at next year's general election will be to the Tories, but warned that Mr Farage's party could harm Labour more in local elections this May, on the same day as European elections. "In the mid-term, it is a threat to Labour as well - unless we address it through a strong presence in communities for a long period," he said. "There is a danger… when the media and political focus will be on Europe rather than who should run council services."
Mr Hain said the model for taking on Ukip should be the "pavement politics" in local communities that Margaret Hodge, the senior Labour MP who chairs the Public Accounts Committee, deployed to see off a threat from Nick Griffin, leader of the BNP, in her Barking constituency at the 2010 general election. "The answer is not to tack to Ukip's anti-Europe, anti-immigrant , anti-almost everything agenda but to rebuild trust among our grassroots base and have clear and radical policies on housing, jobs, investment, growth, opportunities and give disillusioned people hope," he said.
There could be a close fight between Labour and Ukip to come top in the Euro elections. First place would give Ed Miliband crucial momentum a year before the general election. But Ukip is tipped to win by many commentators because of its hardline stance on Europe.
Ukip is targeting second place in next week's parliamentary by-election Manchester and Sale East, a safe Labour seat. A poll funded by Lord Ashcroft, the Tories' former deputy chairman, published yesterday, put Labour on 61 per cent in the constituency, with Ukip second on 15 per cent, the Conservatives on 14 per cent and the Liberal Democrats fourth on five per cent.
Lord Ashcroft said his polling in the 40 most marginal Conservative-held seats showed that Tory "defectors" and Ukip voters are not the same people.
Mr Farage has repeatedly claimed that Ukip is appealing to people who previously supported "all parties and none". The party claims it is "becoming the official opposition to Labour in parts of the Midlands and North" as well as a real opposition to the Tories in many parts of the South.
Join our new commenting forum
Join thought-provoking conversations, follow other Independent readers and see their replies