Ed Miliband fluffs his lines and forgets to mention economy in keynote speech
This was a speech with one major omission but plenty  to appeal to Labour's core vote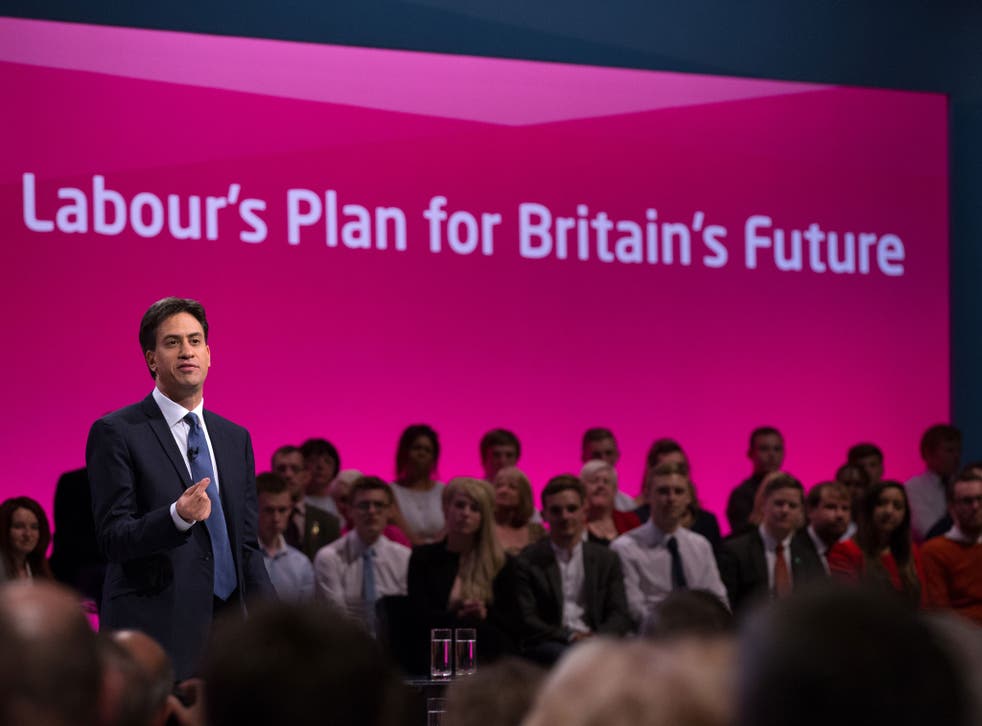 Could the NHS be Labour's trump card at next May's general election? Today's speech showed that Ed Miliband is banking on health to fire up the party's traditional supporters.
The defection of Labour supporters to the Yes campaign in Scotland's referendum was a chilling warning that the party cannot take its "core vote" for granted. It is under threat in England too - from Ukip. The speech reinforces the impression that Labour has a "35 per cent strategy" in which it hopes to limp over the finishing line with the backing of its core vote and Liberal Democrat 2010 voters.
Remarkably, there was no attempt to reassure the middle classes that Labour would tackle the deficit. It seems this was a bad mistake rather than a deliberate omission. Mr Miliband had memorised his speech and was speaking without notes. He left out a section that appeared on Labour's website, which promised "a tough new approach - eliminating the deficit as soon as possible in the next parliament, getting the national debt falling, and no proposals for additional borrowing." A Labour spokesman insisted there was "no conspiracy," saying: "When he is speaking, he is trying to remember a 6,000 word speech."
Mr Miliband took a leaf out of the book of his old boss Gordon Brown by drawing new "dividing lines" for the election. Labour would "save" the NHS from the Conservatives, he said, painting them as the nasty, selfish party which stands up for people living in mansions, tobacco firms and hedge funds who exploit tax loopholes. He portrayed David Cameron as someone who stands up for "the privileged few" and who tells the less fortunate: "You are on your own." This is the opposite of Labour's new theme song, borrowed from Barack Obama: "Together we can." He used the word "together" more than 50 times.
The Labour leader chose his targets carefully. They were soft. It might be crude, but it might work. The numbers are on his side. There are about 100,000 homes worth more than £2m, so imposing a mansion tax is popular among a big majority of the population. Few people will rush to defend the tobacco giants. But the proposed tax on their profits will undermine Labour's efforts to persuade bosses that the party is not "anti-business."
Labour has long planned a cash boost for the NHS and has been agonising for months about how to fund it. Mr Miliband decided not to replay one of Mr Brown's greatest hits. In 2002, the then Chancellor raised national insurance to increase the health budget. But a tax rise for everyone would have undermined Mr Miliband's campaign on the cost of living. Far better to hit the rich, and using the revenue from a high value property tax was clever politics.
Aides insist Mr Miliband is not a one-trick NHS pony. The party has two other election themes - living standards and young people. They insist Labour is responding to rising public concern, based on their own experience, that overstretched NHS professionals no longer have "time to care." Health is rising up the list of people's concerns, both on the issues affecting the country and their families.
However, Labour cannot rely on a "winter crisis" to keep the NHS in the headlines in the run-up to the May election. It predicted one last winter and it didn't happen. In any case, George Osborne would have every incentive to apply some financial sticking plaster before the election. The danger for Labour is that people already know the party is strong on the NHS, that it is already factored into the price.
Mr Miliband talked about the next eight months being a "job interview" with the British people for being prime minister. But many voters, while liking what he said about health, will wonder why he did not mention the deficit.
Labour argues that it ticked that box on Monday, when Ed Balls announced plans to cap rises in child benefit to 1 per cent for two years. It would save £400m at most, a toe in the water when the deficit stands at £75bn. "We should have spelt out four or five big cuts, not one," one Labour adviser told me.
It was also odd that, with the UK on the verge of air strikes against Isis, Mr Miliband said so little about foreign policy. A speech on his approach is long overdue from a man who aspires to be prime minister in such dangerous times.
Mr Miliband wanted to "raise the nation's sights" and show there is more to politics than deficit reduction. He knows that, if the election turns on cuts, the Tories will be playing on their home ground. Yet it was unwise to vacate this playing field in what was, after all, a pre-election speech. Critics will see the focus on the NHS as a retreat to Labour's comfort zone.
Not talking about the deficit will not reduce Labour's deficit in the polls on economic competence. Mr Miliband also trails Mr Cameron on who would make the best prime minister. To win the keys to Downing Street, Mr Miliband will have to defy the laws of political gravity. No party in the past 50 years has won when it was behind on both leadership and the economy.
Mr Miliband still has much to do if he is to get the job at the end of his eight-month interview.
What Miliband said... and what he meant
"Our brilliant National Health Service, friends."
You are supposed to clap. Envy of the world, remember? Clap, you fools.
"The Tories are the party of wealth and privilege. Labour is the party of hard work, fairly paid."
The Conservative brand is still a bit toxic. Labour as the party of the underdog is still a strong brand. It's my only hope.
"The next Labour government will set aside funding so we can have 3,000 more midwives, 5,000 more homecare workers, 8,000 more GPs and 20,000 more nurses in our NHS."
Thousands of numbers that sound both large and precise will convince people that the our plans are completely achievable.
"David Cameron does not lie awake at night thinking about the United Kingdom. He lies awake thinking about the United Kingdom Independence Party."
I have calculated that I can accuse my opponent of political calculation, and pretend to overlook the powerful appeal of Ukip to Labour voters.
"Together we heal the sick, together we care for the old. Together we can make the NHS greater than it has ever been before. Let's make it happen, together. Thank you very much."
Biblical phrasing? Tick. Soaring ambition? Tick. Sub-Obama sound bite? Tick. Rock star sign-off and we're done.
John Rentoul
Join our new commenting forum
Join thought-provoking conversations, follow other Independent readers and see their replies