Labour would scrap PFI and nationalise existing contracts, John McDonnell announces at party conference
'I can tell you today, it's what you've been calling for. We'll bring existing PFI contracts back in-house'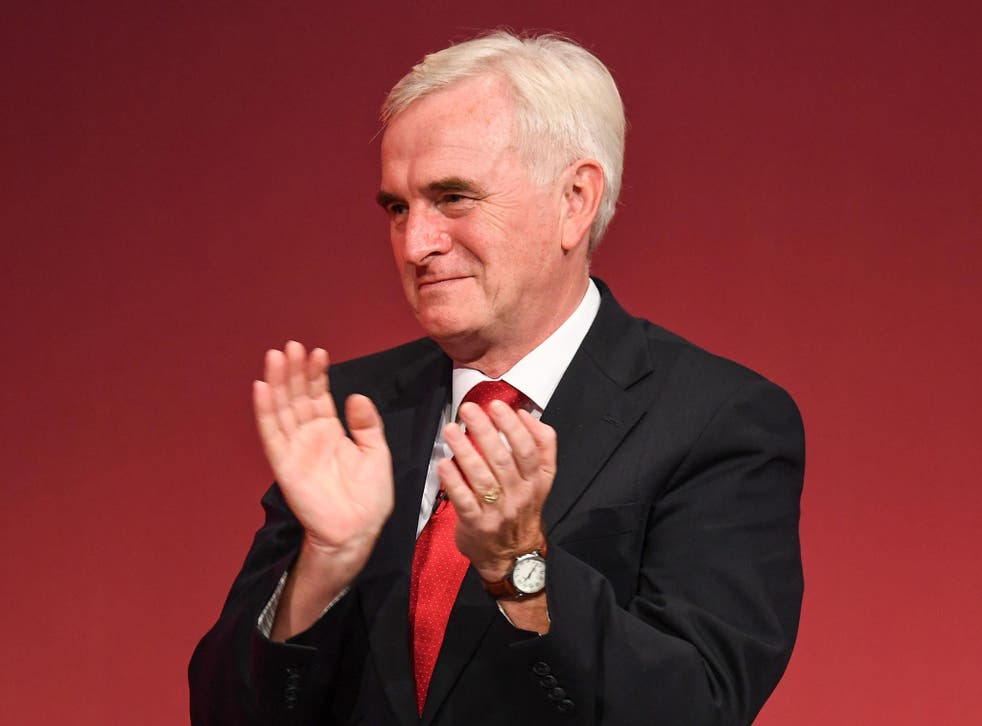 Labour has vowed to end the "scandal" of the £30bn private finance initiative scheme driven forward by Gordon Brown, to end the rip-off of taxpayers.
If elected, the party would review all PFI contracts with a view to bringing existing deals "back in-house", Shadow Chancellor John McDonnell said.
"We have already pledged that there will be no new PFI deals signed by us," he told Labour's conference in Brighton.
"But we will go further. I can tell you today, it's what you've been calling for. We'll bring existing PFI contracts back in-house."
The announcement marks another sharp break with New Labour, after hundreds of PFI deals were signed by Mr Brown, as Chancellor, to keep debt off the government's books.
Mr McDonnell's aides said PFI had "drained money from our public services for years, with billions paid out in dividends to shareholders".
An estimated £28bn was being lost through costs incurred by problems associated with PFI, including higher interest rates, bailouts and management fees.
Labour Conference 2017 – in pictures

Show all 14
There had also been "numerous examples of bad design, poor delivery and inadequate safety protection", an aide said – with the taxpayer left to pick up the bill.
In his warmly applauded speech, Mr McDonnell said: "The scandal of the private finance initiative has resulted in huge long-term costs for taxpayers while providing enormous profits for some companies.
"Over the next few decades, nearly £200bn is scheduled to be paid out of public sector budgets in PFI deals. In the NHS alone, £831m in pre-tax profits have been made over the past six years.
And he added: "Never again will this waste of taxpayer money be used to subsidise the profits of shareholders, often based in offshore tax havens."
However, there were suspicions that the speech had exaggerated the announcement, after a Labour briefing note made clear it planned a review – and would only take over outstanding contracts "if necessary".
Labour provided no further details of the policy or the likely cost, which could run to many tens of billions of pounds.
The Shadow Chancellor also vowed to press ahead with Labour's nationalisation programme, saying: "Rail, water, energy, Royal Mail – we're taking them back."
Earlier, he hinted Labour would deny shareholders full compensation if the private firms currently running key utilities have behaved badly.
Politicians would decide if full market value would be awarded when were taken back into public ownership, with the price affected by "perceived behaviour".
Mr McDonnell confirmed Labour would establish a Strategic Investment Board, charged with ending London's grip on public investment.
"We'll build Crossrail for the north, connecting our great northern cities from west coast to east, and extend HS2 into Scotland," he said.
"We'll deliver the funding for Midlands Connect, overhauling transport across the Midlands. And we'll overturn decades of neglect and lack of investment in the South-west. We'll electrify railway lines from Cornwall right through to London."
He promised to "set out plans to eliminate the deficit and reduce debt, based upon our fiscal credibility rule", but gave no further details.
A "real living wage of £10 an hour" would be accompanied by "pay ratios at the top". And he added: "We will address the gender pay gap that leaves women's wages still trailing men's by 14 per cent."
Join our new commenting forum
Join thought-provoking conversations, follow other Independent readers and see their replies