Labour facing revolt as activists refuse to back candidates in bid to fight Theresa May's plans for hard Brexit
Exclusive: Grassroots members defy national party by refusing to back local candidate as part of 'progressive alliance' with Liberal Democrats and Greens to help oust the Tories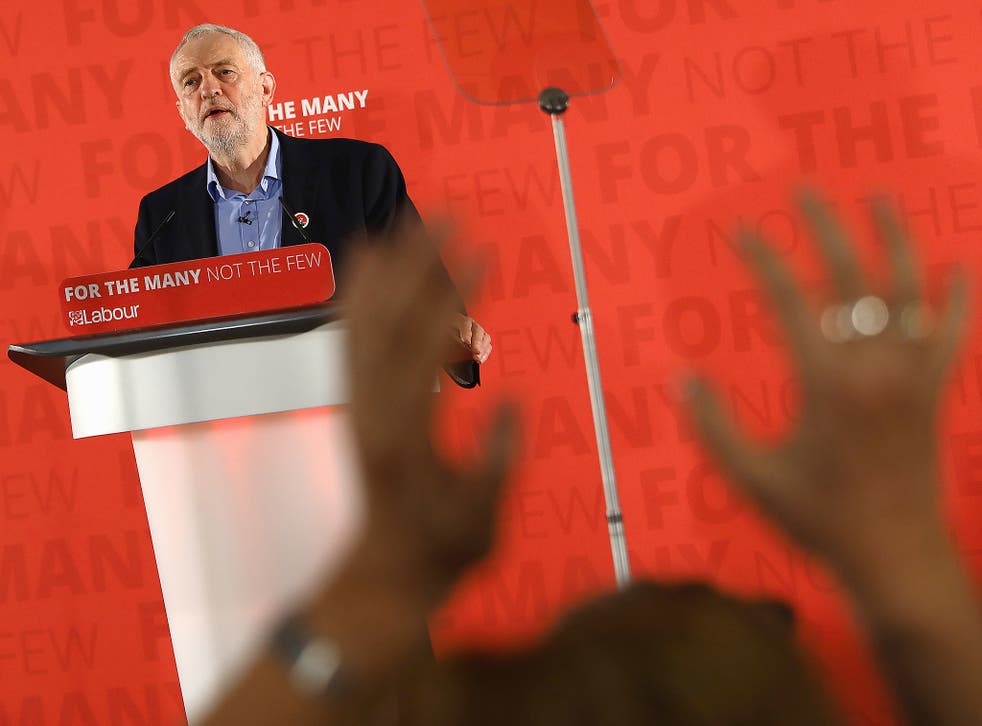 The Labour Party is facing a revolt among its own activists, who are refusing to back the party's candidates in the general election in a bid to fight Theresa May's plans for a hard Brexit.
Discussions between Labour, the Liberal Democrats and the Green Party are taking place in at least 25 constituencies across the country on ways to vote "tactically", with enthusiasm for progressive alliances having gained momentum at a local level since the election was announced.
In some cases, grassroots members have defied the national party by refusing to select a candidate in their constituency in order to increase the chances for other parties who have a higher chance of winning.
Several tactical withdrawals have already been agreed by local Liberal Democrats and Green Party members, while Labour activists in a number of constituencies have decided they will not back their own candidates in order to increase the chances for another progressive candidate in the region.
South West Surrey Labour Party made a unanimous decision on Wednesday night not to back a Labour candidate in order to boost the chances for the Liberal Democrats, who have historically been the main challengers in the constituency, in a bid to oust Health Secretary Jeremy Hunt from the seat.
Politics round-up: Leaders on the campaign trail on April 29
The local party members decided "overwhelmingly" that instead of supporting a local candidate, it would divert campaign funds and resources to get behind Labour MP in Ealing Acton Rupa Huq, who beat the Conservatives with a majority of 274 votes in 2015.
Labour activists in Brighton and Hove have also decided to divert support from a number of their candidates in order to concentrate efforts on the candidate for Kemptown, a constituency where the party trailed the Tories by just 690 votes in the 2015 election. Such talks are also said to be taking place between Labour members in other parts of the UK.
Similar agreements have taken place on the right of the political spectrum, although on a smaller scale, in a bid to steer the results in an opposite direction. In a movement dubbed a "regressive alliance" by the left, Ukip has agreed to stand aside for Tories such as Philip Davies and Jacob Rees-Mogg, allowing better chances for a pro-Brexit candidate to win the seat, and demonstrating the stark divisions at play in the impending "Brexit election".
Steve Williams, a member of Compass who sits on the executive of the South West Surrey constituency Labour Party who was present at the meeting on Thursday, said there was "overwhelming support" among local Labour members for a progressive alliance, but that a motion not to stand a candidate at all was ruled out by the regional Labour office.
"It was a very long discussion about the issues of whether Labour should stand down or not, and there was significant support — overwhelming support — for the concept of a progressive alliance and recognising that there are certain constituencies where Labour is not going to be successful given our current electoral system," Mr Williams told The Independent.
"It is therefore much more appropriate to divert all the resources that we've got, including people and funding, to the constituencies that are winnable for Labour. What would've been allocated by the constituency for the candidate for fighting the direction has been put in the direction of another constituency."
A motion put forward by Mr Williams not to stand a Labour candidate was reportedly ruled "out of order" at the meeting, with the chair under the instruction of Labour's regional office to rule out any motion that was "not related to the campaign".
"The constituency didn't have the power to decide on that outcome, even though the members of the constituency actually wanted it," Mr Williams said.
UK General Election 2017

Show all 47
"I'm deeply disappointed that the Labour Party nationally has not yet received a wake-up call from those of us in the Labour Party desperate to see a Labour government or a Labour-led government as the outcome of the election, who are hoping to work collaboratively with other progressive parties."
In December, Labour leader Jeremy Corbyn voiced his resistance to any progressive alliance with the Liberal Democrats, stating that it was not a "credible" path for Labour after the smaller party's six-year record in coalition. Labour's national executive party has more recently said it would impose candidates on constituencies where the local party does not field a candidate.
In the first tactical withdrawal of its kind ahead of the general election, the Green Party pulled out of a crucial election seat in Ealing Acton on Monday to allow more votes to go to Labour MP Rupa Huq, who beat the Conservatives with a majority of just 274 votes in 2015, while no other party managed to attract more than seven per cent of the vote.
Jeremy Corbyn slams Conservative and Ukip leaders in passionate speech
Stephen Clark, the organiser of West London Compass who was involved in forming the alliance in Ealing Acton, said there were "encouraging discussions" also taking place in other parts of the city, which he said could lead to similar agreements being formed in the coming weeks.
"We've been trying to facilitate discussions between the key progressive parties to see what can be done. As you can see in Ealing, the Greens have agreed to step aside. We're now spreading that out over the rest of London, where there are about nine seats that need defending for either the Lib Dems or Labour," said Mr Clark.
"I've had lots of discussions at grassroots level. I don't want to spell them out in too much detail, but they are very encouraging. Local parties are realising that if you're going to stop the Tories, you're going to have to cooperate with the other parties."
He said issues had arisen because while the Green Party is highly supportive of forming progressive alliances, local Labour and Liberal Democrat parties were constrained by senior party members, who discourage or even prohibit such deals taking place.
"The Greens have been very, very willing to talk about a new politics where you talk about long-term cooperation and it isn't just about electoral deals. I think with the Lib Dems it's very much a grassroots level," he said.
"While the Farron line is very much 'we're on our own we just want to win back as many of our seats that we lost last time', at local level that's not often the attitude. You'll find that certainly lots of Lib Dems are prepared to take a much broader view, especially the old anti-coalition Lib Dems who want to work with the left of centre parties.
"Labour meanwhile has been very much recipients of the largesse so far, and not showing such a willingness to cooperate. It's very much coming from the top. Corbyn is certainly running the line that he expects to fight every seat and win some kind of Trump-type victory.
"But I think you will find there are Labour activists who rebel against the top. I think you will find as the election goes on find people will come this way. We've been very clear in Compass that this is going to be a bottom-up thing."
Meanwhile in Brighton and Hove, there has been a "groundswell" of support for the strategy. Earlier this week, the local Liberal Democrats in Brighton Pavillion decided not to contest the seat currently held by Green Party co-leader Caroline Lucas without any dispute from the national party, indicating a willingness to engage with progressive alliances.
In a similar move, the Green Party in Brighton Kemptown said they would not stand a candidate in order to give a better chance to Labour's Nancy Platts, who lost by just 690 to Conservative MP Simon Kirby in 2015.
Labour activists within Brighton and Hove Momentum have subsequently committed to concentrating its efforts on winning the Kemptown seat, writing in a public post that "regardless of which constituency they live in", members and supporters should "prioritise victory in Brighton Kemptown" to make a "crucial difference in the campaign for progressive politics."
Ms Lucas has been a leading figure in calling for such alliances to take place across the country, and urged that it was an opportunity for the Labour Party to "do politics differently", saying there had been a "real enthusiasm" at a local level to assemble stronger opposition to the Tories.
"The question right now is whether or not the Labour Party will listen and enable local Labour parties who want to do this to go ahead and be able to practice the new politics," Ms Lucas told The Independent.
"Jeremy Corbyn often talks about doing politics differently — well here's a perfect example of where he could. And frankly, it can only be in his interest if you look at where the polling is at the moment.
"At a local level there's a real enthusiasm across the country. We'd like to see that Corbyn is thinking about doing politics differently and realising that it is so important to assemble some kind of opposition to Theresa May."
Former Liberal Democrat Business Secretary Vince Cable, who was ousted at the last election but is standing in his former seat of Twickenham in the impending election, was a leading proponent calling for the Liberal Democrats to stand down in Brighton Pavilion, and said he encourages such thinking taking place elsewhere in the UK.
"I think what is happening — and I think it's sensible — is that we're encouraging the voters to think tactically. There's no prospect of getting some sort of pre-election agreement between parties given the gulf particularly with the Labour Party," Mr Cable told The Independent.
UK news in pictures

Show all 50
"There's nothing to stop localised agreements and nothing to stop encouragement of people to vote on a tactical basis. I think in the current context an awful lot of people will find their way to the voting booths in that kind of spirit.
"I think it could pave the way for future changes to the electoral system. There's a certain amount of overlap, and as we approach polling day it may become more polarised like that, with people in many parts of the country wanting an alternative to the Conservatives."
Following the agreements made in Brighton Pavillion and Kemptown, there is growing willingness among grassroots progressives in wider Sussex for further deals and alliances to take place in the region, with hundreds of members attending events organised by Sussex Progressives, an organisation promoting and facilitating such agreements between the progressive parties in the area.
Georgia Amson-Bradshaw, co-convenor of the Sussex Progressives, said local Labour and Lib Dem members wanted to pressure on party executives to "do the right thing", and that many had sought advice from the organisation on how they can persuade their parties to engage in such alliances.
"We're trying to empower grassroots people to apply pressure to the executives to do the right thing. I know that this is something all the progressive parties are taking seriously at the moment," said Ms Amson-Bradshaw.
"We have lots of Labour and Lib Dem members come to our meetings. Particularly Labour – not elected representatives — asking what they can do in their party to try change it. It is very bottom-up. There is definitely a groundswell for this sort of thing locally, so fingers crossed that will translate into the parties doing something a bit differently at the top.
"We come up against Corbyn and Farron saying we're not going to do any deals or alliances, but there is a very strong call at the grassroots level for the progressive parties to look at the bigger picture and behave more sensibly in the face of the hard Brexit Tory onslaught we're facing right now."
Discussions between progressive opposition parties are also taking place at a grassroots level in constituencies including Oxford, the Isle of Wight and Cornwall and Birmingham. According to analysis by Compass, a thinktank that is spear-heading the progressive alliance movement, electoral alliances in the June election could help Labour win up to 29 Tory seats, as well as helping the Liberal Democrats to pick up several seats in the south-west and the Greens win in places like Brighton Pavillion and the Isle of Wight.
Tim Farron hails 'appetite for change' as Lib Dems notch up 100,000 members
Neal Lawson, chair of Compass, has witnessed the willingness among local parties and activists across the country to communicate about where it "makes sense for them to stand and not to stand", and said the "fear of a one-party state" is encouraging people to cross tribal barriers in a way not seen before.
"There's been a massive outpouring of local parties talking about deals and vote-swapping. Local parties are talking to each other across the country about where it makes sense for them to stand and not to stand," said Mr Lawson.
"This is a grassroots rebellion from below. This is the electorate's progressive alliance, not the leaders. And there's a huge amount of interest. It's going to be an election like no other, driven not from the press releases and the newsrooms, but by the people. There's a very different sentiment going on.
"What we're picking up is the fear of the one-party state and the role of the electoral voting system within it. That's really mobilising people and getting them out and worried and looking to cross tribal barriers this time."
When asked whether the party supported progressive alliances, a Liberal Democrats spokesperson told The Independent: "Liberal Democrats across the country are challenging Theresa May's Conservative Brexit government.
"As in previous elections, a limited number of local parties are considering how best to provide that challenge in their constituencies. In Brighton Pavilion, local Liberal Democrats have decided to pursue that challenge jointly with the local Green Party. We welcome that constructive collaboration.
"But we must remember that this is the Brexit election and the Liberal Democrats are the only significant UK wide party opposing Brexit, so in the overwhelmingly majority of seats if people want Britain to remain open, tolerant and united, the only choice is the Liberal Democrats."
When contacted for comment, the Labour Party said they did not comment on private meetings.
Register for free to continue reading
Registration is a free and easy way to support our truly independent journalism
By registering, you will also enjoy limited access to Premium articles, exclusive newsletters, commenting, and virtual events with our leading journalists
Already have an account? sign in
Register for free to continue reading
Registration is a free and easy way to support our truly independent journalism
By registering, you will also enjoy limited access to Premium articles, exclusive newsletters, commenting, and virtual events with our leading journalists
Already have an account? sign in
Join our new commenting forum
Join thought-provoking conversations, follow other Independent readers and see their replies