Labour would force all government contractors to recognise trade union collective bargaining
Jeremy Corbyn says the state should 'stop subsidising bad corporate behaviour'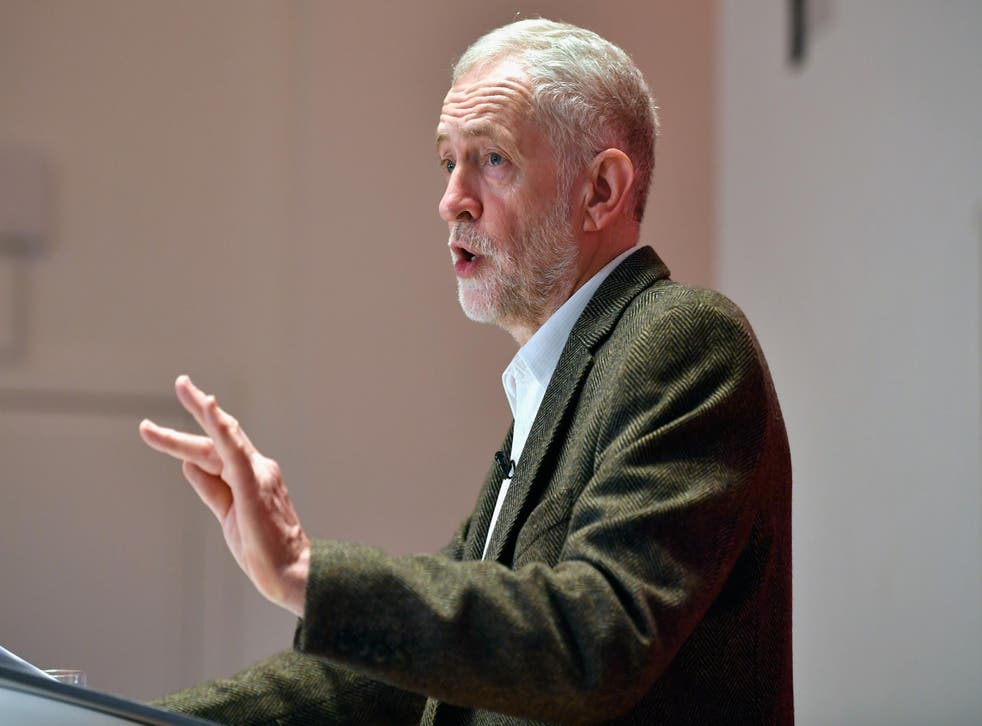 A Labour government would force all private companies who take government contracts to recognise trade unions and offer their employees full collective bargaining, Jeremy Corbyn will announce today.
The new proposal is one of a number of conditions Labour says it would require public contractors like Capita, Serco, and Atos to adhere to if they want to win public contracts and be paid with taxpayers' money.
Speaking at a train maintenance company in Doncaster on Wednesday morning Mr Corbyn will pledge to stop the British state "subsidising bad corporate behaviour" and instead use the £200 billion of public money spent on such firms a year to make companies to change the way they operate.
Private sector contractors would also be required to move towards a 20-1 pay ratio between their highest and lower paid employees to reduce inequality, pay all their suppliers the full amount within 30 days, and provide apprenticeship training to their workforce – all as part of the deal for taking taxpayers' money.
Additionally, firms would be barred from avoiding tax, would have to adopt "best practice" in equal opportunities, and maintain the highest environmental standards.
Labour says the policy would not fall afoul of current EU rules, providing it is enacted on a "non discriminatory" basis. However, it says leaving the EU will allow it to give local authorities the power to award some contracts in "left behind" areas to local suppliers in order to boost local economic activity.
Speaking at the Webtec train depot on Doncaster this afternoon, Mr Corbyn is expected to say: "For years we've been told that there's nothing that can stop the race to the bottom in the jobs market that is making people's lives harder and holding back our economy.
"Well, today I say, Britain doesn't have to be so meek, and settle for things getting worse and more insecure for so many. We can make the change we need if we understand the power we already have - and how we can better use it.
"National and local government spends £200 billion per year in the private sector. That's an incredible purchasing power, which we can use to support the good companies and improve the behaviour of the bad ones that undercut with unfair practices.
"Under the next Labour government, Britain will subsidise bad corporate behaviour no longer. Our business partners should have the same values we as a country hold: enterprise, fairness, high-quality service and doing right by everyone.
"And while Brexit presents many challenges to Britain, it can give us more powers to encourage best practices and support new and existing businesses and industries in Britain.
UK news in pictures

Show all 50
"While the Conservatives seem intent on using Brexit to turn us into a low-wage tax haven, Labour will use every power possible to upgrade our economy so we can all lead richer lives."
The House of Commons Library estimates that in 2014/15, UK government procurement was worth £191.7 billion. Of this, £68.9 billion was procured by local government and £115.5 billion was commissioned by central government.
Labour has used the parliamentary recess to launch a series of policies including universal free school meals for all primary school children funded by VAT on private school fees, as well as plans to force large companies to pay their small business suppliers on time or face sanctions.
Join our new commenting forum
Join thought-provoking conversations, follow other Independent readers and see their replies