Senior Labour MP Jack Dromey calls for 'humility' after Stoke by-election win
'Are we yet a credible alternative government? No we're not'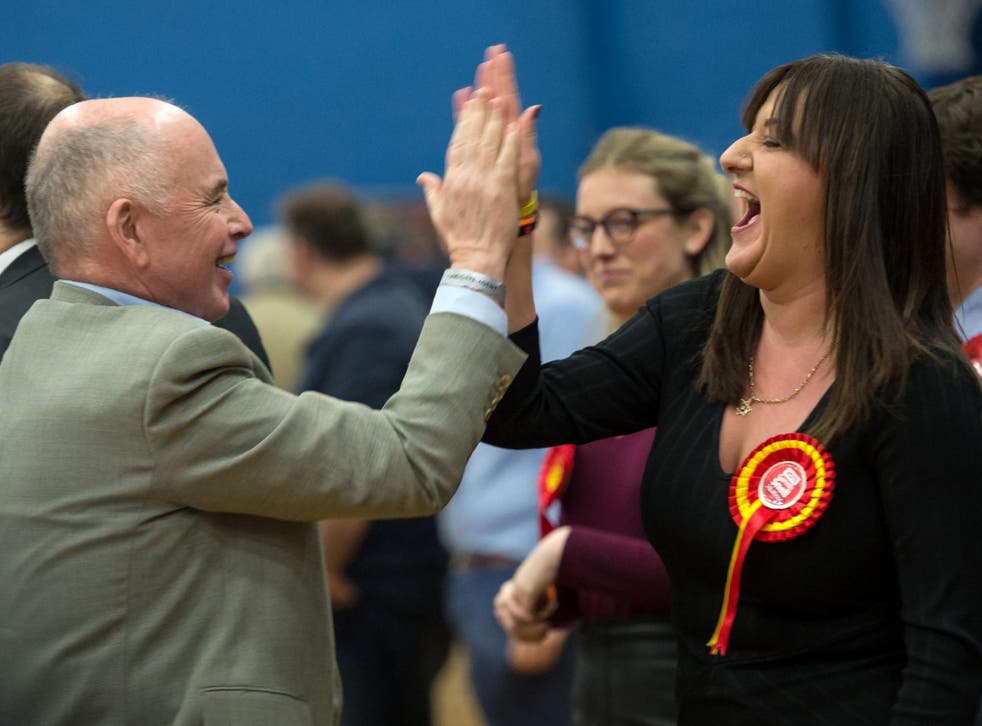 Labour has held Stoke Central after beating back a strong challenge from Ukip with a senior party MP calling for "humility" in victory.
MP Jack Dromey said: "I think as we win we need necessary humility because there is a view that Labour is no longer listening in the way it should do.
"I think what we have done in this community is precisely to do that.
Are we yet a credible alternative government? No we're not.
"But tonight is a decisive moment."
Mr Dromey had been speaking as it became increasingly clear voters in Stoke-on-Trent Central had elected Labour's Gareth Snell following a tight-fought battle with Ukip, whose leader Paul Nuttall came second.
Mr Snell was elected with 7,853 of the votes.
The seat has been a Labour stronghold since it was created in 1950, but became a key battleground after Mr Nuttall's decision to personally contest the by-election for Ukip.
However, his campaign had been dogged by controversy in recent weeks after he said a claim he had lost "close personal friends" in the Hillsborough disaster on his official website was untrue.
A Ukip press officer said she was to blame for the error and offered to resign, while Mr Nuttall apologised for the mistake.
Two senior party officials in Liverpool resigned earlier this week, citing Ukip's "crass and insensitive" handling of the Hillsborough controversy.
Meanwhile, Mr Nuttall's opponent Mr Snell also had a controversial campaign, having to apologise for past tweets in which he said party leader Jeremy Corbyn was "an IRA-supporting friend of Hamas" and called Brexit "a massive pile of shit".
During the EU referendum, Stoke voted by more than 69% in favour of a divorce with Brussels.
But in his victory speech at Fenton Manor Leisure Centre in the early hours, Mr Snell said the poll showed that the city would not be "divided".
He said: "We will move forward together to tackle the problems we face, and secure a brighter more prosperous future for everyone."
And turning his attention to Ukip, he added: "So to those of you who came to Stoke-on-Trent to sow hatred and division and turn us away from our neighbours, I have one simple message: you have failed."
He said Stoke had "chosen the politics of hope over the politics of fear".
Mr Snell added that his job would be "to put this campaign behind us, and work together", pledging he would work for all his constituents and be "a strong local voice our city needs".
Conceding defeat, Mr Nuttall said: "There's going to be a lot more seats which could be more favourable in the future and we will go on and we will have success in the future."
Asked if Hillsborough had damaged his campaign, he said: "Well actually, you know, the whole thing with Hillsborough wasn't an issue on the doorstep in Stoke-on-Trent.
"Ukip's time will come".
Quizzed on whether he would stand again, he replied: "I'll probably stand in the general election in 2020."
When asked what would happen to Mr Nuttall if Ukip failed to win, party chairman Paul Oakden said: "He has a well-earned rest and then he comes back and leads our party, I suspect.
"The whole narrative of Paul's leadership depends on winning in Stoke is a nonsense."
On the night Ukip beat the Conservatives into third by just 79 votes, polling 5,233 to 5,154.
Mr Nuttall was branded "a carpet-bagger" by Mr Dromey, MP for Erdington in Birmingham.
He added that while Labour was still "the party of working people", it had more work to do if it wanted to win back public confidence and return to government.
But he said the party had showed in Stoke that it could listen to people's concerns, by selecting a "local and proud" candidate in Mr Snell.
He added there was a wider political debate to be had about broadening the "pool of people we draw MPs from" saying it should feature more factory workers and "dare I say, chief executives".
In pictures: Storm Doris hits the UK

Show all 17
Earlier in the evening while speaking on BBC Question Time, Ukip's only MP Douglas Carswell appeared to concede defeat to Labour in Stoke hours before the result.
The MP for Clacton said: "I think the most likely outcome is that Labour will win.
"Stoke is not even in our top 50 target seats."
Official turnout was 38.16%, with 21,200 votes cast.
PA
Join our new commenting forum
Join thought-provoking conversations, follow other Independent readers and see their replies