Lansley has caved in to fast-food industry, says former adviser
Man who helped formulate policy accuses Health Secretary of 'dereliction of duty' over Britain's obesity epidemic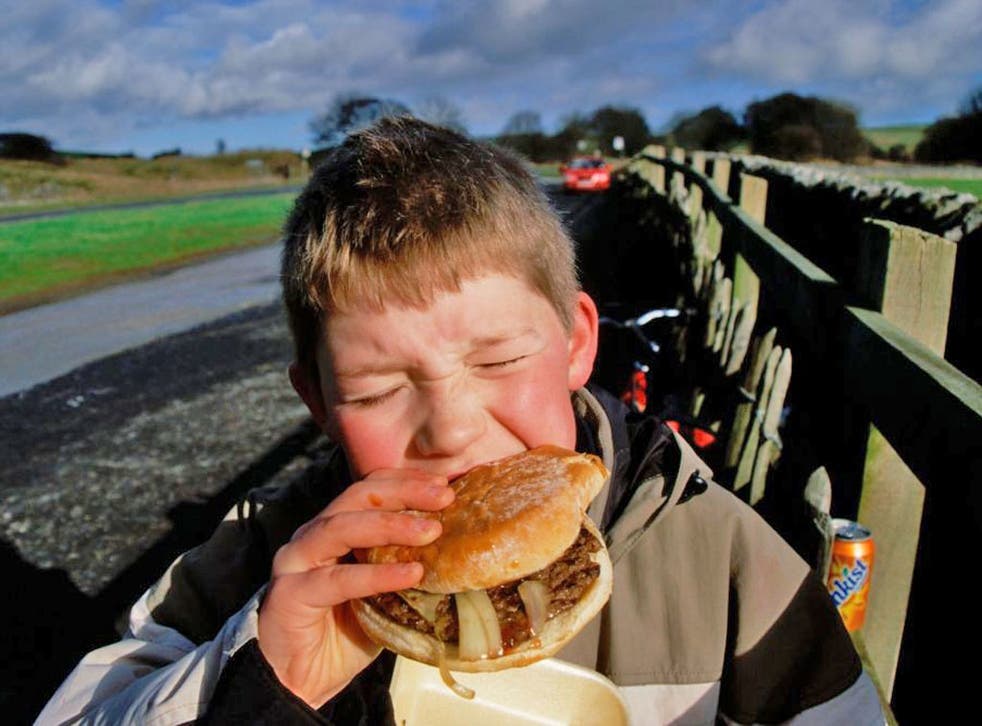 Andrew Lansley is guilty of a "dereliction of duty" for failing to tackle Britain's growing obesity epidemic, one of his former public health advisers warns today.
In an interview with The Independent Professor Simon Capewell, who served on the Health Secretary's Public Health Commission in opposition, accuses Mr Lansley of conniving with the food industry and ignoring scientific evidence on obesity.
And he warns that the Government's plan to "work together" with manufacturers to introduce voluntary cuts to fat, sugar and salt levels in food as like "putting Dracula in charge of the blood bank".
Professor Capewell, a leading expert on effects of diet on cardiovascular disease and a member of the Academy of Medical Royal Colleges committee on obesity, said he had lost faith in the ability of Mr Lansley to take on the food industry.
"Andrew Lansley, in my opinion, is guilty of a gross dereliction of duty in relation to public health," he said. "He has actually moved Britain back in terms of public health from where we were before he was elected. He has officiated over a responsibility deal which is a pantomime – and has been a huge public relations coup for the industry."
Under the Government's plan, launched in March last year, companies are supposed to voluntarily help to improve the health of the nation by labelling food in restaurants with calorie counts and reduce saturated fat, salt and sugar in products. But earlier this year Which? found only a handful of the top 10 restaurants and pub groups had agreed to provide calorie information on menus with many well-known brands such as Pizza Express, Café Rouge and Strada failing to sign up..
In its report into the Responsibility Deal the House of Commons Heath Select Committee concluded it was "unconvinced" that it would be "effective in resolving issues such as obesity". It called on the Department of Health to set out clearly how progress will be monitored and tougher regulation applied if necessary. "Those with a financial interest must not be allowed to set the agenda for health improvement," it concluded.
Professor Capewell said such low uptake was unsurprising as the companies involved only had a duty of care to their shareholders – and not to those who consumed their food. "Even a moment of reflection should show that this is a spectacular conflict of interest," he said. "It is breathtaking that when deciding on public health policy in relation to food you should be sitting around the table with the very people who make large amounts of money from selling this stuff.
Professor Capewell cited the case of a chocolate manufacturer who claimed to have reduced the size of their bars were in fact just selling the amount of chocolate in a different way. "The food industry has done things like saying they will no longer sell 500 gram packs of chocolate – and instead they are selling a double pack of two 250 gram bars. These sort of voluntary agreements are not worth the paper they are written on."
The academy, which is expected to draw up its own recommendations for tackling poor health caused by obesity later this year recently highlighted statistics showing that a quarter of women and just over a fifth of men in the UK are classed as obese. The UK has the highest rate of obesity in Europe with one in three children overweight or obese by the age of nine. On current trends, half of the children will be obese or overweight by 2020.
Professor Capewell, who was a member of Andrew Lansley's Public Health Commission, set up before the election with representatives of both industry and the medical profession to help draw up Tory policy in the area said he should have been more critical when it suggested a voluntary approach. "I suppose I agreed because Labour were clearly on the way out and thought it was better to be inside the tent than outside," he said.
"And at first they listened very respectfully to everything we had to say. But everything robust we recommended from a health perspective was watered down in the final report.
But sources close to Mr Lansley insisted that real progress had been made as a result of the voluntary agreement – and said it was far more effective to work with the food industry than against it.
£50bn Predicted annual cost of obesity to the British economy in 2050
68 Percentage of adults who are obese or overweight, according to the NHS
16 Percentage of children classed as obese
50 Percentage of children expected to be obese or overweight by 2020
Who's doing what? Tackling obesity
Denmark became the first country in the world to ban trans-fatty acids from the food supply in 2003, and to pass a law taxing saturated fats in 2011. It is currently considering passing a 'sugar' tax.
New York bans the use of artificial trans-fats in restaurants and catering outlets and recently Mayor Bloomberg announced plans to prevent the sale of any cup or bottle of sweetened drink larger than 16 fluid ounces (470ml) – smaller than a common Coke bottle.
Sweden and Norway both ban the advertising of "junk food" aimed at children under 12.
And the effects
In Poland, a 26 per cent decrease in coronary deaths followed a substantial reduction in the consumption of animal fats and increased consumption of vegetable oils and fruit after the break-up of the Soviet Union.
In Mauritius, coronary vascular disease (CVD) deaths fell following the introduction of legislation to make it mandatory to use polyunsaturated oils as a substitute for highly saturated cooking oils.
A substantial fall in CVD deaths also followed a reduction in saturated fat intake in Finland, Iceland and Norway following intensive public health campaigns.
Conversely, rapid rises in CVD mortality have been seen in China and elsewhere, principally owing to the adoption of a Western diet rich in saturated fats.
Simon Capewell: Epidemiologist says the scientific evidence is clear
Simon Capewell is one of Britain's leading experts on the clinical relationship between obesity and heart disease.
After qualifying as a doctor at Newcastle University he worked in respiratory and cardiovascular medicine in Edinburgh, Oxford and Glasgow before moving into public health. In 1999 he was appointed the first Professor of Clinical Epidemiology at the University of Liverpool.
He now manages a multimillion-pound research programme into the clinical epidemiology of cardiovascular disease and has published more than 200 peer-reviewed papers.
In 2009 he was a member of Andrew Lansley's Public Health Commission and now sits on the Academy of Medical Royal Colleges' working group on obesity. He is a trustee of the UK National Heart Forum and Heart of Mersey, a large regional coronary vascular disease primary prevention charity.
Join our new commenting forum
Join thought-provoking conversations, follow other Independent readers and see their replies