'Levelling up' will take a decade and there will be pain along the way, say ministers
Tax cuts expected as pre-election sweetener after tough years for voters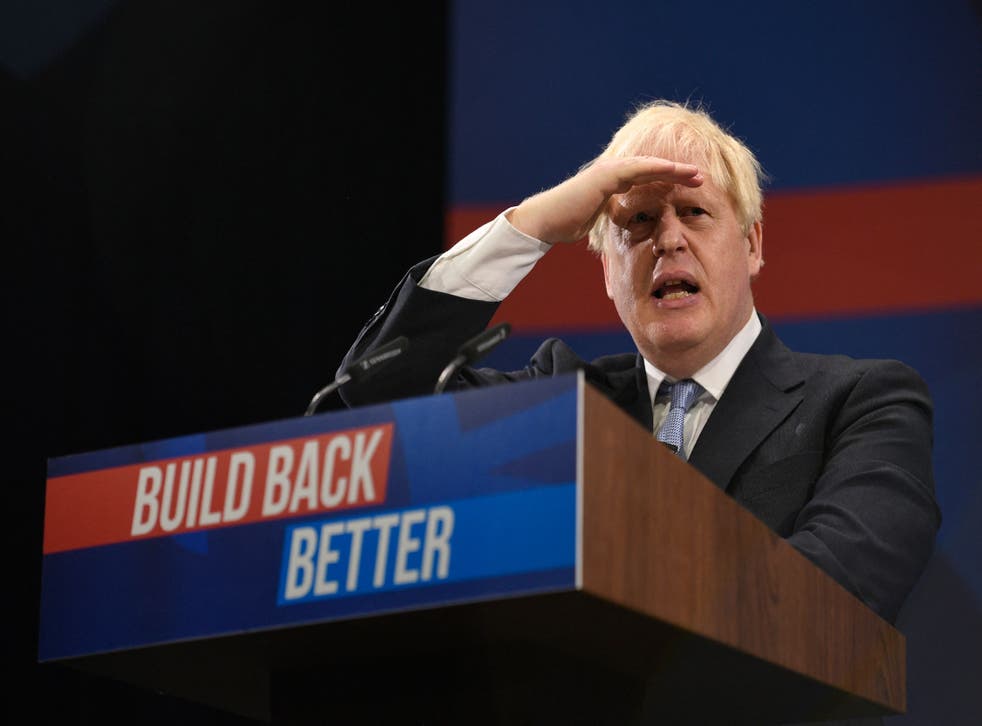 Senior members of Boris Johnson's government believe it will take 10 years to complete his "levelling up" project, and admit there will be pain for voters along the way.
Sweeteners in the form of tax cuts will be needed before the next election as a "thank you" to voters for the years of rising prices and squeezed incomes that lie ahead, one cabinet minister told The Independent.
Speaking privately, ministers at this week's party conference in Manchester said that the next general election will have to be delayed until the last possible moment in 2024 in the hope that voters will have time to notice improvements to their lives as a result of government plans.
But all insisted that Mr Johnson himself will want to see the project through, dismissing suggestions that he may give way to another leader in order to be able to return to more lucrative work.
"Apart from anything else, he's very competitive," said one. "He'll know down to the day, the hour and the minute when he will overtake David Cameron or Margaret Thatcher. He is in it for the long haul."
Mr Johnson's continuation in office is regarded as key to the completion of the levelling up agenda, with oft-tipped potential successor Rishi Sunak described as "still very much a work in progress".
"There are faces for the future, but if Boris went under a bus tomorrow, we'd be in trouble," said one minister. "There's no one else who can reach the voters he does."
UK news in pictures

Show all 50
The prime minister used his high-profile speech to Conservative conference on Wednesday to promise a Britain with a "high-wage, high-skill, high-productivity and low-tax economy", but admitted there would be "stresses and strains" along the way.
Mr Johnson has described the post-Brexit move away from an economy fuelled by the labour of millions of EU migrants to one that relies more on investment in homegrown talent and innovation as a "period of adjustment" but has so far refused to say how long the transition might take.
But one cabinet minister told The Independent: "It will take 10 years and there will be some pain along the way, particularly in the early part.
"A lot of it depends on building infrastructure – roads and railways and so on – and it takes time to complete and time for people to feel the benefit."
Even if it goes smoothly, levelling up will be at least a "two-term project", with the PM certainly not able to declare his goals achieved by the time of the next election, but maybe by the next-but-one, scheduled for 2029.
Senior Labour figures have made clear that they expect Mr Johnson to call the next election in the spring of 2023, to get it out of the way before the findings of the public inquiry into his handling of coronavirus are published.
But without exception, ministers who spoke to The Independent said they expect Mr Johnson to hold on as long as he can, in order to maximise the chances of capitalising on a "feelgood factor" from new roads, bus or rail links and broadband connections. One said he would "bet the house" on a May 2024 poll.
In the meantime, there was a recognition that voters will face difficult times as the world emerges from the Covid crisis and Britain adapts to its non-EU status, with rising inflation, higher taxes, long waits for NHS treatment and changes in work patterns to be expected.
Ministers themselves had been feeling some of the strains, with one saying their spouse had been complaining at the additional cost of finding staff for their company following the end of free movement.
Although Mr Sunak told delegates at the Manchester conference that tax cuts would have to wait until the economy was on a "sustainable footing", a cabinet colleague said that relief of some kind could be expected before the election. Although they doubted it would not in the form of the reversal of Mr Johnson's 1.25 per cent health and care levy on national insurance contributions, which is likely to stay for the long term.
"It's the normal pattern that there are tax cuts before elections, and this time round we will want to give a thank you to voters for bearing with everything," said one.
Another said: "It's going to be bumpy, Boris might need to rub some soothing balm on the voters."
Join our new commenting forum
Join thought-provoking conversations, follow other Independent readers and see their replies