Lib Dem leader Nick Clegg rules out ever joining Nigel Farage in coalition government with Ukip
The Deputy Prime Minister's answer was simply 'no'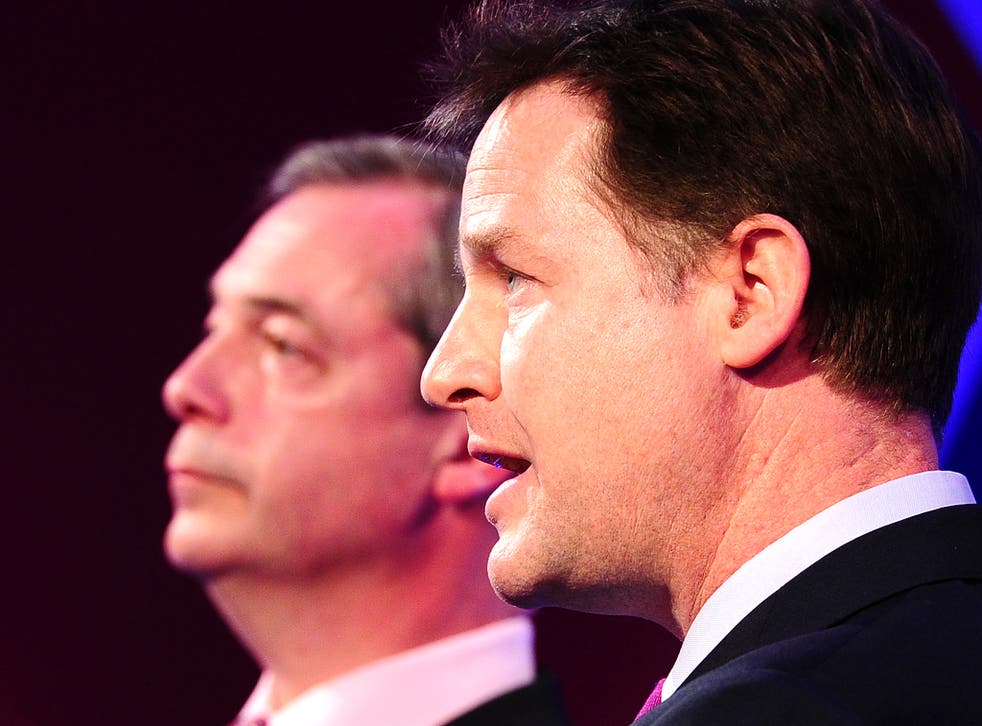 Nick Clegg has vowed that he will never be part of a coalition government that includes Ukip.
The Deputy Prime Minister's flat refusal to sit in a Cabinet alongside Nigel Farage or any of his party colleagues came on a day when opinion polls show that almost one voter in five might back the anti-EU party.
A ComRes poll for the Independent on Sunday puts Ukip on 18 per cent, well ahead of the Lib Dems on 7 per cent, while the Labour Party, on 34 per cent, holds a narrow lead over the Conservatives, on 31 per cent.
The tiny margin between the main parties makes it a near certainty that neither will win an outright majority in the general election, to be held on 7 May – suggesting that Nick Clegg act as kingmaker once again, even if his party's contingent of MPs is reduced to less than half its present size, as the polls predict.
Although the Lib Dems are forecast to pick up less than half the votes for Ukip, they may emerge with more MPs because of the 'incumbency factor' which means that their vote is concentrated in the seats they already hold. Ukip's vote is likely to be thinly spread, meaning they will have a harder job winning under the first past the post system.
Even so, the result could be so close that no two parties combined would have an overall Commons majority, raising the prospect of a coalition of three parties going into government for the first time in British history
Nick Clegg's flat refusal to join Ukip in a coalition reduces the likelihood that David Cameron could hang on as the leader of a three-party coalition.
Asked about a coalition with Ukip on the BBC's Andrew Marr, Mr Clegg answered with a single word – "No."
Asked the same question about the SNP, he sought to avoid answering by protesting: "I'm not going to carry on!" When pressed, he replied: "I find it very difficult to imagine the circumstances in which I would do that."
The Deputy Prime Minister also claimed that the Lib Dems would do better in May's election than the polls predicted. He said that when party canvassers met voters face to face, they were able to persuade past supporters not to desert them.
"I really would stop using this prediction which I don't think is going to come down to some sort of absolute assertion of truth. I spent much more time than any pollster in Liberal Democrat seats, where we are getting our message across," he said.
"I think we will do so much better than the pundits are predicating – and then, of course, what happens beyond that, how a government is composed if no one has a majority, is entirely up to the British people."
He added that he was "confident" of holding his out seat of Sheffield Hallam.
Asked whether he would quit the party leadership if the polls proved to be correct, and the number of Lib Dem MPs was halved, Mr Clegg brushed off the question. "I'm not going to stare into a crystal ball," he said.
Join our new commenting forum
Join thought-provoking conversations, follow other Independent readers and see their replies