Lib Dem members want Nick Clegg to back Labour if in event of hung parliament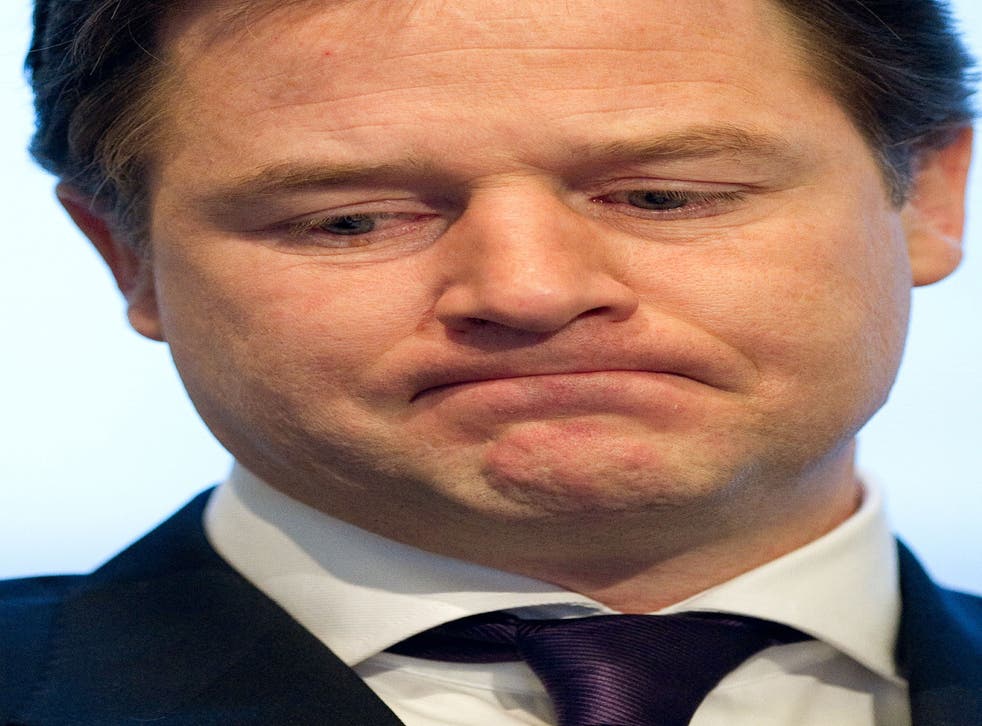 Liberal Democrat members have warned Nick Clegg that they want to do a deal with Labour rather than the Conservatives if the 2015 election results in another hung parliament.
A survey of more than 600 party members by the LibDem Voice website found that 55 per cent would prefer an alliance with Labour and only 18 per cent a continuing pact with the Tories.
Mr Clegg insists his party is "equidistant" between the Tories and Labour, saying he would respect the voters' verdict by talking first to the party which had won the most seats. But many Lib Dem members suspect that, if he could choose, he would be more inclined to extend the Coalition with the Tories than link up with Labour.
The poll suggests that would leave him out of step with his own party, which would have to approve any post-election deal. "The message is that we like coalitions – just not with the Tories," one Lib Dem source said.
According to LibDem Voice, 72 per cent of party members expect another hung parliament after the next election. Four out of ten members expect their party to be back in government in a second coalition; three-quarters of this group believe it will be with Labour and only a quarter with the Tories.
Some 40 per cent of Lib Dems want to see a formal coalition with Labour, while 15 per cent would prefer a "confidence and supply" deal under which the third party supported a minority Labour government in key Commons votes. Only 13 per cent of members want to see a second coalition with David Cameron's party, while 5 per cent favour a "confidence and supply" pact with the Tories.
Lord Oakeshott, a senior Lib Dem peer, said: "It's yet more proof that most Liberal Democrat hearts beat on the centre-left, not in the muddled middle of British politics. We've proved we can make coalition work- but in 2015 we'll be more far comfortable working with Labour than Lynton Crosby's Conservatives".
Stephen Tall, co-editor of LibDem Voice, said there had been a noticeable shift towards a full coalition with Labour in the past year. "Tactically, it makes sense for the Lib Dems to want to choose Labour next time: it would show the party isn't simply an adjunct to the Tories but can work with both other major parties if that's how the public votes," he said. "On a principled basis, Labour's position on a range of big economic issues — tax-cuts for the low-paid, the 'mansion tax', ending universal benefits for wealthier pensioners — has moved towards the Lib Dems in recent months."
However, Mr Tall doubted that the Lib Dems would form a full coalition with either main party. "I do not think the party will approve a second full coalition with the Conservatives: the party's 'triple lock' — which means any deal must be approved by large majorities by each parliamentary party, the elected federal executive and a special conference — will, almost certainly, prevent it," he said. "While the results in our poll suggest the party would be willing to sign up to a coalition with Labour next time around, it seems very doubtful Labour will be prepared to offer the party the kind of deal that will make it acceptable. Too much bile has been spilled, too many bridges burned."
However, allies of Ed Miliband and Mr Clegg say that relations between them have improved since they joined forces on how the press should be regulated after the Leveson inquiry.
What Lib Dem members want after the 2015 election
40% – A Labour-Lib Dem coalition
15% – A Labour-Lib Dem "confidence and supply" agreement
13% – A second Conservative-Lib Dem coalition
7% – A minority Labour government with the Lib Dems in opposition
5% – A Conservative-Lib Dem "confidence and supply" agreement
3% – A Labour majority government with the Lib Dems in opposition
2% – A Conservative majority with the Lib Dems in opposition
1% - A minority Conservative government with the Lib Dems in opposition
Source: LibDem Voice
Join our new commenting forum
Join thought-provoking conversations, follow other Independent readers and see their replies