Lib Dem president accused of 'slagging off the coalition'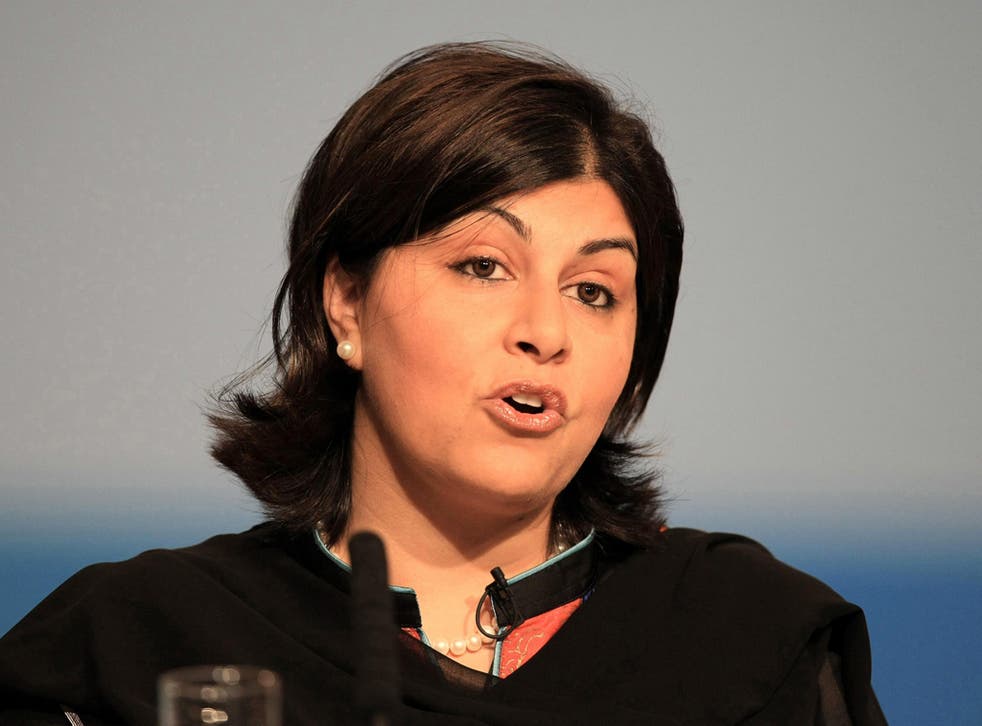 The Tory party chairwoman, Baroness Warsi, has accused her Liberal Democrat counterpart of treating the coalition like "a bad episode of Come Dine with Me" by enjoying the good things on offer and "then slagging it off afterwards".
While Nick Clegg and David Cameron engage in public displays of bonhomie around the cabinet table, Tim Farron, the Lib Dem president, is charged with behaving like the political equivalent of a disgruntled diner brandishing a low score in the back of a black cab.
Mr Farron said in an interview with The Independent on Sunday last month that he needs "daily counselling to cope" with sharing power with the Tories. He claimed prospects for the poorest would have been "grim" if Mr Cameron governed unchecked by "a bunch of liberal radicals".
Officially, Mr Farron's pithy putdowns about the Conservatives are part of his party's "differentiation strategy". But to Baroness Warsi it is "bad taste and mean". The war of words from the senior figures who voice the concerns of their parties' rank and file comes as Mr Cameron and Mr Clegg try to present a more united front after weeks of public division over Britain's relationship with Europe. When MPs return from their Christmas holidays next week, splits over health reforms, the economy and the environment are expected to become more prominent.
Baroness Warsi has now hit back against Mr Farron, accusing him of being on the "fringes" of his own party. "He's not really in the coalition is he?" she told the IoS. "If he says he needs counselling that's a matter for him."
In the days after George Osborne's Autumn Statement, which brought more dire economic news, Mr Farron took aim at the Chancellor's assertion that environmental policies were holding back growth, saying it was designed to "placate 50 or 60 climate deniers on the [Tory] back benches, people who read the Daily Mail and people called Jeremy Clarkson". And he admitted he "took some convincing" to sign up to the coalition's cuts programme. "My instincts are undiluted Keynesian," he added in a nod to his party's left-leaning activists.
But Baroness Warsi suggests the Tories are doing the Lib Dems a favour, arguing that the smaller party will "benefit hugely" and gain "economic credibility" by aligning themselves with Conservatives who have a long record of governing.
"It's actually bad taste and mean to say: 'We will take credit for the good stuff and you did all the bad stuff.' What [Mr Farron] is referring to as 'bad stuff' – the spending cuts – was necessary stuff ... which effectively keeps people's mortgage interest low, keeps people in their homes and jobs, keeps families together.
"It's almost like going to somebody's house, eating their meal and then slagging it off afterwards, like a bad episode of Come Dine with Me."
She said voters would be turned off by Mr Farron's behaviour. "I think the general public find that quite distasteful when they see someone saying: 'Well, I'm playing but I'm not playing, and when I'm not playing I'll take my bat home but occasionally I'll come back in for a guest appearance'."
Senior Tories fear the long-term impact on their party's brand if they are seen to have "sub-contracted" good news policies to the Lib Dems, who repeatedly claim to have "reined in" Conservative excesses. Mr Farron claimed that since the 1970s the Tories have embraced a culture of "greed being institutionalised, lionised, glorified and treated as a virtue".
But Baroness Warsi, who was a standard-bearer for the "Cameroon" brand of "compassionate conservatism", insisted her party fundamentally changed in opposition and many of the policies developed from 2005 were now being implemented: "The belief in society, in the voluntary and charitable sector, the support towards more philanthropic giving, the Big Society, compassionate conservatism, making sure that kids don't [only] go to a good school because their parents can afford [to pay], trusting teachers, allowing them to take charge of their schools. All this was very much about saying you don't deal with the poorest in society by giving them an extra tenner in their benefits and saying: 'Well, now you are just above the poverty trap so you are all right'."
Join our new commenting forum
Join thought-provoking conversations, follow other Independent readers and see their replies