Lib Dem supporters spell it out: We won't be fooled by Nick Clegg again over support for a coalition
Warning comes amid signs the Prime Minister is laying ground for second spell of shared power in 2015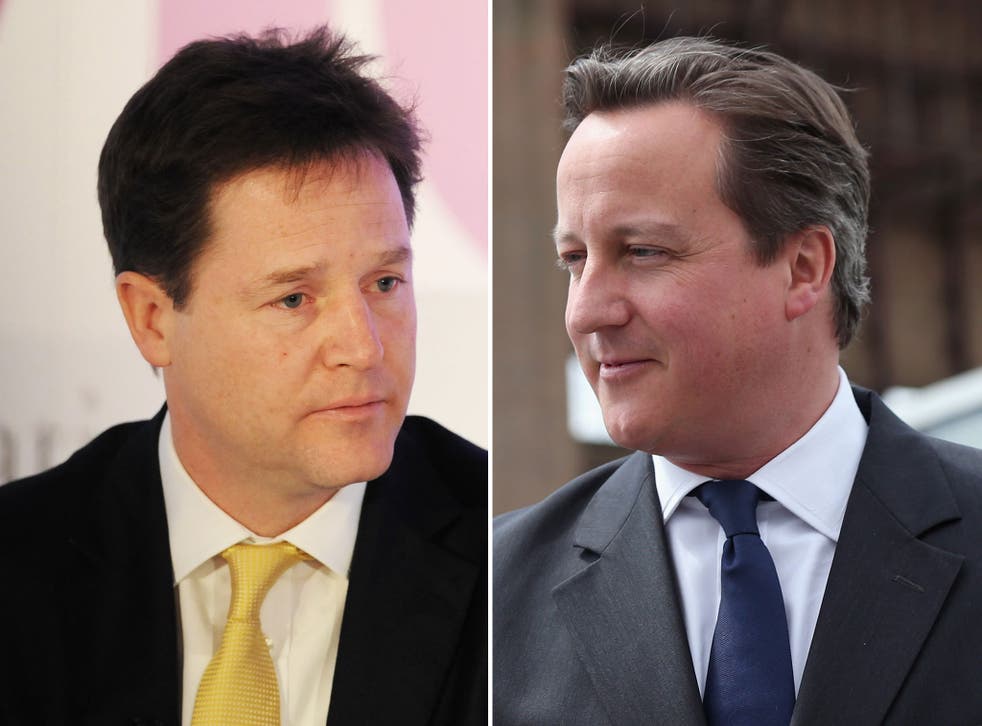 Nick Clegg is being told he would struggle to win support within his party for a fresh coalition with the Conservatives amid growing hostility to David Cameron within the Liberal Democrat grassroots.
The warning comes amid signs the Prime Minister is laying the ground for a second spell of Coalition in 2015 by amending Tory Party rules to make it easier to strike a deal with the Lib Dems.
But the Deputy Prime Minister's allies fear he would run into entrenched opposition from activists for a fresh Tory-Lib Dem pact - even if that was the election's logical outcome.
One said there were now some "totally irrational people" in the party who would not accept another coalition with the Tories under any circumstances.
"It would be much harder a second time round to get it past the party. There will be people far less willing to take things on trust. It would be very hard for Nick to get through," he told the Independent.
The formation of the Coalition won overwhelming approval from Liberal Democrat rank-and-file at a special conference days after the election, but activists last night said Mr Clegg would find it much harder if he made the same appeal in 2015.
Martin Tod, a Winchester councillor, said: "Many of us will be much more wary than we were in 2010. Some of us have real questions about how much we can trust the leadership and whether they accept a Tory-lite agenda too easily."
One Lib Dem councillor in the Midlands said: "I have spent my whole political life fighting the Conservatives and what they stand for.
He said he was one of the few members to abstain in the vote to link up with the Tories in 2010 and added: "I would not favour another coalition with the Conservatives."
The increasing antipathy to the Tories - which is certain to surface at next month's Lib Dem conference - was echoed by Gareth Epps, co-chair of the Social Liberal Forum pressure group.
He said it had been brought to a head for activists by the dispatch of vans by Home Office ministers, without Liberal Democrat knowledge, to racially-mixed areas urging illegal immigrants to "go home".
"That is real dog-whistle politics, clearly designed to pander to base xenophobic sentiment," he said.
"There's been an increasing sharpening of sentiment that we should work with any party as long as it's in the national interest and increasingly the Conservatives seem to be using government in their self-interest."
Richard Kemp, the leader of Lib Dems in Liverpool said the party faced a massive problem in the city, where there was a "physical hatred" of the Tories. He said: "There isn't a conservative party in Liverpool as it has been 22 years since the Tories elected anyone to anything in Liverpool."
Under Conservative reforms understood to be under discussion among ministers, Tory MPs would vote to approve any proposed agreement with other parties in the event of a hung parliament.
The failure to consult backbenchers formally in 2010 about the joint programme with the Liberal Democrats is blamed by some within the party for a string of Commons revolts.
Graham Brady, chairman of the influential 1922 Committee of Tory backbenchers, said it was "essential" they were fully involved if Mr Cameron failed again to secure a majority.
"I think it's essential. Obviously we want to win the election outright but we have to play the cards that are dealt to us by the electorate," he told BBC Radio 4.
The Conservative MP Douglas Carswell said the leadership should go further - and win the support of the membership for a fresh power-sharing agreement.
"It would be incredibly easy to consult the party membership - it would be almost as simple as sending out a couple of emails," he said.
Additional reportiing: Emily Handley and Hayley Parr
Join our new commenting forum
Join thought-provoking conversations, follow other Independent readers and see their replies