Row erupts at top of Lib Dems as Clegg insists party should stop apologising for coalition with Tories
Remarks come after one of the most senior Lib Dems, Jo Swinson, said the party should have done more to prevent Theresa May's hostile environment and the 'punishing' bedroom tax
Ashley Cowburn
Political Correspondent, in Brighton
Monday 17 September 2018 19:03 Comments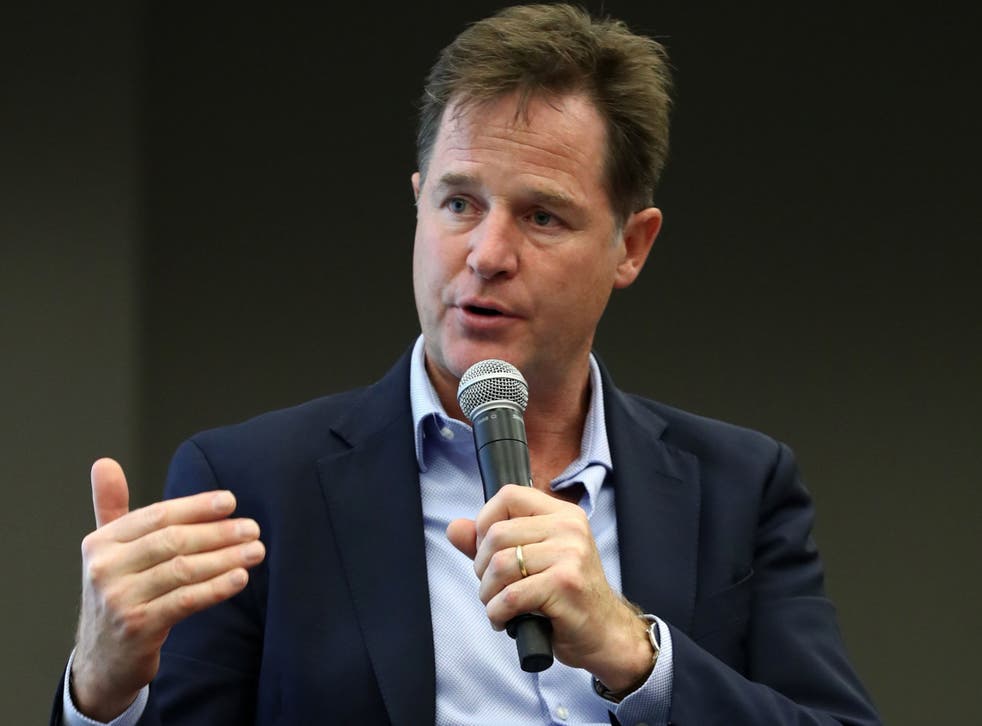 Divisions have emerged at the top of the Liberal Democrats over its record in the coalition government, as Sir Nick Clegg said the party cannot go around "licking" its wounds.
Despite a plea from Jo Swinson – one of the favourites to be the next leader – to "own the failures" of the party's time in government, the former deputy prime minister said he "emphatically" believed he made the right decisions in office.
In her address to the party delegates gathered in Brighton for the autumn conference, the deputy leader said the party should have done more to stop Theresa May's hostile approach to immigration and to prevent the introduction of the "punishing" bedroom tax.
The party had been "too nice", she said, and had agreed to compromises in its power-sharing agreement with David Cameron that "sucked".
But when asked about Ms Swinson's remarks at a fringe event in Brighton, Sir Nick said he was "proud" of his record in government, adding "you can't go around constantly licking your wounds".
"I don't actually agree on this occasion with Jo," he said.
He said it was not because of any "naivety" about the coalition government, but claimed there is currently a left-wing "narrative" that has been hung around the neck of the Lib Dems that was "false".
"The narrative is you entered into government, you sold your soul, and then you basically just merrily went along with savage, ideological, uncompromising approach to austerity which deliberately penalised the poor. It is simply not true," he said to an applause from delegates.
He continued: "One of the golden rules of politics is don't say stuff that reinforces your opponents narrative – not by the way that it was a blemish free government, of course not; all governments do good stuff, bad stuff, make mistakes and so on."
He said any reasonable person to look at the 2010-15 period – in light of the 2008 financial crash and "the unforgivable failure of Labour to properly regulate the banks" – would see the coalition government "stood out as a relatively stable, moderate government".
"We have to be proud of that," he added, claiming that he and others reined in "massively" the Conservatives' plans for spending cuts.
Sir Nick said: "Was I comfortable about, should anyone be comfortable about, all the decision you take in a government in which you are a part of – of course not. But you can't go around constantly, licking your wounds nine years after you got into government, saying, well, we don't like this or that.
"What is the country going to think? They want to hear whether we broadly think we made the right decisions and I emphatically, emphatically think we did."
Brexit casualties

Show all 10
During the fringe event, Sir Clegg also told delegates that he cannot be the British Macron – referring to the French president Emmanuel Macron's En Marche movement, which was founded in 2016 as a new pro-EU party and swept to victory the following year.
"I'd love to think some sort of British Macron would come charging over the horizon and save us all from Brexit," he said.
"But the secret to these breakthrough characters is precisely that they arrive relatively unencumbered by baggage."
Sir Nick suggested his history as a former deputy prime minister would rule him out of a Macron-style comeback. "I can't pretend that you can suddenly shed all that baggage and have a completely fresh start," he said.
Register for free to continue reading
Registration is a free and easy way to support our truly independent journalism
By registering, you will also enjoy limited access to Premium articles, exclusive newsletters, commenting, and virtual events with our leading journalists
Already have an account? sign in
Join our new commenting forum
Join thought-provoking conversations, follow other Independent readers and see their replies