Lord Hanningfield says of allowance claims: 'I have to live, don't I?'
Case raises questions over Lords membership rules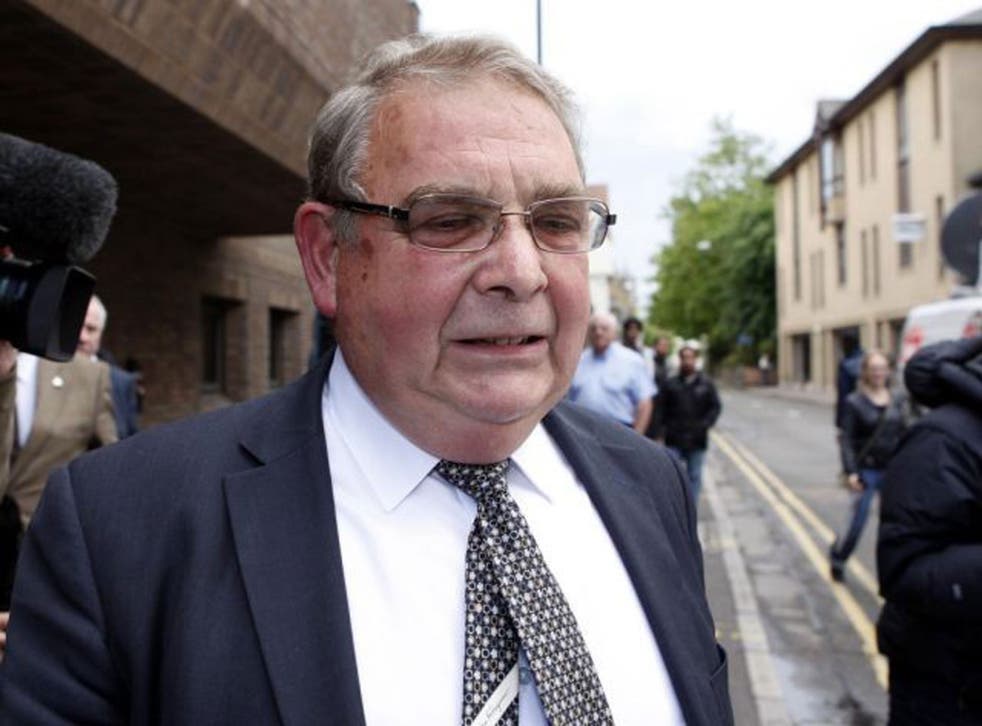 Lord Hanningfield, the peer who has been claiming more than £3,000 a month for turning up at the House of Lords since he left prison, told his accusers on Tuesday: "I don't want to be persecuted."
The peer, whose extraordinary return to the House of Lords has been catalogued for months by The Independent, was forced back into the spotlight after the Daily Mirror photographed him coming and going from Parliament on 12 separate days, showing that on each day he spent less than an hour in the building – but still claimed the £300-a-day attendance allowance to which he is legally entitled.
Lord Hanningfield, a former Conservative leader of Essex County Council, was convicted in May 2011 of fiddling his House of Lords expenses, for which he served nine weeks of a nine-month jail sentence and was suspended from the House of Lords for six months.
But the unique rules governing the House of Lords meant that his fellow peers were powerless to stop him returning once his suspension had come to an end. He turned up on almost every day that the House of Lords was in session from April 2012, and by the end of July had claimed a grand total of £51,300 in attendance allowances – an average of £3,206 a month, tax free.
During that entire period, he did not once speak or ask a written or oral question in the House of Lords. He has still not spoken in the main chamber since his arrest, but has made a couple of speeches in committee meetings and tabled some written questions.
His case is likely to speed up reforms to the House of Lords, whose leader, Lord Hill, said on Tuesday that he was "completely dismayed" by the bad publicity Lord Hanningfield has generated – "dismayed about the behaviour, and dismayed about the shadow it casts over the whole House".
The House of Lords is unique in that no member can be permanently expelled, regardless of what they do to lower the reputation of the place. The most severe penalty the Lords can impose on a peer is to suspend him or her until the next general election, but after that each peer receives a writ of summons from the Queen ordering him to attend the new Parliament – and that writ cannot be overruled.
Earlier this month, the House Committee announced that it was going to give the Privileges Committee the power to say that even if a disgraced peer comes back, they can still be banned from claiming any money or using the subsidised facilities in the building. But the power to expel a peer permanently requires an Act of Parliament.
A Tory MP, Dan Byles, is piloting a private members' Bill that would give the Lords the power to expel a member who has been convicted of a serious criminal offence. It has a good chance of becoming law, with government backing.
Paul White, as Lord Hanningfield was formerly known, was Tory leader of Essex Council from 2001 to 2010, and was made a peer in 1998. He lost the Tory whip when he was convicted of the expenses scam, and is now an independent peer. "Lots of peers go in and check in for their expenses but they are using their expenses for a lot of things – entertaining, meeting people, employing people. Clocking in and out of Parliament is only part of being a peer," he said.
"I have to live, don't I? I don't do anything else. How do you think I am going to eat, how am I going to pay my electricity bills?"
He added that he had increased his contribution to the Lords "dramatically" since making his first speech in October. "I was trying to get myself organised after a nervous breakdown, a traumatic period. I don't want to be persecuted," he said.
Lord Hanningfield is right to imply that he is not the only peer to have benefited from the uniquely lax rules governing the House of Lords. Lord Taylor of Warwick, a former Tory peer, also went to prison for fiddling his expenses, but he too has been claiming his daily attendance allowance since his suspension expired in June 2012. By the end of July 2013, he had claimed £34,200 in 14 months.
Baroness Uddin, an ex-Labour peer, was not prosecuted but she was ordered to repay more than £125,000 in expenses she should never have claimed. She seldom misses a sitting day, and by the end of July had claimed £47,400 in 14 months.
In any normal workplace, these people would have been sacked for dishonesty. If they were MPs, they would have lost their seats. But for the troughers in ermine, the feast never ends.
Lordly disdain: 'It's not a great deal of money'
5 November 2011
The Independent's Diary noted that although Lord Hanningfield and that other expenses cheat, Lord Taylor of Warwick, had been suspended from the Lords after being jailed, they could not be permanently excluded, but "there will doubtless be disapproving looks if Lord Taylor or Lord Hanningfield has the gall to show his face in the building again".
11 November
The Diary noted they could expect a letter from the Privileges Committee asking them not to embarrass fellow peers by returning.
25 April 2012
Lord Hanningfield's suspension was over, and the Diary noted that a "convicted criminal recently released from jail slipped into the House of Lords on Monday, registered his presence, and slipped out again, unchallenged. He  was Lord Hanningfield".
14 November
"There is only one workplace in the United Kingdom where someone can be caught making fraudulent expenses claims, go to prison, then return to the old place of work to carry on claiming," the Diary noted, as figures showed Lord Hanningfield's claims had reached £8,481 in attendance allowance and travel costs in three months.
14 March 2013
New figures brought the total of his known claims for attendance allowances to £15,900, plus £1,329 costs.
11 April
The previous November, Lord Hanningfield had claimed £5,100 in attendance allowance, plus £401 travel costs. His claims for attendance allowance to that month totalled £21,000.
9 September
By now, the Diary could tot up how much Lord Hanningfield claimed in the first year since his return. It was £36,900, tax free.
11 October
His known total claims were now £40,800 in 14 months. Up to this point, he had not spoken in the Lords, nor asked a written or oral question since he started claiming his attendance allowances.
15 October
Lord Hanningfield broke his silence by speaking at a committee meeting on East Anglia's railway system.
14 November
He tabled a written question, the first since his reappearance. New figures showed he had claimed £45,600 in attendance allowances in 15 months. He told a newspaper: "It's not a great amount of money."