Making friends with a paedophile: 'We can't kill him, so we help him not to do it again'
Could it help to cut reoffending rates? Emily Dugan gets unprecedented access to a pioneering project in which the public encourage abusers to change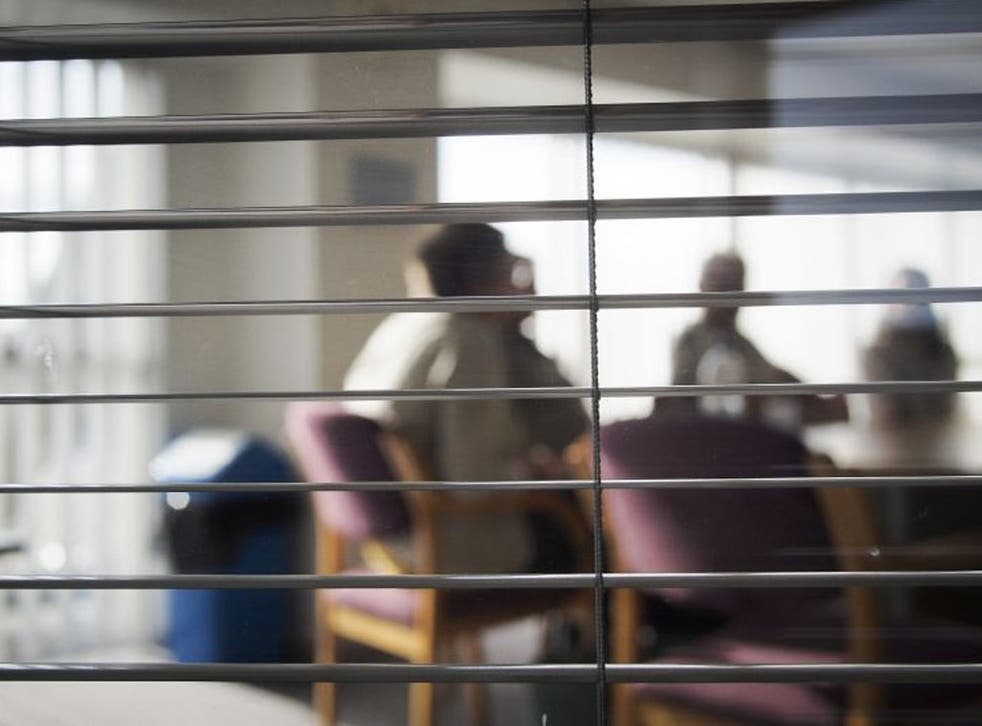 Whenever Paul Sloane wants to remind himself why he gives up a night a week to hang out with a convicted child sex offender, he thinks back to one phone call. The 55-year-old former engineer from Newcastle was recently rung on his mobile by a paedophile he had volunteered to befriend.
Paul recalls: "One day he rang me out of the blue. He had gone and bought a load of teddy bears to give out to kids. He said, 'I feel really terrible.' But he didn't do anything with them and it makes you feel afterwards, good job we were here, because God knows what would've happened if we weren't."
Paul volunteers on a programme which aims to prevent child abuse by creating a friendship group around known perpetrators. The Independent on Sunday was given unprecedented access to these social support networks aimed at preventing convicted child sex offenders from reoffending.
Circles UK has been running these groups quietly in Britain for more than 10 years, but is so concerned about the hysteria around the subject that it usually shies away from publicity.
While befriending paedophiles may be a hard sell to the tabloid press, the statistics show that it works.
A review of a Circles project in the South-east found that none of its 71 past clients had made another contact offence over a four-and-a-half-year period." A control group of 71 criminals with a similar offending history committed 10 new offences in the same period.
The latest man Paul has agreed to help is Barry, a 69-year-old who is on the sex offenders' register for life after sexually assaulting young children, including his own son and stepson, for more than three decades.
Despite his disgust at Barry's actions, Paul is one of five volunteers who meet up with him every week to talk about his life. "I hate do-gooders and I don't usually volunteer for things, but I felt so strongly about this," Paul says. "He's a bastard and what he's done is awful and I'd love to wring his neck. But we can't kill him and we can't lock him up for life, so what are we going to do? The only answer is you try to help him not to do it again. To me there's no alternative."
Sitting in the Newcastle community centre where the group meets once a week, Barry talks with unnerving honesty about his crimes. "I was in prison for abusing young boys," he says, maintaining eye contact. "My sentence was for historic offences against my son but I have a long history of it. I don't think I'd do it again, but I have to look at it every day as a possibility. It could be very easy if I allowed myself to accept it as acceptable behaviour again. There'll always be an attraction to children and you can't change that much."
Barry is forced to live a long way from his family now – most of whom detest him – and he walks with a cane after being so badly beaten in a vigilante attack that a brain injury has affected his balance.
He asked to be put on to a Circles project before he left prison. "I want to be somewhere with people where, if the need comes, I can discuss bad feelings. I don't have any friends because of what I've done."
Though much of the conversation at meetings deliberately mimics a normal friendship group – with casual chats about everyone's day and interests – they also discuss thorny issues, including the temptation to abuse again. In these talks, volunteers often confront Barry.
At one point in the meeting attended by The IoS, Barry tries to suggest that "times were different" when he committed his offences and "it was viewed more casually in society". But his new friends are quick to interject. "No, I don't agree," a retired probation officer, Colin Robson, 59, interrupts. "That's just not true."
Paul is likely to be even more confrontational with Barry as the meetings go on. "I want to talk to him about medical castration," he says. "If he's so full of remorse and never wants to do it again, what's so difficult about taking a tablet?"
It is these frank conversations that the charity's advocates believe are central to its success. The more sex offenders are ostracised by society, the less likely it is they will ever have an understanding of normal sexual behaviour – and the more likely it is they will reoffend.
Circles of Support and Accountability started out as a Mennonite church project in a town in Ontario, Canada, in 1994. Realising that a low‑IQ sex offender called Charlie was about to be released into the community, church volunteers formed a group to support him. The method soon expanded across Canada, where studies demonstrated a 70 per cent reduction in reoffending rates.
The Quaker church in Britain decided to mimic the project, and in 2002 it secured Home Office funding for a pilot in the Thames Valley. Now Circles UK has grown to 11 projects around Britain with more than 600 volunteers working with 96 sex offenders. The model is so admired that the charity is now advising criminal justice systems in the Netherlands, Belgium, Latvia, Bulgaria and Spain.
Stephen Hanvey, chief executive of Circles UK, said: "Demonising such serious offenders, even given the awful things they have done, driving people underground, renders them less safe, and less inclined even to attempt to lead offence-free lives. Forcing them from their homes to live somewhere else equally means someone else's sex offender is being driven into your area. It has to be more about supportive vigilance than mere vigilantism."
About half of the charity's national funding comes from the Ministry of Justice, while local projects are paid for by a mixture of charitable trusts, probation trusts and the police. The projects visited by The IoS in Middlesbrough and Newcastle are run by the children's charity Barnardo's – though they do not provide any funding because they are too worried about donor reactions. Instead, money comes from a collection of local authority, probation and public health funds.
In addition to the struggle to raise money, most projects find it hard to rustle up volunteers – particularly male ones – willing to give up a night a week for at least 18 months to spend time with some of society's most hated criminals.
Deborah Marshall, who runs the projects in the North-east, was staffing a stand at a recent volunteer fair when a man came over and asked for more information. "I could see his face change as I explained what we do. I said, 'Could you see yourself volunteering?' and he said, 'I feel I'd kill the guy.'"
Deborah, a former probation officer, understands the difficulty caused by public opinion. Even she isn't always open about what she does. "I've stopped telling my parents now because they're in their eighties. When they found out about a previous job in a sex offenders' treatment centre in prison, my dad said he was appalled that I would work with scum like that."
Diane Robson, 39, is a psychology student with a six-year-old daughter and a 10-year-old son. She volunteers in a Circle for a 23-year-old called Ben, who had sex with a 15-year-old girl. When the girl rejected him, he posted naked pictures of her on Facebook and was later arrested.
"There are certain people in my family and certain friends that I don't disclose to," she says. "I have the best mother-in-law in the world, but as far as she knows, I volunteer for Barnardo's and that's it."
At times, the conversations about socialising a convicted child sex offender can make for surreal listening, as the volunteers discuss the best way to get Ben friends – and even a girlfriend. Dressed in a black T-shirt, with a silver chain round his neck and closely cropped hair, Ben carries himself like an angry teenager, though he is much older.
Diane admits that conversation in these "informal" meetings can be strained. "In the early days, we struggled for common ground and it was like pulling teeth some nights."
She is glad that Ben's offences did not involve young children. "I'm not saying what Ben did wasn't wrong and a serious offence, but in a way it was a relief finding out what he did. I don't know where my cut-off point would be, but I'd been preparing myself to work with someone quite a lot more serious. I believe in what I'm doing but if that was my child who had been abused, I don't know how accommodating I'd be to the idea."
For Ben, who is unemployed and lives with his parents, the Circle has been a source of hope. "I look forward to it. It's pretty much the only time I leave the house," he says.
He has never had friends as an adult after being bullied at school. Since then, he has had depression and been suicidal, but now he is hoping to go to college and try to get work. "It's been really helpful. I want a job and I want friends. That's the main thing. One of the reasons for my offence was I didn't have the confidence to go with girls my own age and I didn't have the confidence to go out of the house."
Another man to benefit from the social effects of a Circle is Douglas, a jocular 63-year-old who does a mean Elvis impression and likes flashing at kids. His mother, whom he lived with his whole life, died less than a year ago and his behaviour became increasingly erratic. He took to walking round the house naked and soon began standing by windows without clothes, particularly when young boys were around.
On the first day he met the group, he said: "This is me. I'm the monster." That jokey tone has persisted throughout their meetings. He has never had sex with anyone and is convinced that fleeting glances at bus stops or in the supermarket are sexual advances.
Douglas says: "These are my friends now", and they really do seem to be. While they're joking and reminiscing about outings to bowling and dinner, it is easy to forget the serious reason they have come together. But in many cases, this "normal" interaction is what can create a breakthrough. Since Douglas joined the circle, his probation officer says his risk level has been reduced from high to low/medium.
Many of the volunteers are psychology or social work students hoping to get experience with difficult criminals. But others simply want to be involved in a practical solution to preventing an unsavoury crime.
Richard Harris, 62, is one of five of the 50 volunteers in the North-east who are survivors of abuse themselves. Though the web developer and Latin dance teacher says the abuse he suffered was not of the most serious sort, it is part of what motivates him. "When I was a lad, I had an incident with a Scout master. It was minor, but I told my parents and they said 'no, not Ron', and did nothing about it. As a result of society's inaction this has persisted.
"You can't apply the easy solution because there isn't one. You can't hang someone or lock them up for ever, so practical solutions are really important. Sometimes a problem is too difficult to legislate on. Sometimes you have to get involved."
The day he spoke to The IoS he was meeting the group for Adam, a 29-year-old who was caught looking at child-abuse images and has been coming to a Circle for 10 weeks.
"It's a difficult process for Adam to get through, so we're here to help and provide support. In this group he knows there's nothing he can't talk about. We accept what he's done. We don't like it, but that doesn't mean we don't like him. He is not the thing he's done."
The names of all the sex offenders featured in this article have been changed
Helpline
The NSPCC runs a telephone line to give advice to adults who fear a child may be at risk of sexual or other types of abuse: 0808 800 5000; nspcc.org.uk/reportconcern
Join our new commenting forum
Join thought-provoking conversations, follow other Independent readers and see their replies