Many of David Cameron's 70,000 'moderate' Syrian fighters are actually radical Islamists, it is claimed
Experts have described the idea that there are 70,000 moderates as 'magical'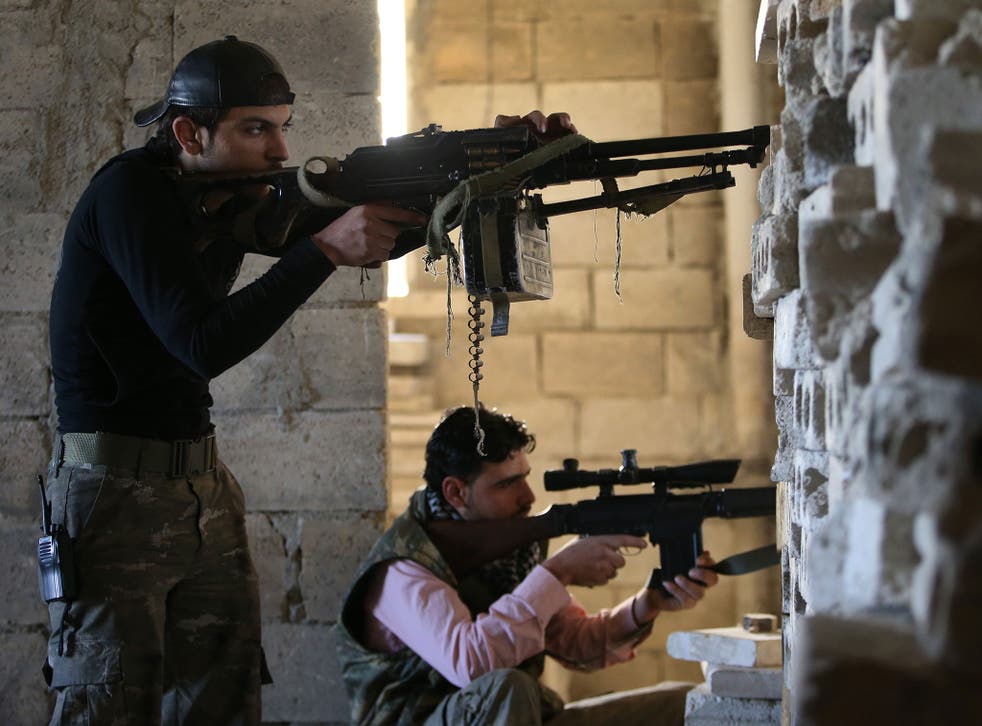 A large proportion of the alleged 70,000 "moderate" Syrian opposition fighters claimed by David Cameron are actually radical Islamists, it has been claimed.
Louise Haigh, a Labour MP, recounted that the Government's National Security Advisor had said in a briefing to MPs that more than 40 per cent of the fighters fell into this group.
Ms Haigh posted on Twitter after the briefing, which took place on Tuesday: "National Security Adviser confirms number of moderates on ground in Syria is 40,000 rest are much more radical Islamists."
Other Labour MPs present, some of whom are supportive of extending bombing, questioned Ms Haigh's account, however.
The number is important because the Government claims local fighters on the ground could support British airstrikes and achieve objectives without the deploymnet of Western groundtroops.
Stephen Doughty said: "He didn't say that Louise – and dismay in room from all sides that you have tweeted that from the meeting."
Ms Haigh replied that she had posted a "direct quote" of the National Security Advisor, that there was no suggestion the briefing was supposed to be confidential, and that she was happy to correct any mistake if one came to light.
In pictures: Syria air strikes (2014)

Show all 20
The Government is briefing opposition MPs on its supposed intelligence in Syria ahead of a Wednesday vote about whether British fighter jets should join in bombing in Syria.
The Prime Minister's spokesperson said of Ms Haigh's spokesperson: "That's a misrepresentation of the briefing from the national security adviser."
Other experts and commentators have also rubbished the 70,000 moderate Syrian fighters figure, however.
Julian Lewis, the Conservative MP who chairs parliament's Defence Select Committee, said he was "extremely surprised" at the claim, which he characterised as "magical".
"If you look at the analysis of seasoned correspondents, including journalists in the field ... who have written extensively on the nature of the opposition in Syria, the figures don't come anything near approaching 70,000 - or even half that number," he said.
"And we had recently admissions from the Americans that the number of moderate fighters that they had successfully managed to train and integrate into the theatre was down in minute numbers and indeed single figures in some cases.
"So where are these magical 70,000 people and why have they been unable to roll back ISIL Daesh?"
MPs will tomorrow vote on whether to extend British airstrikes in Iraq to Syria. The UK's allies, the US, and France, are already bombing Isis in Syria.
Russia is also bombing militant groups opposed to the Assad regime, including Isis, in Syria.
Join our new commenting forum
Join thought-provoking conversations, follow other Independent readers and see their replies