Theresa May to be accused of 'dividing the country' at Brexit protest in London
Anti-Brexit politicians will urge Remain voters to 'keep fighting'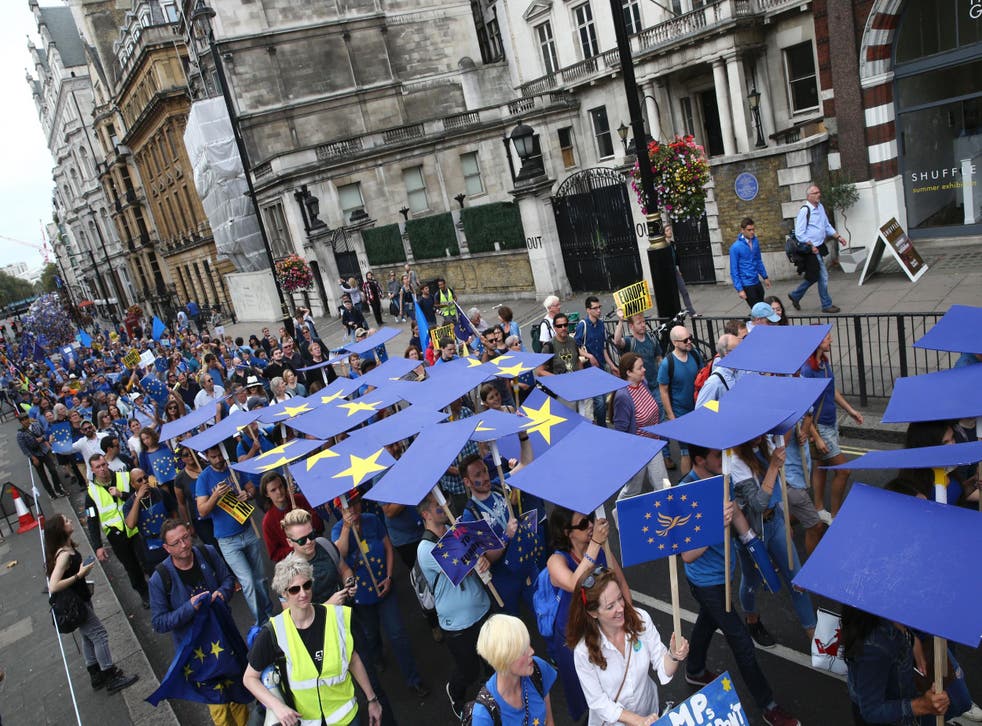 Organisers are expecting tens of thousands of people to march through central London on Saturday to protest against Brexit.
Theresa May will be accused of "dividing the country" and pursuing an "extreme version" of Brexit by speakers at the March for Europe – which is seeking to emulate the scale of a similar demonstration held last summer just after the Brexit vote.
Protesters will assemble at 11am at Park Lane and march to Westminster for speeches – metres from the site of the car and knife attack that left five people dead on Wednesday.
Organisers are expecting to hold a minute's silence to remember the dead, following a row between affiliated campaign groups about whether the march should go ahead.
Speakers are expected to include former Labour spin-doctor Alastair Campbell, former Lib Dem leader Nick Clegg, Green Party co-leader Jonathan Bartley, actor Sir Patrick Stewart, and lawyer Jolyon Maugham.
Lib Dem leader Tim Farron is expected to say: "We respectfully say that Parliament is not enacting the will of the people, it is interpreting the will of the people."
Urging activists to "keep fighting", he will add: "We can turn the tide of populism and we can change the direction of our nation – liberals and progressives can and will win again.
"I am not prepared to accept that our country is inevitably to become meaner, smaller, poorer. If you believe in democracy then you accept defeat with good grace … and you keep on campaigning for a better Britain."
Labour MP David Lammy, who will also be speaking, is set to call on on opponents of Brexit to "organise" rather than "mourn" the triggering of Article 50.
"As the wheels fall off during the next two years we have to make the argument loud and clear: this is not in the interests of our country, not in my name," he is expected to say.
The march is now confirmed to go ahead on Saturday after mixed messages were set out from the various campaign groups involved in it.
European Movement UK, by far the largest anti-Brexit campaign group behind the march, yesterday pulled its support, stating that police had told them the event would pose an "enormous burden at a time when they need to concentrate on the investigation into the terrorist attack in Westminster".
Unite for Europe, a separate group which is organising the march, however said it was not true that the march had been cancelled. "The march is on," they said in a message posted on Twitter.
After criticism on social media European Movement UK conducted a partial U-turn, telling supporters it had "raised legitimate concerns yesterday about the advisability of holding the Unite for Europe March after Wednesday's terrorist attack, but we wish to confirm that the organisers have decided that the march should proceed".
Its statement continued: "We encourage any member who participates in the march to join in homage to the dead and injured from the Westminster outrage – and recall that the EU is united in its commitment to stand against terrorism."
Unfounded conspiracy theories circulated among activists on social media suggesting that European Movement's withdrawal was as a result of it being "hacked". However, the group has confirmed it is no longer involved.
A third, smaller campaign group, Britain for Europe, also issued a statement flat-out denying that there were any divisions between any of the groups involved in organising and promoting the march.
"It's simply not true that there are all these rival factions fighting each other," Tom Brufatto, chair of the third organisation said.
"We're united in our determination to prevent Brexit, and convinced and confident that it can indeed be stopped."
A press release issued by Britain For Europe also criticised an earlier report by The Independent for referring to Unite for Europe as a "campaign group" because they said it would not exist permanently.
"It exists to organise a one-off event – the march – and will not be an ongoing organisation," the campaign group stated.
The protest comes just days ahead of the triggering of Article 50, which Downing Street has said will take place on Wednesday this coming week. By invoking the treaty clause the Prime Minister will formally begin the two-year process of negotiating Britain's exit from the EU.
Join our new commenting forum
Join thought-provoking conversations, follow other Independent readers and see their replies