'He's treating you like children': Michael Gove launches unprecedented attack on David Cameron over EU vote
'If we vote to remain ... the eurozone countries have a permanent and unstoppable majority allowing them to set the agenda and overrule British interests,' Justice Secretary claims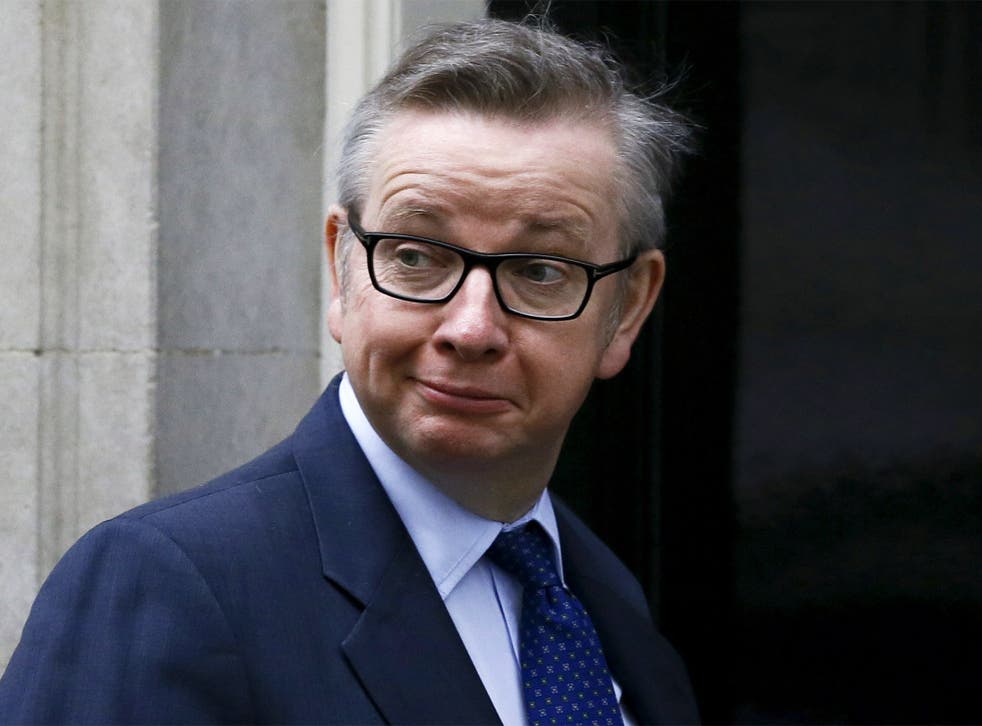 David Cameron and George Osborne will be accused by one of their closest political allies of treating the British public "like children" who need to be "frightened into obedience" as Conservative Party tensions escalated into open warfare.
The Justice Secretary, Michael Gove, will launch an attack on tactics used by the Prime Minister and Chancellor to persuade people to back a "remain" vote.
But the nature of the broadside, from a man who described Mr Cameron as an "outstanding" Prime Minister at the start of the campaign, will dismay senior Tory colleagues and make it harder for the party to re-unite regardless of the referendum result.
Mr Gove's intervention comes after Mr Osborne unveiled an official Treasury analysis suggesting every household in Britain would be £4,300 worse off in the event of a leave vote.
The Treasury's analysis of a potential Brexit explained
Mr Osborne said the government would lose £36bn in net tax receipts, equivalent to 8p on the basic rate of income tax or 7p on VAT.
"We'd trade less, do less business and receive less investment, and the price would be paid by British families," he said.
"Wages would be lower and prices would be higher. Britain would be poorer by £4,300 per household. That is £4,300 worse off every year, a bill paid year after year by the working people of Britain."
But in response Mr Gove will use a major speech to dismiss in personal terms what the Leave campaign have dubbed 'Project Fear'.
"The Remain campaign treats people like mere children, capable of being frightened into obedience by conjuring up new bogeymen every night," Mr Gove will say.
"They want us to believe that Britain is beaten and broken."
In contrast he will warn a vote to stay in the EU would be "the real danger".
"If we vote to remain, the EU's bosses and bureaucrats will take that as carte blanche to continue taking more power and money away from Britain," he will say.
"We'll be told by Brussels to 'shut up and suck it up'. We'll have no influence and will be outvoted. The eurozone countries have a permanent and unstoppable majority allowing them to set the agenda and overrule British interests."
Mr Gove will also implicitly attack the Home Secretary, Theresa May, who is backing a 'remain' vote, by suggesting that staying in the EU could compromise Britain's attempts to fight terrorism.
Ms May, who has had little involvement in the 'in' campaign so far, is expected to make a speech in the coming days making the case of Britain's continued membership on security grounds.
But Mr Gove will say that EU court rulings could put that in jeopardy.
"The ECJ [European Court of Justice] has recently used the Charter to make clear that it can determine how our intelligence services monitor suspected terrorists," he will say.
"How long before the ECJ starts undermining the Five Eyes intelligence sharing agreements that have been a foundation of British security since 1945 and which are the source of jealousy and suspicion in Brussels?"
Until now Mr Gove has steered clear of attacks on other Conservatives on the other side of the referendum debate.
But in a sign that the Leave campaign worries that Project Fear is gaining traction, both he and Boris Johnson are now attacking Mr Cameron and Mr Osborne directly.
What's the European Parliament ever done for us?

Show all 5
But Remain strategists believe that warnings over the UK's future outside of the EU are still their strongest card to persuade voters to back an in vote.
This was reinforced by the 200-page Treasury document, which examined three potential options for the UK if it left the EU - the status currently enjoyed by Norway, which makes payments to the EU and accepts free movement in return for access to the single market; a bilateral free trade deal of the kind obtained by Canada; or a relationship under the rules of the World Trade Organisation.
The analysis suggests that a Norwegian-style European Economic Area membership would result in £20 billion lower public sector net receipts; the Canadian approach would leave the public sector £36 billion worse off; and the WTO route could mean £45 billion less for services.
The Chancellor focused his assessment on the Canada-style model, which has previously been championed by Mr Johnson.
Under the terms of a Canadian-style bilateral trade deal with Brussels, the economy would be 6.2 per cent smaller by 2030, the equivalent of £4,300 per household, the analysis suggested.
Mr Osborne said: "Under any alternative, we'd trade less, do less business and receive less investment.
"And the price would be paid by British families. Wages would be lower and prices would be higher."
"We'd lose tens of billions of pounds in money for our public services, because our economy would be smaller and our families poorer.
"The most likely bill our public services would pay for leaving the EU is £36 billion. That's the equivalent of 8p on the basic rate of income tax."
Osborne: Britain "poorer outside EU"
If there was no deal with the EU, and the UK fell back on WTO rules, the economy would suffer by between 5.4 per cent and 9.5 per cent, with a central estimate of a 7.5 per cent fall - hitting each household by £5,200.
But the former chancellor, Lord Lamont of Lerwick, dismissed the report's projections.
"They say economists put a decimal point in their forecasts to show that they have a sense of humour," he said.
"The Chancellor has endorsed a forecast which looks 14 years ahead and predicts a fall in GDP of less than 0.5 per cent a year — well within the margin of error. Few forecasts are right for 14 months, let alone 14 years. Such precision is spurious, and entirely unbelievable."
The pro-Brexit minister Andrea Leadsom, who has served in the Treasury under Mr Osborne, claimed the document was "extraordinarily biased" because it failed to consider the impact of continued high migration.
"A much fairer way to present this argument would be to also look at the impact if we remain in on further migration, further pressure on public services, the impact on security and so on," she said. "You have got to present a balanced view."
The Energy Minister mocked the report's long-term prediction, telling BBC Radio 4's World at One: "It's extraordinary to have such an accurate central figure and it implies a clarity of crystal-ball gazing that even I, as a fully paid up witch, couldn't possibly presume."
Join our new commenting forum
Join thought-provoking conversations, follow other Independent readers and see their replies