The Miliband 'soap opera' ends with departure: David Miliband quits politics to work for charity in US
Decision to move to New York to work for charity will mean by-election in South Shields constituency and disappointment for Blairites who hoped return would boost Labour's election chances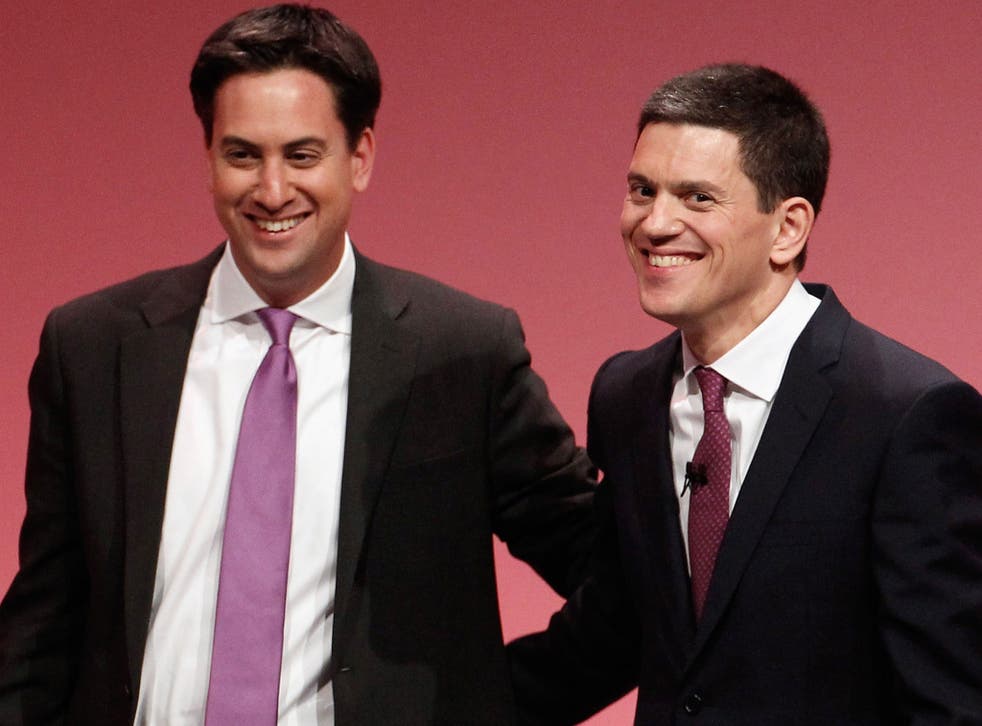 Labour leader Ed Miliband said today that British politics will be "a poorer place" without his brother David, who is stepping down as an MP.
The former foreign secretary announced this morning that he was quitting as MP for South Shields and moving to New York to take up the position of president and chief executive of the International Rescue Committee.
His departure comes two and a half years after the bruising Labour leadership battle which pitted the two brothers against each other and was won by a whisker by Ed on the back of trade union votes.
Younger brother Ed admitted today that the experience had been "difficult", but added: "Time has helped to heal that. I will miss him."
In a letter to his constituency party chairman in South Shields, 47-year-old David - who was long regarded as the brightest Labour star of his generation and the party's most likely future prime minister - said it was "very difficult" for him to be leaving politics in the UK.
He said he still "passionately" wanted to see Labour returned to power and praised Ed's leadership for making it "achievable".
The former Foreign Secretary's move brings down the curtain on what he has called the "daily soap opera" and "psychodrama" starring himself and his younger brother.
Since then, David Miliband has agonised about whether to return to frontline politics. His brother made clear he would be welcomed back and many Labour figures hoped he would return to the Shadow Cabinet before the 2015 general election.
His decision to join the International Rescue Committee (IRC) will mean a by-election in his South Shields constituency, a safe Labour seat he has represented since 2001 and held with a majority of 11,109 at the last general election. It is likely to be held in May.
Mr Miliband is married to the American violinist Louise Shackelton and they adopted two children in the US.
David's departure at the age of 47 will bring mixed reactions in Labour circles. Blairites will regret the loss of one of the party's "big beasts". They believe the former head of Tony Blair's Downing Street Policy Unit could have helped to reassure voters that Labour could be trusted with power again.
But others will be relieved that Ed Miliband will no longer have to worry about his brother's role as the election approaches – and the intense media focus that his return would have brought. Although Ed would have welcomed a comeback, his brother's decision at least ends the uncertainty of his current position in a political "no man's land."
David was favourite to succeed Gordon Brown as Labour leader and did not expect his brother to stand against him. Ed won by a wafer thin majority with the help of trade union votes. Some Labour modernisers regret David's decision not to resign from the Cabinet in 2009, saying that could have ended Mr Brown's premiership and seen David installed in Downing Street.
Much of his time in recent months has been spent on his lucrative directorships and speaking roles. His earnings since leaving government total £985,315 – including travel and accommodation for himself and his staff, according to the most recent Commons register of interests -more than six times his salary as an MP.
Founded in 1933 at the request of Albert Einstein, the IRC offers lifesaving care and life-changing assistance to refugees forced to flee from war or disaster. It works in 40 countries and 22 US cities.
1994 Having worked for the Institute of Public Policy Research, David Miliband becomes Tony Blair's head of policy and contributes to Labour's 1997 manifesto. He is nicknamed "brains" by Alastair Campbell.
Timeline: The Miliband years
2001 Elected MP for South Shields with 63 per cent of the vote.
2002 Appointed Schools Standards Minister.
2004 Replaces Ruth Kelly as Cabinet Office Minister.
2005 Becomes full member of the cabinet as Minister of State for Communities and Local Government.
2006 A reshuffle sees Mr Miliband replace Margaret Beckett as Secretary for Environment, Food and Rural Affairs. He calls for all 27 EU nations to cut emissions by 30 per cent before 2020.
2007 Just 24 hours after Gordon Brown succeeds Mr Blair as Prime Minister, Mr Miliband becomes the third-youngest Foreign Secretary in Britain's history at 41 years old.
2008 Mr Miliband writes in a newspaper of his vision for Labour, in a move widely seen as a leadership challenge to Mr Brown.
2010 He runs for the party leadership against his brother Ed, Andy Burnham, Ed Balls and Diane Abbott. Despite leading the first three rounds, he loses narrowly to Ed and quits frontline politics.
2013 Resigns as South Shields MP.
Join our new commenting forum
Join thought-provoking conversations, follow other Independent readers and see their replies