Ministers let online touts off the hook and ignore pleas from arts and sports
Government plans to brush aside police concerns and lobbying by performers will keep punters in dark on face-value prices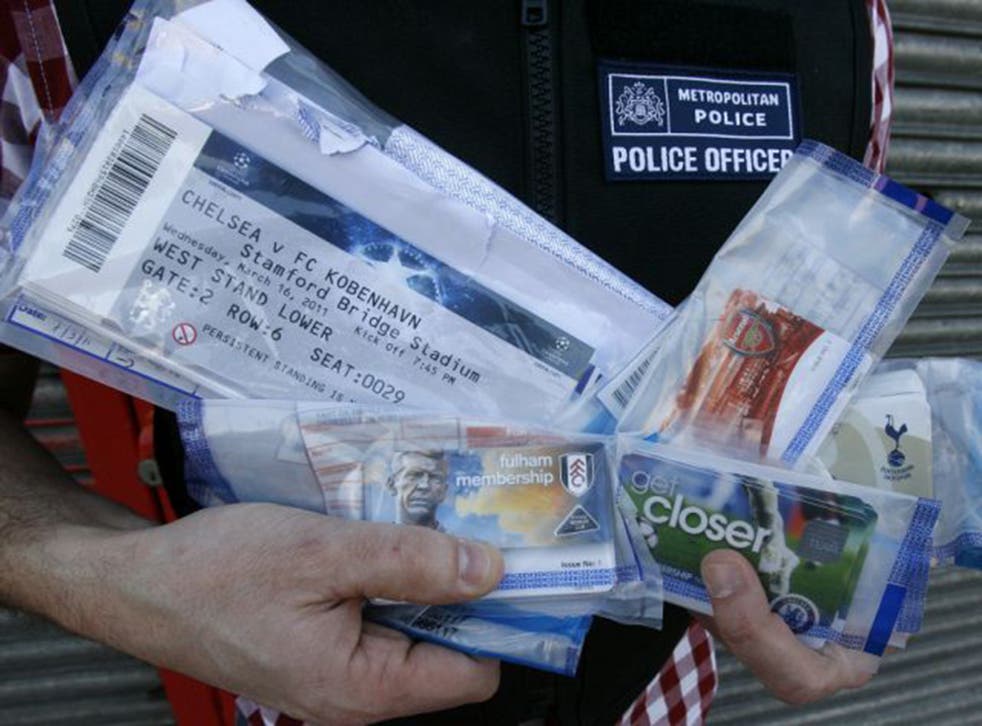 More than 80 leading representatives of the music, sport and theatre industries today call on the Government to crack down on "unscrupulous" practices in the secondary ticketing industry which they claim are ripping off fans and damaging artists and sportspeople.
In an open letter, (published below) the signatories – including music promoter Harvey Goldsmith, Iron Maiden, the Arctic Monkeys and the managers of One Direction, as well as the National Theatre, the Lawn Tennis Association, the Rugby Football Union and the England and Wales Cricket Board – call on ministers to give greater protection to fans rather than buy-and-sell ticket platforms such as Viagogo, StubHub, Get Me In! and Seatwave.
Ministers will attempt to block a clause in the Consumer Rights Bill, voted on in the Commons tomorrow, which would force the sites to provide information including the face value of the ticket, the identity of the seller and whether a re-sale breaches terms and conditions. The clause was backed in the House of Lords last year but the Government last night indicated it would strip it out, saying the measure would "overburden individual fans with red tape".
In 2011 Sajid Javid, now Secretary of State for Culture, said secondary-ticketing websites were "classic entrepreneurs". But in 2012 Channel 4's Dispatches: The Great Ticket Scandal exposed how secondary platforms court major ticket touts and take allocations directly from promoters to sell on, above face value, to unsuspecting consumers.
A year later a report by Operation Podium, the Metropolitan Police unit set up to tackle London Olympics-related crime, found that "due to the surreptitious way that large numbers of "primary" tickets are diverted straight on to secondary-ticket websites, members of the public have little choice but to try to source tickets on the secondary ticket market". It said, "the lack of legislation outlawing unauthorised resale of tickets and the absence of regulation of the primary and secondary-ticket market encourages unscrupulous practices, a lack of transparency and fraud".
The greater protections were first recommended in a report by the all-party group on ticket abuse last year, led by Labour's Sharon Hodgson and Conservative Mike Weatherley.
Ms Hodgson said: "The debate tomorrow boils down to who Ministers want to listen to: are they going to listen to consumers, the police and the live event industry, who are all telling them we need transparency, or are they going to listen to the handful of people and companies who are making lots of money as a result of the current murkiness and underhand dealings in the market?"
A reporter from this newspaper attempted to buy tickets for a One Direction concert at the O2 Arena on Saturday 26 September 2015. The venue's own website says the performance is sold out, but recommends "StubHub, the Official Ticket Resale Marketplace of The O2". On StubHub there are hundreds of tickets available for this show and others in the tour, suggesting huge allocations go directly to the platform. Original prices for that night were from £46.50 to £75.00; StubHub is selling them at between £118 and £1,829. Only when the reporter reached the payment page was the face value of the original ticket revealed.
Seatwave sells tickets for the gig at between £100 and £350 – yet again there are hundreds available – while Get Me In! prices them up to £330. Both websites provide details of the tickets' face values. Viagogo has no tickets for the Saturday performance but offers hundreds for other dates. It does not provide details of face value. None of the websites say whether resale flouts the original seller's conditions; the firms did not respond to requests for comment last night. A statement on StubHub's website reads: "We're a marketplace, which means the tickets on our site are listed by other fans and may be priced above face value. It's against the rules for sellers to include contact info in their ticket listings."
A Viagogo statement said: "We are in favour of making information clearer on our website and have made a number of commitments in our recent discussions with the government. However, publishing the original seller's identity is unnecessary because all tickets come with the viagogo guarantee, while publishing specific seat numbers allows rights owners to cancel tickets which are being legitimately resold. Anyone can see that is not in the consumer's best interests.
"Our view is supported by independent research from ComRes, which shows that 76% of British consumers believe a ticket is their property to resell if they wish. 77% would prefer to use a guaranteed secondary platform, while over a third would be willing to pay more than face value for a ticket."
A Government spokesman said: "We want to strike the right balance between protecting consumers and allowing them to sell on tickets that they are no longer able to use."
An open letter
As representatives from the live event industry, responsible for putting on shows ranging from international sporting fixtures and world class theatre to intimate gigs, we are committed to ensuring that event-goers have the best experience possible at a fair price.
The way that the secondary ticketing market is allowed to operate at present can seriously undermine that effort.
It's almost three years since Channel 4's Dispatches: The Great Ticket Scandal exposed how secondary platforms court major ticket touts and take allocations directly from promoters to sell on above face value to unsuspecting consumers.
And it's almost 2 years since Operation Podium, the Police unit set up to tackle Olympics-related crime, produced a report calling for legislation to tackle "unscrupulous practices, a lack of transparency and fraud" within the secondary market.
Tomorrow, the House of Commons has the chance to pass that legislation.
Clause 33 of the Consumer Rights Bill would give consumers looking for tickets basic information which the secondary platforms have been so keen to hide: who they're buying from, the face value of the ticket, the seat number and, importantly, whether that ticket is being sold in contravention of its terms and conditions.
Sadly, the Government tried to block this Clause in the Lords, and want to strip it out of the Bill in the Commons tomorrow.
If the secondary platforms have nothing to fear from transparency, they have nothing to fear from these simple provisions.
It's high time the Government stopped sticking up for them, and decided to put fans first.
Adam Brown, Brownstock
Ali McLean, DHP Concerts / No Tomorrow Festival
Andy Bell, Festibelly
Andy Smith, Kendal Calling
Angus Baskerville and Charlie Myatt, 13 Artists
Anthony Addis, Brontone Management
Barry Drinkwater, Global Merchandising Solutions
Brian Havill, England and Wales Cricket Board
Bullet For My Valentine
Cancer Bats
Caroline Maclennan, Hebridean Celtic Festival
Chris Tofu, London Remixed Festival
Craig Jennings and Don Jenkins, Raw Power Management
Dave Newton, WeGotTickets
Emma Banks and Mike Greek, Creative Artists Agency
Emma Boggis, Sport and Recreation Alliance
Freddie Fellowes, The Secret Garden Party
Gallows
Geoff Meall, The Agency Group
Harvey Goldsmith CBE
Hugh Phillimore, Cornbury Festival
Ian McAndrew, Wildlife Entertainment
Ian Ritchie, Rugby Football Union
James Scarlett, ArcTanGent
Jane Beese, Meltdown
Jeff Craft, X-Ray Touring
Jim Winship, The Event Services Association
Jo Dipple, UK Music
Joe Buirski, Fire in the Mountain
Joe Gibbs, Belladrum Tartan Heart
John Empson, Eden Sessions
John F. Smith, Musicians Union
John Jackson, K2 Agency
John Rostron, SWN Festival
Jon Webster, Music Managers Forum
Joshua Sanger, Barn On The Farm
Julia Calver, UK Centre for Events Management
Julian Bird, Society of London Theatre
Kate Hewett, Tramlines
Katherine Goodenough, Greenbelt Festival
Lee Denny, Leefest
Lisa Burger, National Theatre
Martin Laws, Pangaea
Michael Downey, Lawn Tennis Association
Moose Blood
Nicholas Crow, Fling Festival
Nick Chambers, Beat-Herder Festival
Nick Mason (Pink Floyd), Ed O'Brien (Radiohead), and Sandie Shaw, Co-Chairs, Featured Artists Coalition
Nick Tanner, Glastonbudget
Nick Thomas, HQ Theatres & Hospitality Ltd
Oliver Jones, Deer Shed Festival
Oscar Thornton, Farr Festival
Pablo Janczur, Brecon Jazz
Paul Bliss, Blissfields
Paul Flower, Profound Media & Management
Paul Reed, Association of Independent Festivals
Paul Roberts, Phil McIntyre Entertainment
Peter Davies, Eisteddfod Genedlaethol Cymru
Peter Elliott, Primary Talent International Agency
Peter Nosworthy, Nozstock Festival
Rachel Tackley, UK Theatre Association
Ralph Broadbent, Truck
Ralph Broadbent, Y-Not Festival
Reece Miller, We Are FSTVL
Richard Griffiths, Modest Management
Rob Challice, Coda Agency and Larmer Tree Festival
Rob Da Bank, Bestival/Camp Bestival
Rod Smallwood, Phantom Music Management
Roger Tomlinson and Andrew Thomas, The Ticketing Institute
Roger Woodhall, Bournemouth 7s
Sam Eldridge, Urok Management
Sean McLoughlin, Village Green
Sidharth Sharma, Shambala
Simon Maltas, 2000 Trees
Simon Watson, Sidewinder Management
Sofia Hagberg, End of the Road Festival
Stuart Galbraith, Kilimanjaro Live and Sonisphere
Turbowolf
While She Sleeps
Will Brown, In the Woods Festival
Join our new commenting forum
Join thought-provoking conversations, follow other Independent readers and see their replies