MPs to investigate evidence of illegal weapons sales at London's DSEI arms fair
Exclusive: The Committee on Arms Export Control will probe the arms fair as part of its latest inquiry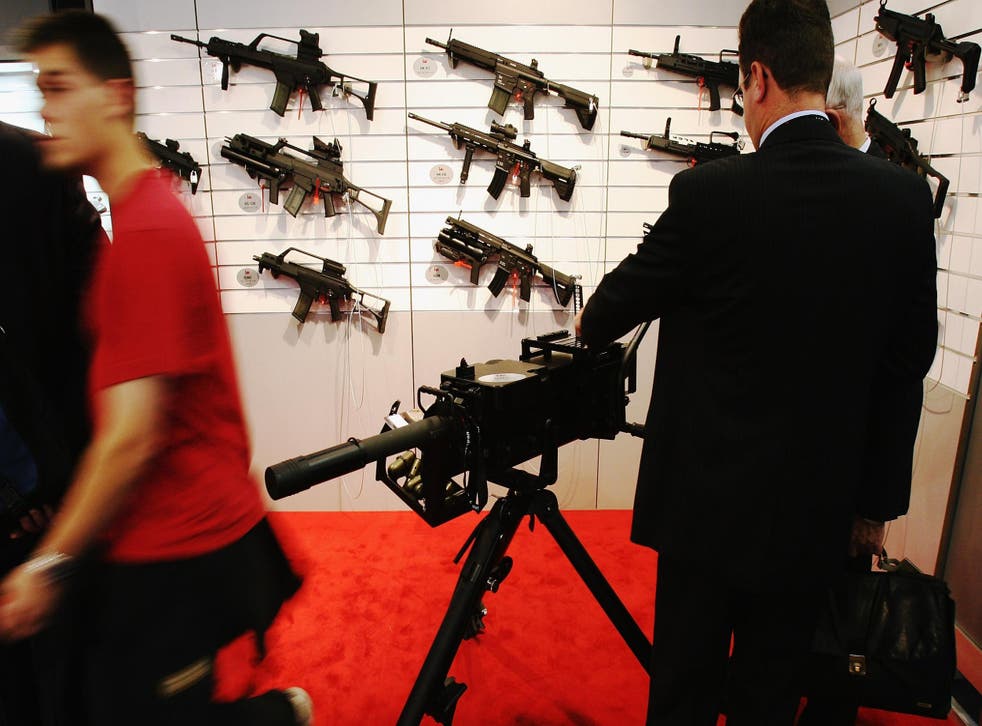 MPs are to investigate allegations of illegal weapons sales at British weapons fairs after a judge ruled there was "credible" evidence of wrongdoing at the biggest event in the arms trade's calendar.
The House of Commons Committee on Arms Export Control, made up of MPs from all the main parties, will look into the allegations that a judge said had not been "appropriately investigated by the authorities".
The probe into the fairs comes after the acquittal of eight anti-arms trade protesters who tried to blockade the 2015 DSEI arms fair in London's docklands – on the grounds that they were trying to prevent a bigger crime from taking place.
Expert witnesses told the court that British arms had been used for brutal internal repression in Bahrain and Turkey, potentially breaching arms control rules, and also by Saudi Arabia in its widely condemned bombing campaign in Yemen.
Separately, lawyers acting on behalf of anti-arms trade campaigners have threatened to take the British government to court for continuing to allow exports to Saudi Arabia.
The House of Commons International Development Committee and the European Parliament have both called for an arms embargo against the autocratic petro-state, a call the Government has so far ignored.
A spokesperson for the Committee on Arms Export Control confirmed to the Independent that alleged illegality at arms fairs would "certainly" form part of the wider inquiry into arms exports, following last week's ruling.
"The committee does not currently have plans to launch a specific inquiry on DSEI. However, we are looking at the impact of the Arms Trade Treaty on the arms market in Britain, and alleged illegality at arms fairs would certainly be a part of this," he said.
Campaigners were angered this weekend after a spokesperson for the business department, which regulates arms export licences, gave no indication that a Government inquiry into DSEI would take place when asked.
A spokesperson for the Metropolitan Police said the service was "considering the judgment, and will discuss it with the Crown Prosecution Service".
DSEI, the world's largest arms fair, said on Friday it complied with all relevant arms control regulations in 2015, that it allowed government agencies full access to its premises, and that it was constantly tightening its compliance procedures.
"All our exhibitors are contractually bound to ensure that they exhibit at DSEI in a manner which is compliant with all relevant arms control legislation. We are explicitly clear that any exhibitors or individuals found to be in breach of compliance regulations at DSEI will be immediately ejected," a spokesperson said.
Join our new commenting forum
Join thought-provoking conversations, follow other Independent readers and see their replies