MPs told: to get ahead, forget old left and right divisions and use the best ideas from both
Social enterprise campaigners argues a 'revolution' is under way in which businesses that work for the good of society forge a new kind of economy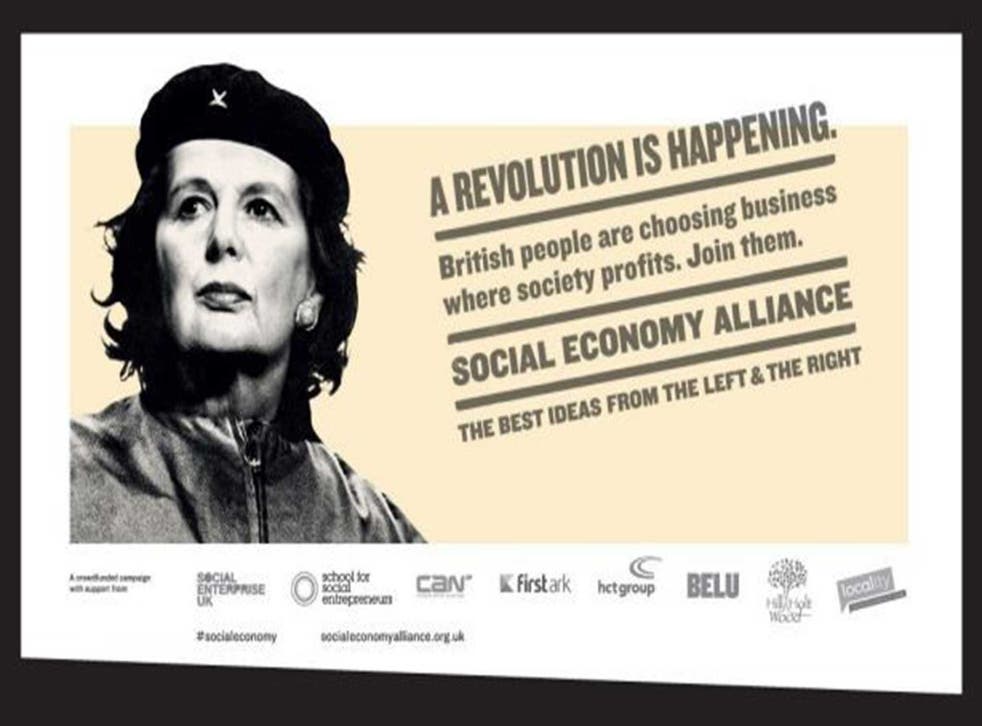 Margaret Thatcher and Che Guevara, Ronald Reagan and Fidel Castro, Angela Merkel and John Prescott – all would doubtless have made for uneasy bedfellows.
But, as MPs return to their parliamentary desks tomorrow, they will be bombarded with some slightly disturbing images of politicians from the polar opposite ends of the spectrum.
The images mark the start of a campaign to convince them to abandon the old divisions of left and right and take the best ideas from both by the Social Economy Alliance (SEA), which promotes community energy schemes, co-operative housing and other social enterprises.
The SEA argues that a "revolution" is under way in which businesses that work for the good of society are forging a new kind of economy and consumers are using their spending power to build a better world.
"Great ideas often emerge during hard economic times and this has happened in the UK lately," said Celia Richardson, SEA's director. "Social enterprises and co-ops are outperforming traditional for-private-profit businesses for growth and optimism. Our message to the parties ahead of the election is that they must avoid deadlock by using the best ideas – often a smart combination of 'left and right'. Business can be a vehicle for social change, and markets can be used for society's benefit. Our political leaders need to get behind the sort of economy that voters are already building."
The SEA has taken over the advertising space at Westminster Underground station to get its message across as MPs head to the Commons. There will be no escape, with even the ticket barriers covered with composite photographs of David Cameron and Ed Miliband, Harriet Harman and Theresa May, and Michael Foot and Michael Gove.
The ads were crowdfunded using social enterprise platform Buzzbnk. One donor, Danielle O'Hara, 21, said she had contributed because she wanted more people "to see that there is a different, better way of doing business". "What we need is a social economy which puts people before profits," she said.
The campaign has developed 25 recommendations to create "a pro-social economy", including expanding right-to-buy housing and energy schemes for communities; measures to ensure taxpayers' money goes to firms that pay a living wage, are open about their tax payments and provide the greatest social value; and new powers to open up land for productive use and prevent sites from being hoarded by large companies.
The political offensive is being staged in advance of Britain's first "Social Saturday" on 13 September when a series of events will be held nationwide to encourage businesses and people to take part in successful social enterprises.
There are more than 70,000 social enterprises – essentially a company that prioritises social improvement over financial gain – with a combined turnover of £37bn last year.
Jo Swinson, the Liberal Democrat Business Minister, said she was "wholeheartedly" behind Social Saturday. "It's a great opportunity for all of us to become more aware of how our spending can make a real difference," she said. "Social enterprises across the country bring huge benefits to their local communities, their employees and the environment."