The National Front's long march back to politics
In next month's elections, the far-right party of Britain's past is contesting its highest number of seats since 1982. Jonathan Brown investigates how it re-emerged from the demise of the BNP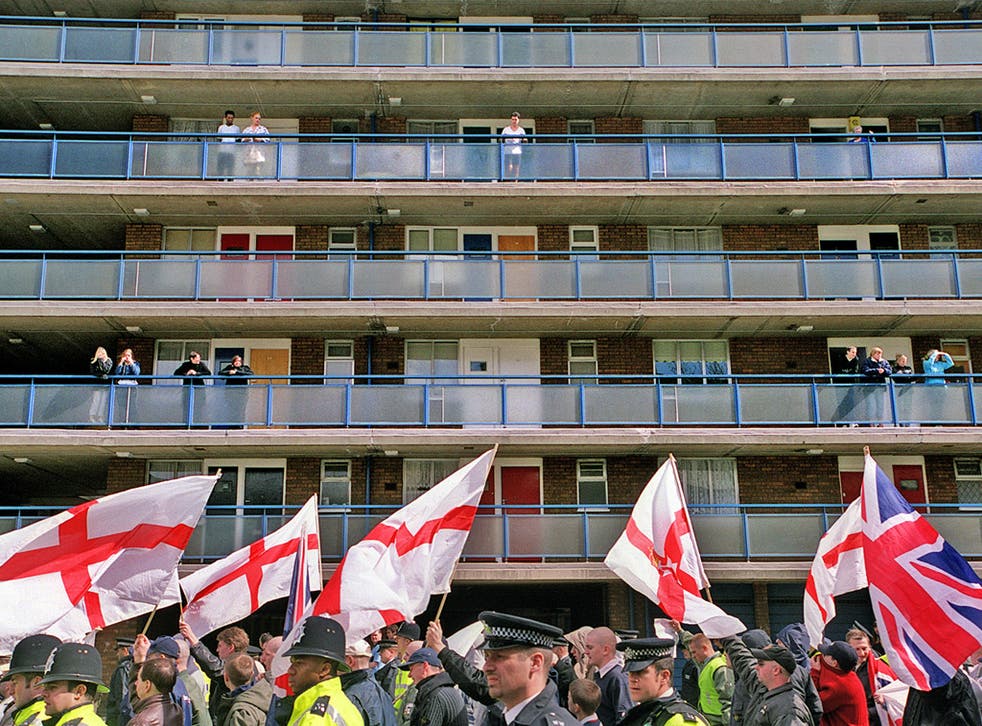 In the febrile politics of the 1970s the National Front (NF) ruthlessly exploited working-class fears over immigration to create a far-right threat unseen in Britain since Sir Oswald Mosley. The party's shows of strength saw police and anti-fascists clash violently on the streets while at the 1979 general election the Front was able to mobilise more than 300 candidates, polling nearly 200,000 votes.
Yet its decline was as dramatic as it was precipitous. Rocked by a series of internal feuds and the electoral success of the breakaway British National Party (BNP), within a decade the NF was commanding little more than a few dozen supporters.
Now, amid mounting fears that the far right is profiting from a rising tide of Islamophobia, the whites-only party is seeking to stage an unlikely comeback. At next month's London Assembly, local council and mayoral elections it is putting up 35 candidates – the highest number it has fielded for 30 years.
Among its hopefuls is a businessman hoping to be the first directly elected mayor of Liverpool who was convicted of assaulting an anti-racism campaigner; a former BNP supporter arrested for burning a copy of the Koran, and Derek Beackon, the notorious far-right councillor.
The Front has re-emerged as a result of a split within the BNP at a time when the movement is on the retreat electorally, explained Sabby Dhalu, of Unite Against Fascism. "At the moment we are seeing a decline in the fortunes of fascist parties, but I think there could be a problem in the coming years as the Tories become more unpopular," said Ms Dhalu.
In 2010 the BNP was celebrating when it secured European Parliament seats for leader Nick Griffin and Andrew Brons. But last year it was nearly wiped out at local council elections – losing all five seats in its Stoke-on-Trent stronghold. Activists began quitting the party amid mounting financial and legal problems. However, increasingly shrill media coverage of Islam and attempts by local racists to take advantage of issues such as alleged sexual grooming by gangs are providing a new focal point for extremists.
"Islamophobia has some chance of gaining currency in this country as it has done in other European countries. There is a high level of Islamophobia and violent street attacks on Muslims being reported by communities. It is similar to anti-Semitism in the 1930s," said Ms Dhalu.
Last month councillors in Aberdeen voted to ban a march by the National Front which would have coincided with Adolf Hitler's birthday. Grampian Police said they feared the city centre rally could lead to violent clashes.
The current chairman of the National Front, Ian Edward, refused to reveal how many members he has, although he said it was "a darn sight more than two years ago".
"You will find the party has changed a lot. It has grown up politically. We are looking to solve the mess this party finds itself in," the self-employed engineer from Hillingdon, north-west London, told The Independent.
A former NF activist in the early 1980s and a senior organiser for the BNP, he claims he was "purged" in a "witch- hunt" by Mr Griffin and his supporters. Yet the party remains true to its 1970s roots. He said: "You have to define what a racist is. We are a racial nationalist party. We love our kith and kin but we are not a white supremacy group. The way the country is at the moment we have become second-class citizens. We offer hope."
But even during its heyday, the Front enjoyed little in the way of democratic success. Its best parliamentary performance came at the West Bromwich by-election in 1973 when it polled 16 per cent, although in the 1976 local elections it could command more than 20 per cent in strongholds such as Leicester where candidates mobilised support around the arrival of British passport-holders from Uganda. However, in the end defecting Tories or independents were its only elected representatives.
Still, Mr Edwards likes to think big – particularly on the subject of Islamic repatriation which he admitted was his "ultimate" goal.
"My message would be: 'In the event of a National Front government we would remove our guns, our bombs, our tanks, our finance and our influence from your country and you must remove yourself from mine'," he said. "Everybody has a democratic right to follow whatever religion they need to. But I do have a problem with someone who comes into my country and tries to enforce their religion on the indigenous population and that is the case with Islam," he added.
Activists: Key candidates
Peter Quiggins
Businessman and former BNP activist who is standing to be Liverpool's first directly elected mayor. Was sentenced to 100 hours' community service for lashing out at an anti-racism demonstrator with a camera tripod in 2009 while handing out leaflets.
Sion Owens
Former BNP Welsh Assembly candidate who appeared in court in 2011 accused of burning a copy of the Koran. The case was later dropped. Now standing for the NF in Swansea.
Tess Culnane
Described as a "neo-Nazi granny" by rivals, she has claimed that Britain was being "infected" by multiculturalism and that "the British people will be airbrushed out of existence". Standing in Greenwich and Lewisham for the Greater London Authority, and also as a London-wide Assembly candidate.
Ian Edwards
Expelled from the BNP in a purge by Nick Griffin. Former regional London party boss returned to the National Front as chairman, where he has set about rebuilding its organisation. Advocates repatriation for Muslims. Standing in Ealing and Hillingdon in the GLA elections and also as a London-wide Assembly candidate.
Derek Beackon
Became country's first elected BNP councillor when he won a by-election in Millwall in 1993. Will stand for the NF in council elections in Thurrock, Essex, next month.
Police officers injured during EDL protest
Two police officers were hurt when bottles were thrown at them during a nationalist march in Brighton yesterday.
Missiles were hurled when about 140 people gathered for the fifth annual March for England through the city centre, which drew counter-demonstrations by anti-fascist protesters.
The two injured officers, both male constables, received head injuries during tense scenes, with one being admitted to hospital before later being discharged.
Heated exchanges were traded between the marchers and protesters, and three people were arrested on suspicion of public order offences.
Join our new commenting forum
Join thought-provoking conversations, follow other Independent readers and see their replies