Nazanin Zaghari-Ratcliffe could get diplomatic protection to help secure release from Iranian prison, says Downing Street
Leading lawyers advised that the 'grave harm' the charity worker has suffered makes her eligible for the status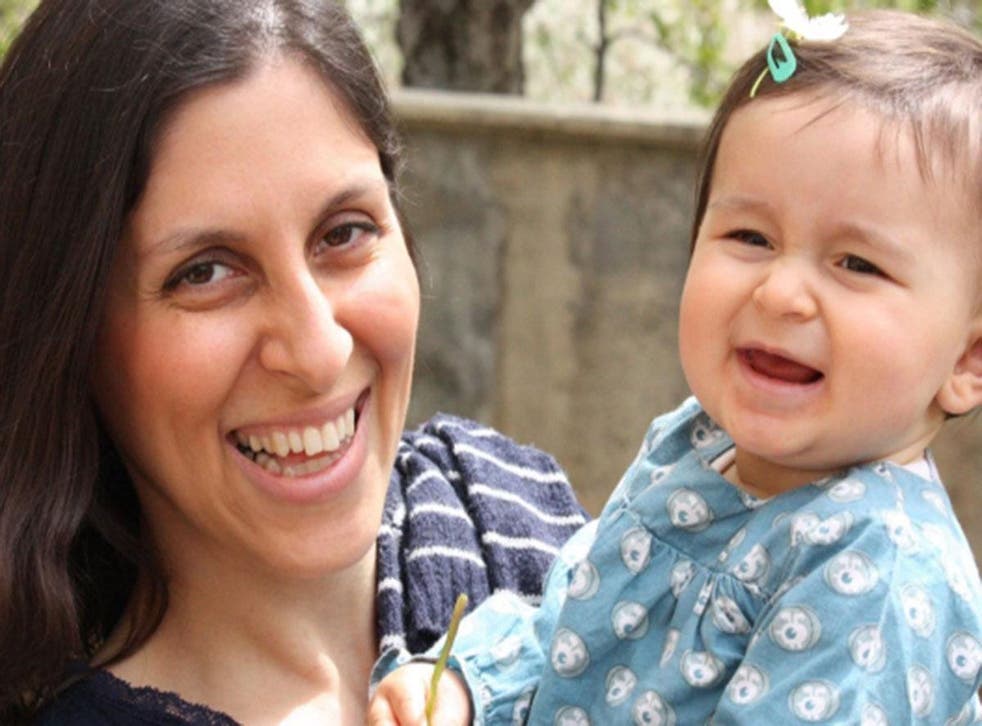 Jailed charity worker Nazanin Zaghari-Ratcliffe could be given diplomatic protection to help secure her release from Iranian custody, No 10 says.
Ministers revealed they are exploring the move after leading lawyers advised that the "grave harm" she has suffered made her eligible for the status.
Diplomatic protection is "one of the possibilities that is being looked at", the Prime Minister's spokesman told reporters.
The move would effectively make Ms Zaghari-Ratcliffe's case a formal legal dispute between Britain and Iran, rather than simply a consular matter.
But it is thought that the Foreign Office is concerned that it is not clear how the Iranian authorities would respond to the escalation of the dispute.
The potential development came as Downing Street distanced itself from Environment Secretary Michael Gove's refusal to accept Ms Zaghari-Ratcliffe was simply on "holiday" in Iran.
Mr Gove is under fire because, when asked what he thought the 38-year-old mother was doing in Iran with her young daughter when she was arrested, he replied: "I don't know."
But the spokesman said: "The Government's position on this is clear. She was there on holiday. It wasn't for any other purpose.
"The Foreign Secretary reiterated that in his conversation with the Iranian Foreign Minister last week."
He declined to respond to calls for Boris Johnson to face the sack, saying: "The entire Government is working towards securing her release as quickly as possible.
"Her husband has said this morning that he wants us to be focused on securing her release, and that's what we are doing."
Richard Ratcliffe appears to have given Mr Johnson breathing space in his fight for survival, after saying his resignation could provoke more "instability" and make the situation worse.
Ms Zaghari-Ratcliffe was jailed for five years in September on allegations of spying and attempting to topple the Iranian government.
She had been visiting her parents to introduce them to her daughter, Gabriella, who remains at their Tehran home, while her father is in London.
An Iranian court has threatened Ms Zaghari-Ratcliffe with a further five years in prison, on top of her existing five-year sentence, putting her on the verge of a nervous breakdown, her husband said.
It followed Mr Johnson telling a Commons committee that she had been training journalists at the time of her arrest – a mistake for which he has refused to apologise.
In an open letter, Mr Ratcliffe accused the Foreign Office of sitting on a legal opinion that his wife is entitled to diplomatic protection for two months.
"The Foreign Office has not answered our lawyers' questions on this, nor has it acknowledged any violation of Nazanin's rights in its replies to parliamentary questions," Mr Ratcliffe wrote.
He also stepped up pressure on the Foreign Secretary to make arrangements for the pair to visit Iran together "as soon as possible".
"That means you personally asking the Iranian authorities if I can travel with you, and asking them to vouch for my safety," he added.
The REDRESS Trust, which helps Briton arrested abroad, has highlighted the legal opinion that Ms Zaghari-Ratcliffe should be given diplomatic protection.
Lawyers from two leading chambers said her personal history and ties to the UK make clear that her predominant nationality is British and that she appeared to have been targeted because of that.
"We are of the view that the only effective means under international law by which the grave harm suffered by Ms Zaghari-Ratcliffe may be repaired lies in the UK's right to exercise diplomatic protection," the legal opinion said.
Join our new commenting forum
Join thought-provoking conversations, follow other Independent readers and see their replies