Neil Hamilton: Disgraced Tory aims to speak for Ukip in Cardiff assembly
'If elected I'll have a base in Cardiff and we will get a mobile home'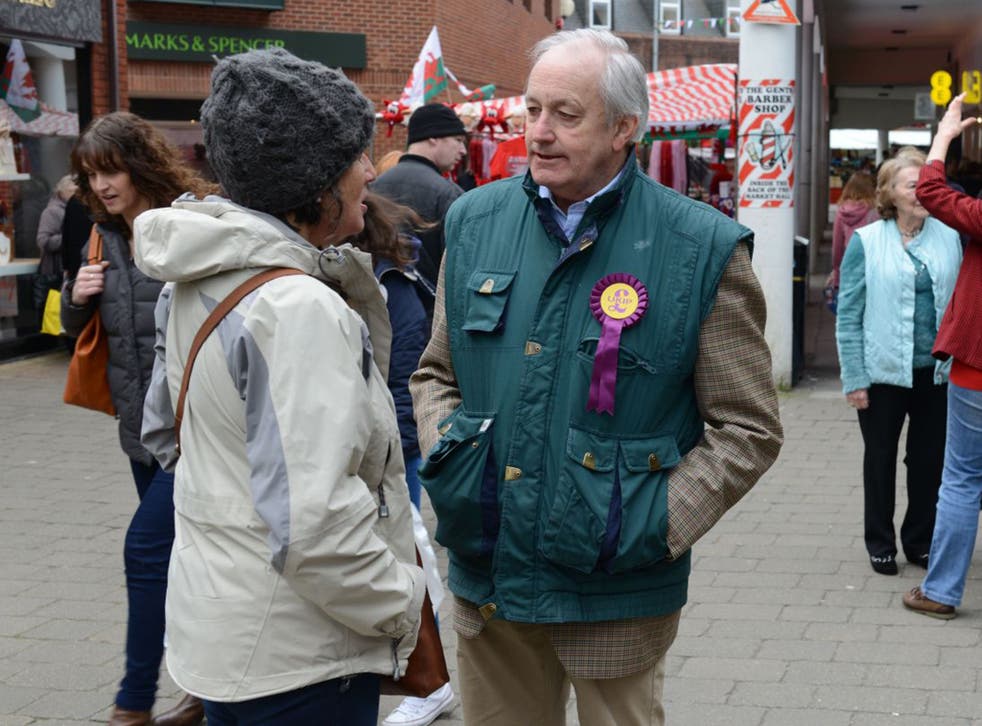 For a man who could soon represent vast swathes of Wales in the Welsh Assembly, from the Menai Straits to St David's Head, Ukip's Neil Hamilton is very relaxed about not having a home in his homeland.
"Our house in Wiltshire is less than an hour from Cardiff and we can get to Carmarthen in two hours," says the shamed former Tory MP. He's sitting by his wife, Christine, in a Carmarthenshire hotel, before campaigning with a small group of Ukip activists. "If elected I'll have a base in Cardiff and we will get a mobile home. Then I can stay ahead of journalists."
Historically, the man who describes himself as a "successful stand-up comedian" as well as a politician, has good reason to want to stay ahead of the press. To most people he will forever be associated with the cash for questions scandal and his subsequent defeat by anti-sleaze candidate Martin Bell in 1997.
He has always denied the allegations, and is now seeking electoral redemption as a Ukip candidate for May's Welsh Assembly elections, in the face of accusations from Welsh Labour leader Carwyn Jones that Ukip is using Wales as a "dumping ground for Westminster failures".
Mr Hamilton said: "The world has moved on and the Inland Revenue dismissed the allegations against me as a pack of lies ... Carwyn Jones has been about as useful as a chocolate teapot for Wales." A more recent scandal has been the resignations and recriminations within Ukip over his selection. Mr Hamilton called the allegations "black propaganda", standing by comments that those behind the claims are a "cancer" that needs to be "cleansed".
Mr Hamilton has form for colourful language, once referring to Ukip as home to the "decent supporters of the BNP". But speaking to me he seems every inch the career politician, steering clear of the opinions that brought infamy to his party. At one point he does refer to Ireland as a "former peasant republic", a comment that would make a press handler wince. He is only accom-panied by his wife, though. To Ukip's base this is part of his charm, but in rural Wales, where Labour and Plaid Cymru dominate, it seems foolhardy.
UK news in pictures

Show all 50
To many Labour voters Mr Hamilton's candidacy is a punchline to a risible career in the public eye, but the party's hierarchy is worried. Labour has dominated the Welsh Assembly since its creation 17 years ago, but the latest polls show Ukip could pick up as many as nine seats in the 60-seat Senedd.
Mr Hamilton is both a constituency candidate in Carmarthenshire and a list candidate for Mid and West Wales. It's under this party list system that he and fellow Ukip candidate and Westminster refugee Mark Reckless could claim seats in the Senedd, where Ukip hopes to hold the balance of power come May.
For his part, Mr Hamilton is exploiting his Welsh roots; his first name, which he now uses in campaign literature, is Mostyn, he was born in Monmouthshire and attended Aberystwyth university. It doesn't hide the fact that he last stood for election 200 miles away in Wandsworth in 2014, where in council elections he won under 400 votes.
Mr Hamilton comes as half of a double act, and to many his wife is the better known after her turn in I'm a Celebrity... in 2002. She's now an ambassador for Slim-Be, a £25 per pack slimming drink. Asked about her role in the firm, it's Mr Hamilton, a Slim-Be director, who jumps in. "We are just about to launch the only sugar-free cereal bar on the market. We are going to transform the health and waistlines of the nation. That's more interesting than politics."
It's an odd statement from a politician seeking office, but Mr Hamilton seems confident that fears over immigration will see him elected, despite immigration not being devolved.
Mr Hamilton insists his move, or nearly move, is permanent. He said: "Welsh has a language for what I'm feeling. It's called hiraeth, which is a kind of nostalgia for the land of your birth which irresistibly draws you back again. I suppose I have sort of come home to Wales to die."
Join our new commenting forum
Join thought-provoking conversations, follow other Independent readers and see their replies