New challenge for 'jackal' Chris Grayling as he replaces Ken Clarke as Justice Secretary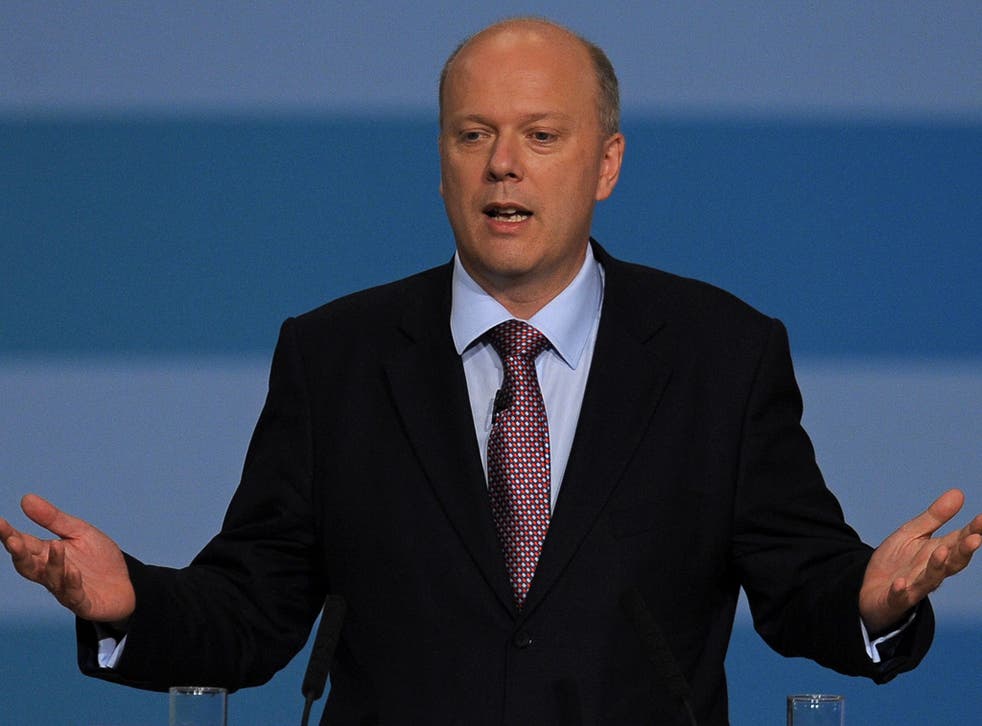 The jackal of the Tory Party will be hoping to look tough on crime as he replaces the liberal Ken Clarke as Justice Secretary.
Chris Grayling, described as the dangerous and feared predator of Westminster, claimed in Opposition that parts of Britain were so blighted by crime they resembled the streets of Baltimore in cult TV show The Wire.
The Tory MP for Epsom and Ewell now faces a challenging new brief, with campaigners warning he will need to have the strength and courage to resist political point scoring, challenge vested interests and avoid undermining a radical reform programme.
But civil liberties campaigners will be concerned about the move after Mr Grayling said two years ago that bed and breakfasts run by Christians should be allowed to turn away gay couples because of their sexuality.
He faced calls to be sacked after telling a meeting of the Centre for Policy Studies think-tank that hotels should not be allowed to discriminate against homosexuals, but individuals should have the right to decide who stayed in their home.
As Employment Minister, Mr Grayling has been at the forefront of Government efforts to tackle the UK's unemployment crisis, especially the million out of work young people.
He helped to launch a series of measures aimed at boosting youngsters' job prospects, including a drive to encourage firms to offer work experience placements.
He had to defend a work experience scheme after critics complained that youngsters were not being paid, and faced unfair benefit sanctions.
Mr Grayling made changes to the programme after activists started staging noisy protests inside restaurants and stores taking part in the scheme.
He is a popular figure on the right of the Conservative Party, but is intensely disliked by unions.
Earlier this year, he was among ministers rebuked by the statistics watchdog for rushing out figures showing 371,000 immigrants were on benefits with insufficient regard for "weaknesses" in the data.
Despite being "highly vulnerable to misinterpretation", the claims were given to the media without the safeguards demanded for official statistics, Sir Michael Scholar said.
It was not the first time that Mr Grayling has fallen foul of the watchdog.
Sir Michael took the unusual step of publicly rebuking the then shadow home secretary in 2010 for "damaging trust in official statistics" by drawing comparisons between different sets of violent crime figures.
It came after Mr Grayling launched a broadside on the Government's handling of law and order, using violent crime figures to back claims of a broken Britain.
He denied any wrongdoing, insisting that the Home Office itself had used the same data set to draw comparisons on other issues.
Speaking three years ago, Mr Grayling furthered his "attack dog" reputation by claiming the UK suffered from the same culture of gangs and violence found in the US.
Police were fighting an "urban war" against gangs as violence in society had become "a norm and not an exception", he said.
And back in 2005, as shadow leader of the Commons, he was described as the jackal of the Tory Party who ruthlessly and persistently pursued what he considered breaches of ethics and the collapse of standards.
Some believed his unrelenting campaign against David Blunkett's alleged breaches of the ministerial code played at least some part in the work and pensions secretary's second resignation from the Cabinet.
Until then, Mr Grayling was virtually unknown outside political circles. He entered Parliament only in 2001 as MP for Epsom and Ewell, an impregnable Tory stronghold.
He was the quiet man of Westminster, barely making ripples, before suddenly emerging as the custodian of political morals.
Former transport secretary Stephen Byers and even Cherie Blair became his targets, too.
Mr Grayling sunk his teeth into Mr Byers over the alleged lie Mr Byers told to a Commons committee over the Railtrack affair, saying ministers may be "evasive, difficult or downright disingenuous" but should not lie.
And he accused Mrs Blair of "sullying" the Office of the Prime Minister after it emerged that an Australian fundraising event at which she was the main attraction was subject to an official investigation. She had got to stop making money in this way, he said.
But Mr Grayling faced criticism in April last year over the award of Whitehall contracts to a company that has helped staff his parliamentary office.
Ingeus Deloitte was announced as the Government's preferred provider for seven major welfare-to-work projects, but concerns were raised that Mr Grayling received £27,978 in kind from a staff secondment to his office in 2009.
Born on April 1, 1962, he grew up in Buckinghamshire, but his parents moved to Cheshire when he was 19 and he has extensive family links in the North West.
He was educated at the Royal Grammar School, High Wycombe, before going to Sidney Sussex College, Cambridge, to read history.
After university, Mr Grayling joined the BBC's news training scheme and worked as a producer on BBC News and Channel Four's Business Daily.
Later, he moved to the business side of the media industry and worked for a number of small and medium-sized production businesses before going to the Employee Change Communication Practice at international communications firm Burson-Marsteller. He completed his time there as European marketing director.
Mr Grayling held various front bench posts in Opposition before becoming shadow Leader of the House after the 2005 general election.
He is the author of several books, including a history of the Bridgwater Canal, Anglo-American relations, and life in England after the First World War.
He is married with one daughter and one son and enjoys antiques, travel and watching cricket.
Mr Grayling also made history as the first non-lawyer to be appointed Lord Chancellor.
His inheritance of the title was made possible thanks to Labour's 2005 shake-up of the judicial system.
The Constitutional Reform Act, which also created Britain's first Supreme Court, stripped the role of head of the judiciary from the Lord Chancellor.
Ministers wanted to drop the name altogether, simply having a minister responsible for the judiciary, courts and tribunals and senior appointments.
In a sop to critics, who hoped the historic title would continue to be used formally for the Lords presiding officer, they allowed it to be retained.
But the upper house ended up instead with its own "speaker", who sits on the ancient woolsack but no longer enjoys the name of Lord Chancellor.
The move to allow MPs to take on the role - and title - was approved only after an epic struggle between the Commons and Lords.
Ministers argued that the justice role was "a different job, with different characteristics requiring different qualities" and should be open to a wider range of candidates.
And that could still be a lawyer Lord if they were considered "the best person for the job", they said.
PA
Join our new commenting forum
Join thought-provoking conversations, follow other Independent readers and see their replies