Jeremy Corbyn condemns death of pensioner found dead after four-hour wait for ambulance
Labour leader highlights tragedy of 81-year-old woman who rang 999 complaining of chest pains – but paramedics failed to arrive
Rob Merrick
Deputy Political Editor
Saturday 06 January 2018 19:10 Comments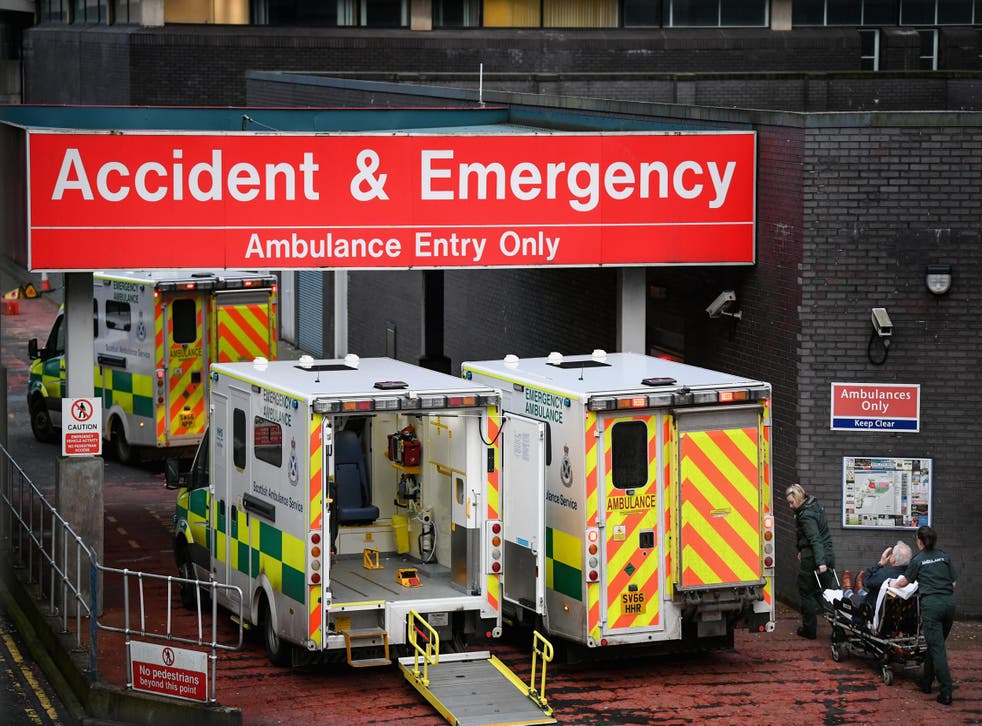 Jeremy Corbyn has condemned the death of a pensioner who waited nearly four hours for an ambulance to arrive as shocking proof of an NHS in the grip of a "Tory-made crisis".
The Labour leader highlighted the tragic case of an 81-year-old woman in Essex who rang 999 complaining of chest pains around 8pm on Tuesday evening.
The woman was still alive when she spoke to the control room again at 9.47pm, but it took another two hours for an ambulance to arrive at her home in Clacton, Essex.
Paramedics then had to break into the property and by the time they reached the woman – almost four hours after her first emergency call – she had stopped breathing and could not be saved.
"This should not be happening in our country. Our NHS is in a Tory-made crisis," Mr Corbyn told The Independent.
"We are one of the richest economies in the world and can afford to properly fund our NHS, but this Tory government prioritises tax cuts for a wealthy elite."
A health union official, the GMB's Dave Powell, also spoke of his fears about the incident, saying: "My concern is now that we are actually suffering deaths whilst people wait for ambulances."
The controversy comes after Theresa May was forced to apologise to patients who have had non-urgent operations until at least the end of the month, in an unprecedented move.
Jeremy Hunt, the Health Secretary, appeared to admit to a "crisis", as hospitals reported using children's wards for adults, to cope with rising demand.
Mr Powell added: "Three hours and 45 minutes is totally unacceptable for an elderly woman on her own with chest pains.
"Something has got to be done and the Government has got to wake up to this crisis. I'm sure this case is much more widespread than the public is aware of."
The official said the paramedics were "devastated", adding: "They're not in the job to find people dead, they're in the job to help people and keep them alive."
Meanwhile, in another incident in Portsmouth, 88-year-old Josephine Smalley died after spending five hours in an ambulance and another two hours on a hospital trolley, after suffering a heart attack and previously a stroke.
An official investigation has been launched into the death of the Clacton pensioner, described as "appalling" by local Conservative MP Giles Watling.
"Paramedics should be able to turn up on time. I have no idea what happened in this particular case, but it needs serious looking at if there was a delay like that," he said, adding: "If this event is due to lack of resource, then we need to look at resources."
East of England Ambulance Service (EEAST) has admitted it struggled to cope with a surge in demand over the holiday period, turning to taxis to take patients to hospital on occasions.
It received more than 4,100 calls on 31 December and about 4,800 on New Year's Day – compared with an average of 3,000 calls a day.
Sandy Brown, the service's deputy chief executive, said: "Our sincere condolences and apologies go out to the patient's family and friends and we are truly sorry for the ambulance wait that occurred at this incident."
He added: "Due to extremely high demand on the service and delays at accident and emergency units, we were not able to immediately dispatch an ambulance.
"A clinician in one of our control rooms made a welfare call and spoke to the patient at 9.47pm and an ambulance crew arrived at the address at 11.46pm.
"The patient was found unconscious and not breathing and sadly died at the scene."
Register for free to continue reading
Registration is a free and easy way to support our truly independent journalism
By registering, you will also enjoy limited access to Premium articles, exclusive newsletters, commenting, and virtual events with our leading journalists
Already have an account? sign in
Join our new commenting forum
Join thought-provoking conversations, follow other Independent readers and see their replies