NHS chief Simon Stevens warns Theresa May that 2018 will be 'the toughest year' as spending falls
The chief executive of NHS England clashes with the Prime Minister over spending and social care - after reports of tension with No.10 over his 'unenthusiastic' attitude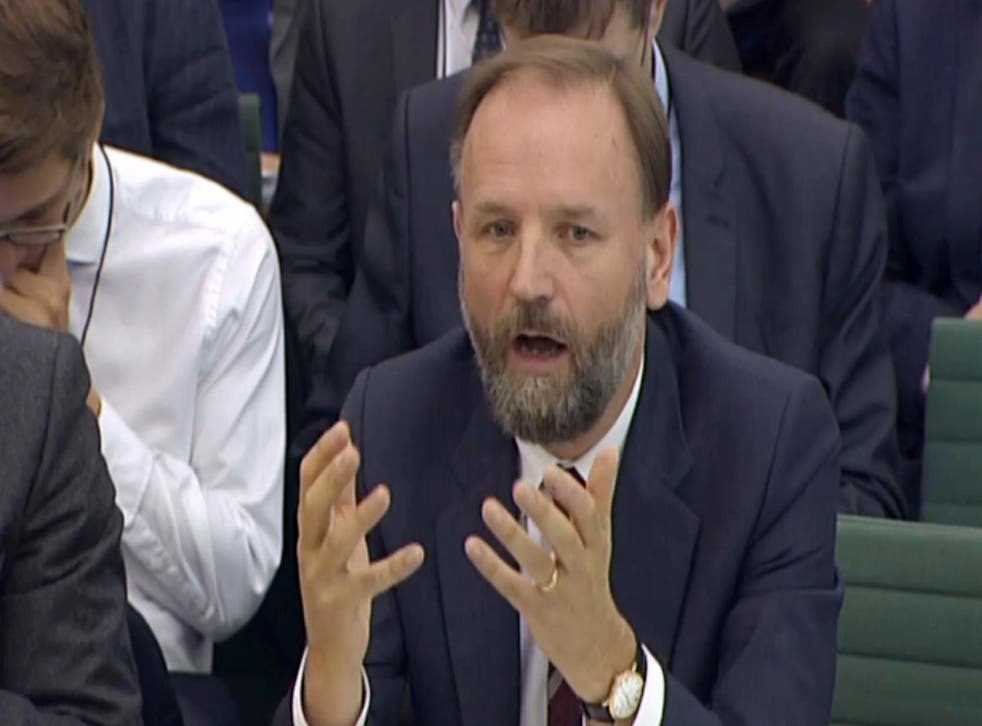 NHS chief Simon Stevens warned Theresa May that problems in the health service are set to grow, as he clashed with her on both spending and social care.
Giving evidence to MPs, Mr Stevens rejected the Prime Minister's claim to have given the NHS more money than he asked for – arguing it would receive less.
And he warned that delayed discharges – a key measure of the social care crisis, which keeps the elderly in hospital unnecessarily – had "doubled over the last three years".
Just hours earlier, in the Commons, Ms May had insisted discharge problems were confined to a small number of areas and that funding was going up.
Health professionals have warned of a crisis now, but Mr Stevens, the chief executive of NHS England, said: "2018 is poised to be the toughest year."
That was because funding has been "back-ended" to end of the decade and will actually fall in real terms in the 2018-19 financial year, he explained.
Mr Stevens also said: "Like probably every part of the public service we got less than we asked for in that process.
"So I think it would be stretching it to say the NHS has got more than it asked for. There are clearly very substantial pressures, and I don't think it helps anybody to try and pretend that there aren't."
Yet, last year, the Prime Minister insisted: "We have given the NHS more than the extra money they said they wanted for their five-year plan."
Mr Stevens spoke out after reports of tension with No.10 because of irritation about his "unenthusiastic" attitude towards making savings.
Throughout the two-hour session, he appeared irritated with Downing Street himself – saying he was campaigning against social care cuts, "enthusiastically I might add".
At one point, Mr Stevens dismissed the Department of Health's top civil servant's defence of NHS spending, saying: "We are spending 30 per cent less per person than Germans are."
Ominously for Ms May, he told the Commons Public Accounts Committee it was right to refresh the five-year NHS plan by the end of March, setting out what was now affordable.
Jonathan Ashworth, Labour's Shadow Health Secretary, seized on Mr Stevens' evidence to accuse the Prime Minister of having "buried her head in the sand".
He said: "Theresa May needs to come out of her bunker, admit she's got it wrong and guarantee the funding the NHS needs.
"Number 10 should listen to the experts like Simon Stevens and not be briefing against him."
Tim Farron, the Liberal Democrat leader, said it was "blame the expert time again from the Conservatives", adding: "Simon Stevens has heroically kept the NHS afloat, despite its scandalous lack of funding."
Mr Stevens has warned previously that much of a promised extra £10bn each year for the NHS will not arrive until the end of the decade.
The health service had only received what it asked for in this financial year, he said – with less cash than requested between 2017 and 2020.
MPs have said cash has been diverted from other areas of the health budget, so the real overall rise is only £4.5bn over six years.
Join our new commenting forum
Join thought-provoking conversations, follow other Independent readers and see their replies