Nick Clegg is 'dead in the water' and should be sacked, says senior Lib Dem peer Lord Smith
Lib Dem leader will use speech to make it plain he intends to carry on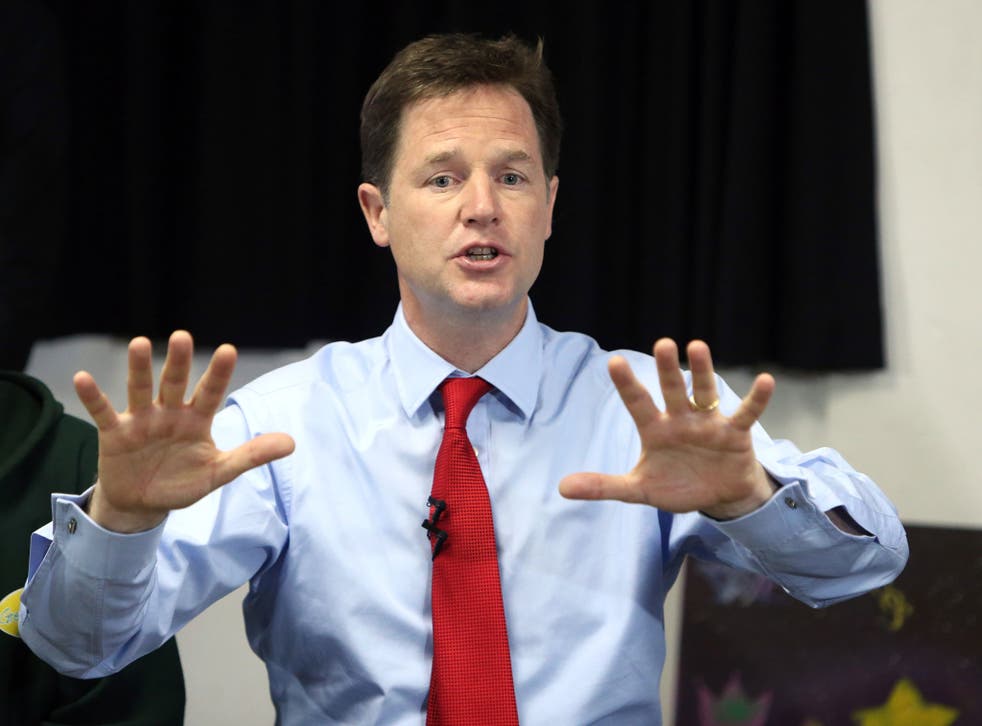 Nick Clegg's attempt to reassert his position with a major speech on Monday threatens to be undermined by a call from a senior Liberal Democrat for him to be sacked.
He planned to put recent disastrous election results behind him with a speech designed to demonstrate to the voters that his party is different from the Tories.
But Trevor Smith, a former Lib Dem spokesman on Northern Ireland, says Mr Clegg is "dead in the water" and has accused him of being "part of that generational cohort of politicians that lacks any real experience of the world outside politics".
Writing for a forthcoming issue of Liberator, a liberal political magazine, Lord Smith added: "Clegg has not less than 20 special advisers around him… He doesn't ask them to promote his policies because he does not have any. Instead he is overwhelmed by the babble of their voices."
He went on to say that after the May elections, in which the Lib Dems lost almost 300 of their 700 council seats, getting less than three per cent of the vote in last Thursday's by-election in Newark "should have been the fatal blow" to Mr Clegg's leadership.
He claimed: "A change of leader… would be a necessary signal that would help damage limitation."
10 things you didn't know about Nick Clegg

Show all 10
But in his speech, Mr Clegg will make it plain that he intends to carry on, and will put distance between his party's economic plans and those of George Osborne. He will say the Chancellor's target for reducing the deficit by 2017-18 should be achieved by tax rises and spending cuts rather than by cuts alone.
After that is achieved, Lib Dem policy will be to "balance the overall budget but in a way which still allows us to invest in the things we and future generations need".
Lib Dem strategists believe part of the reason for their recent setbacks has been that voters cannot see what the party stands for that is distinct from the Tories.
Mr Clegg hopes his speech will get across the message that his party has a distinctive strategy which is neither "an ever-shrinking state" offered by the Tories, or "reckless borrowing" by Labour.
Join our new commenting forum
Join thought-provoking conversations, follow other Independent readers and see their replies