Nick Clegg hints at Lib/Lab pact with first demand in future coalition talks
Clegg sets out his terms for coalition with Labour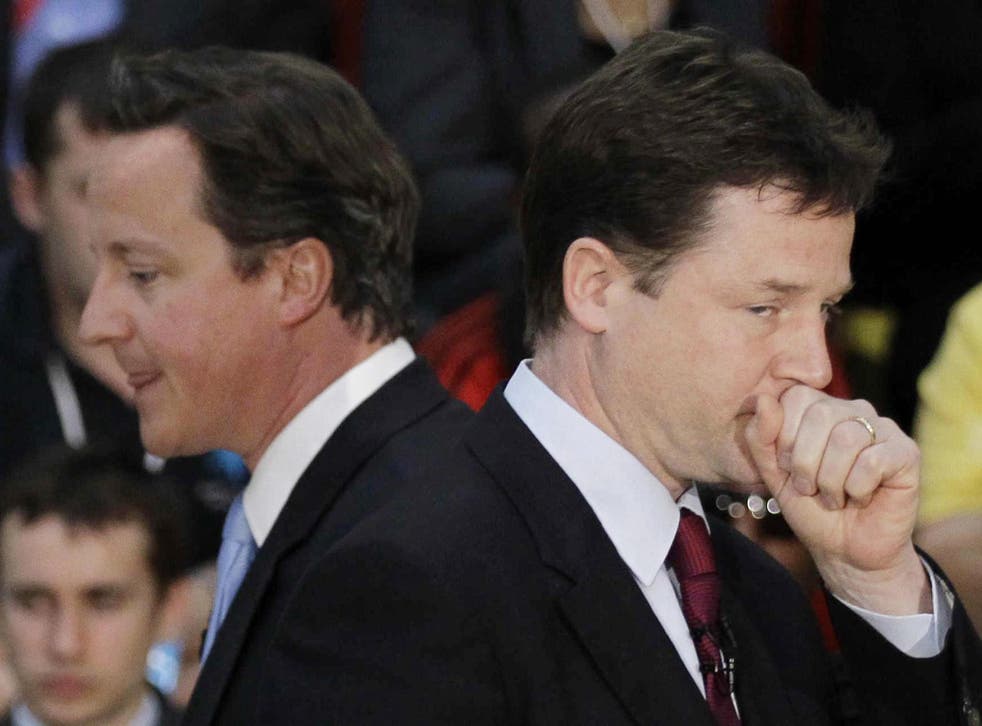 Nick Clegg has set out the first demand that the Liberal Democrats would make if they were asked by Ed Miliband to form a coalition government with Labour: "Don't break the bank."
His words are likely to annoy the shadow Chancellor, Ed Balls, who would challenge any suggestion that government finances would be unsafe in his hands. They will please Labour MPs and many grass-roots Liberal Democrat activists, however, showing that the Deputy Prime Minister is making public overtures to Labour, while accusing the Conservatives of having changed "dramatically" – for the worse.
In an interview with The Independent's political commentator, Steve Richards, to be broadcast on Monday night on BBC Radio 4, Mr Clegg said: "There is just no doubt in my mind that if there were a Labour/Liberal Democrat coalition, we the Liberal Democrats would absolutely insist that government would not break the bank."
He implied that the Labour Party now looks more like a potential party of government than it did three years ago. He said: "I think they've changed. I think there's nothing like the prospect of reality in an election to get politicians to think again and the Labour Party, which is a party unused to sharing power with others is realising that it might have to."
Mr Clegg also suggested that the Liberal Democrats are finding the Conservatives increasingly hard to deal with. He claimed: "The Conservative Party has changed quite dramatically since we entered into coalition with them. They've become much more ideological, they've returned much more to a lot of their familiar theme tunes.
"I think it would be best for everybody if the Conservative Party were to rediscover a talent for actually talking to mainstream voters about mainstream concerns."
The Liberal Democrats have suffered a run of disastrous opinion poll findings, and their candidate in last week's Wythenshawe by election lost her deposit, which suggests they will lose seats in next year's general election. But they have a track record of holding on in places where they have a strong presence, as they demonstrated when they won to Eastleigh by-election after Chris Huhne resigned.
Join our new commenting forum
Join thought-provoking conversations, follow other Independent readers and see their replies