Nick Clegg mocks Michael Gove's 'absurd' behaviour as education secretary
The Lib Dem leader claimed the Tory minister personally drew up lists of medieval monarchs he believed should be taught in school history classes
David Hughes
Tuesday 07 April 2015 16:31 Comments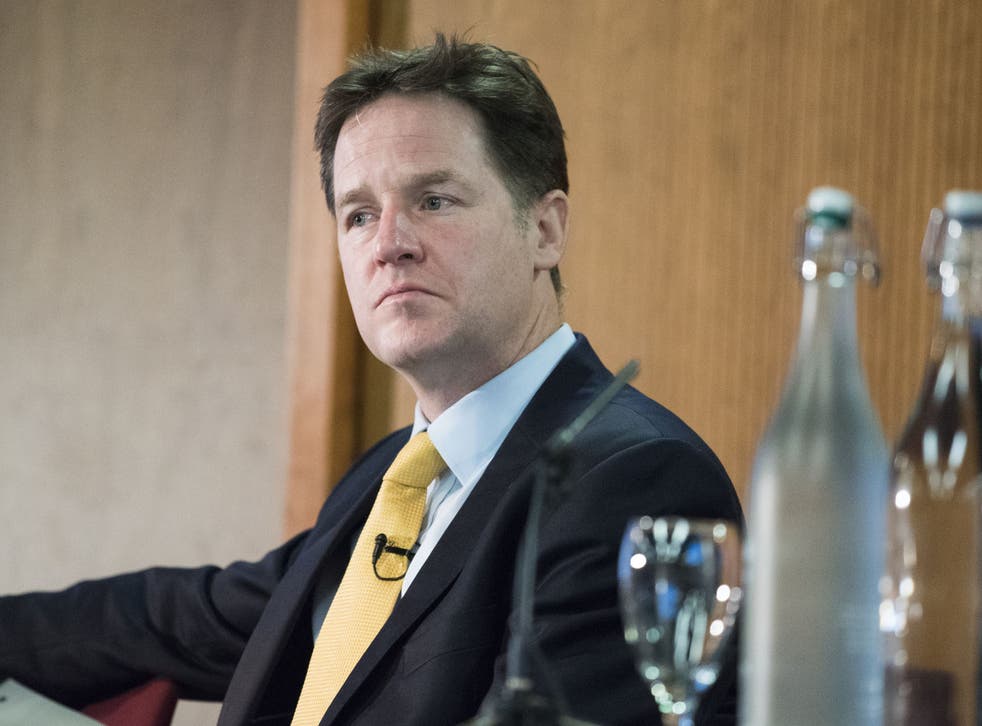 Nick Clegg has mocked Michael Gove over his "absurd" behaviour as education secretary as he condemned Tory plans for England's schools.
The Liberal Democrat leader, who frequently clashed with Mr Gove and his aides, claimed the Tory minister personally drew up lists of medieval monarchs he believed should be taught in school history classes.
And he warned that the Tories' "irrational" commitment to free schools could starve council-run schools of funding.
Mr Clegg, who has expressed a desire for the Lib Dems to be given control of the Department for Education in any future coalition and revealed frustration about the "fruitless and fruit-cakey policy spasms" during the coalition's time in office, said he would stop free schools opening in areas where there is no shortage of places.
In a swipe at Mr Gove's style, he said: "I remember when I thought 'This is just getting absurd' was when someone explained to me that Michael Gove was personally handwriting lists of which medieval kings British schoolchildren should learn, according to his personal recollection of which kings and queens are important.
10 things you didn't know about Nick Clegg

Show all 10
"I just thought 'This is something out of The Thick Of It'. You have the secretary of state personally instructing the hapless children of this country which medieval kings you want them to learn by rote.
"I'm afraid this happens in government, I've seen this, where a secretary of state, it all slightly goes to their head, they think it's their personal fiefdom or their personal gift."
Speaking to reporters on his campaign battle bus, he said there was a "near departmental obsession" under Mr Gove "with opening a tiny handful of new schools, some of which were being opened in areas where there wasn't a particular pressure on school places, when the much larger issue of how you properly finance 24,000 schools across the whole school system was much more pressing".
Mr Clegg said he was an advocate of free schools, set up outside local authority control by parents, teachers and community groups "in areas where there is a clear need for it".
But he added: "What I'm not comfortable about at all, and which we would stop, is - and thankfully it's only happened in a tiny, tiny number of cases - is basically stealing from Peter to give to Paul, where maintained schools in the maintained sector are crying out for extra investment and the money is going to open new free schools even though there is no great pressure on places. That just seems to me to be an irrational use of scarce resources, in effect for ideological reasons.
"I'm all for diversity, I'm all for school autonomy, I have been a great champion of giving teachers and headteachers greater autonomy.
"But I am, beyond and above everything else, a real champion between now and May 7 of giving our whole school system and our whole education system the resources it needs, which is why what you will see when we publish our manifesto in a few days' time, one of our front-page manifesto commitments will be to protect the education budget from nursery to 19-year-olds, from cradle to college.
"What you can't do - which is what the Conservatives have come up with - is pantomime-horse policy where they say on the one hand we'll give more money to a tiny number of hand-picked schools, hand-picked by the Conservatives, on the other hand they will cut over £3 billion out of the education budget.
"Something has to give, and I will tell you what will give - what will give will be lots and lots of local schools up and down the country that need to be supported, not undermined."
PA
Register for free to continue reading
Registration is a free and easy way to support our truly independent journalism
By registering, you will also enjoy limited access to Premium articles, exclusive newsletters, commenting, and virtual events with our leading journalists
Already have an account? sign in
Join our new commenting forum
Join thought-provoking conversations, follow other Independent readers and see their replies