Nick Clegg plans employment safety net for 16-year-olds who don't go to university
The move follows criticism that the current system gives much more help to the 40 per cent who go university than to the 60 per cent who do no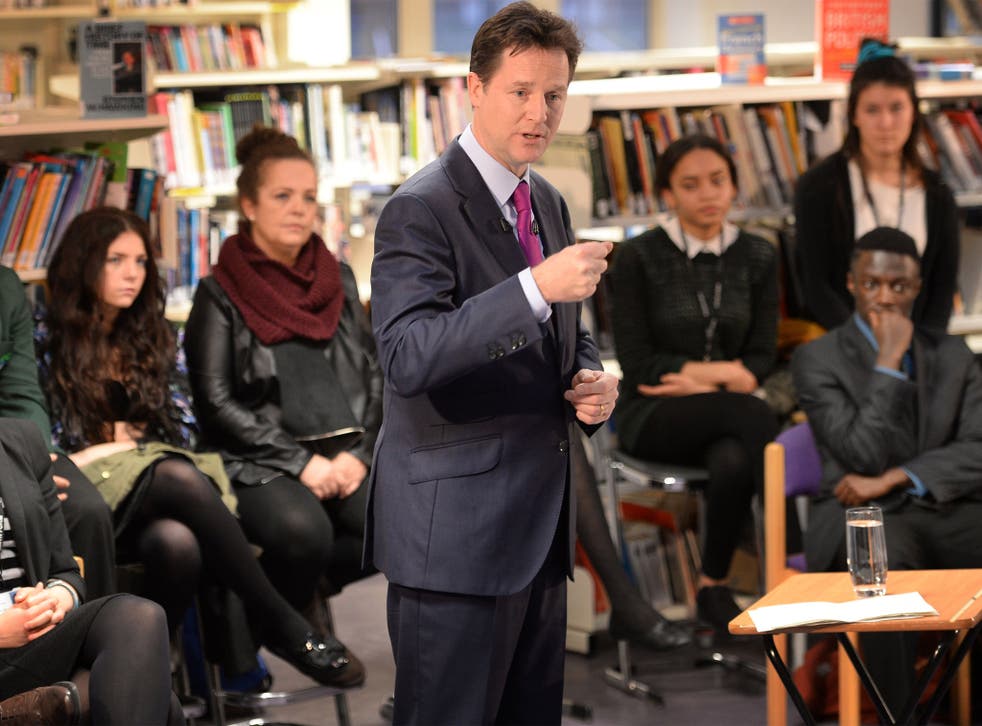 Young people who do not want to go to university will enter a UCAS-style clearing system at age 16 in an attempt to stop them drifting onto the dole.
The Government will today announce a package of measures to help the "forgotten" one million 16-24 year-olds dubbed "Neets" – those not in education, employment or training.
The move follows criticism that the current system gives much more help to the 40 per cent who go university than to the 60 per cent who do not.
The UK spends about £2.5bn a year on out-of-work benefits for the under-25s. Quarterly figures published today are expected to show that about 14 per cent of young people are "Neets" in the UK – compared to 4 per cent in the Netherlands and 7 per cent in Denmark.
Nick Clegg, the Deputy Prime Minister, will pledge to "end the snobbery surrounding vocational education" that limits the prospects of those who do not go to university, and promise them "an equal shot" by helping them to make the right choice after taking their GCSEs.
Sixteen-year-olds will be able to use a "one stop shop" website to help them plan their next move.
Run by local authorities, it will be modelled on the UCAS system for applying to university but will instead provide details of college courses, apprenticeships, traineeships, work experience and job opportunities.
Mr Clegg wants it to become a rite of passage for all teenagers. Although some councils already provide online advice, the Government will open talks with them to ensure a nationwide system is launched as soon as possible.
It will publish data regularly to show how successful local authorities have been in getting young people into training or jobs. The UCAS-style system has emerged from a review of provision for "Neets" by Sir Jeremy Heywood, the Cabinet Secretary. He was asked by David Cameron and Mr Clegg to develop a "learn or earn" strategy to break the cycle of people beginning their adult life on state benefits.
The Deputy Prime Minister will also announce other measures from the review, including:
* Jobcentres will open their doors to 16 to 17 year-olds for the first time for advice on finding work;
* A trial scheme under which 18-21 year olds out of work for six months will lose their Jobseeker's Allowance (JSA) if they have not achieved Level 2 maths and English and refuse training;
* Work experience for 18-21-year-olds on JSA for six months in a pilot project aimed at building up their confidence;
* Schools will be ordered to provide much better careers advice after Ofsted inspectors found that only one in five gives all their students detailed careers support;
* Schools will have a duty to develop close links with local employers, who could sit on governing bodies.
Mr Clegg believes the measures to tackle the "Neets" problem are vital if the Government is to ensure a "fair recovery for all".
In a speech to 500 young people in London today, the Liberal Democrat leader will admit that careers advice at school is not good enough.
"Too many young people aren't getting what they need," he will say. "We're going to make sure that every young person gets good careers advice and guidance at school."
Mr Clegg will say that schools should collect and publish more detailed, up-to-date information about the destination of their former pupils so they can be judged "not only on their students' exam results but what they do after they leave".
Join our new commenting forum
Join thought-provoking conversations, follow other Independent readers and see their replies