Nick Clegg unveils £1bn fund for jobless youth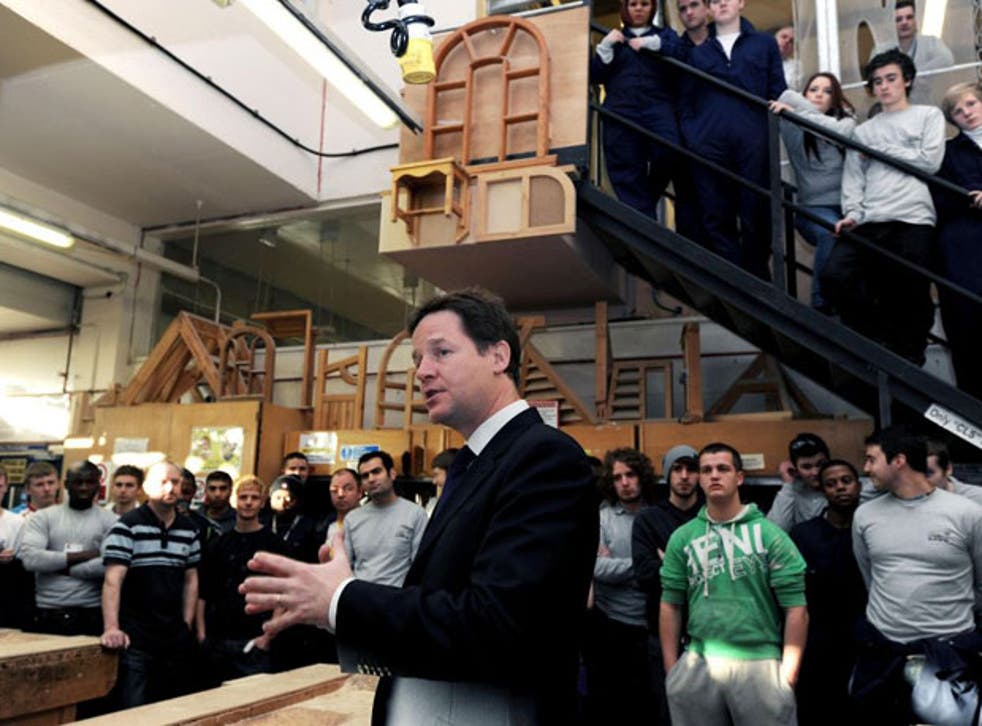 Nick Clegg has pledged to create hundreds of thousands of work placements for young people in the face of record levels of youth unemployment.
The Deputy Prime Minister and leader of the Liberal Democrats announced the creation of a £1 billion Youth Contract aimed at helping jobless young people get back into work or education.
The move comes the day after official figures revealed that a record 1,163,000 16 to 24-year-olds were "NEET" (not in education, employment or training) in the third quarter of this year.
The number of people in this age group who are looking for work increased by 67,000 in the quarter to September to 1.02 million, the worst total since comparable records began in 1992.
Mr Clegg announced that under the Youth Contract, from next April, over a three-year period at least 410,000 work places will be found for 18 to 24-year-olds.
This includes wage subsidies worth £2,275 handed to employers to take on 160,000 18 to 24-year-olds.
Each of these "wage incentives" is worth half of the youth national minimum wage and last for six months.
They will be available for those youngsters that need the most help after three months, and all of those who have been on Jobseeker's Allowance (JSA) for nine months.
Mr Clegg also said the contract would offer a work experience placement of up to eight weeks for every unemployed 18 to 24-year-old that wants one.
Extra funding for apprenticeships and a £50 million programme to help persistently NEET 16 and 17-year-olds will be on offer too, the Government said.
Under the plans, young people who fail to sign up to the Youth Contract will be considered for "mandatory work activity", while those who drop out of work experience or jobs without good reason will lose their benefits.
Launching the initiative at a college in Leeds today, Mr Clegg told BBC Breakfast: "Young people of today who were born in the boom should not bear the brunt of the bust and that's what this Youth Contract is all about.
"It's heartwrenching when you hear from young people how demoralising it is for them to be sitting at home week in and week out, sending out one job application after the next and often not getting any answer or explanation about why they're not getting a job.
"And just at a time when they're supposed to be most optimistic and most hopeful about their future, actually they're getting the stuffing knocked out of them and it has a long-term effect into the future and that's what this Youth Contract is about.
"It's a very big new initiative which means that every single unemployed young person will have the opportunity to earn money or learn."
He denied there would be people left on the sidelines, adding that the project was on a "very, very large scale".
Dr Adam Marshall, director of policy at the British Chambers of Commerce, said: "The Government has to make it easier for businesses to hire young people. Employers often spend a large amount of time and money training up those young people not in education, employment or training.
"The proposal to pay employers half of the minimum wage payment for the first six months will help businesses offset this cost."
TUC general secretary Brendan Barber said: "With a million young people out of work, a quarter of them for over a year, any significant moves to help them are long overdue.
"It may be late, but the TUC welcomes elements of the plans being announced - the job subsidy, training and extra help from jobcentres effectively recreate the most positive elements of the last government's New Deal for Young People, which the TUC strongly supported.
"But the massive expansion of the work experience scheme is much less positive, unfortunately.
"There are already widespread reports of young people on the programme being exploited. Keen unemployed youngsters desperate to find work shouldn't be conscripted into edging out other workers who should have been paid the going rate for the job."
Shadow work and pensions secretary Liam Byrne said: "The Tories killed the Future Jobs Fund and young people have paid a brutal price for this, with youthunemployment hitting a million and long-term youth unemployment up 83% this year.
"And if the Government is slashing working families tax credits to pay the bill for this new scheme, it beggars belief.
"That tells you everything you need to know about how out of touch the Government is with the needs of our young people and squeezed middle families across Britain."
The chief executive of children's charity Barnardo's, Anne Marie Carrie, said: "It is heartening that the Government have finally recognised the need to support the most vulnerable 16 and 17-year-olds.
"Unemployment for this group has doubled over the last decade and there are currently 217,000 unemployed individuals, meaning that the money announced today will help just 11% of those 16 and 17-year-olds out of work.
"The only way to stop the squandering of young lives and talent is to get young people ready for work, and voluntary organisations have a great deal of skill and expertise in developing and delivering opportunities for the most marginalised young people."
Prime Minister David Cameron's official spokesman declined to comment on speculation that the Youth Contract will be funded by a squeeze on tax credits.
"All I can tell you is that we have prioritised new funds for this," he told reporters, adding that Chancellor George Osborne would give further details in his autumn statement next Tuesday.
Asked whether Mr Cameron still believed the Government was right to scrap the Future Jobs Fund, the spokesman said: "Yes. There were some particular problems with the Future Jobs Fund as it was constructed.
"The cost per person was something like £6,500 and the jobs generated through that scheme were almost exclusively in the public or voluntary sector.
"We had a proper look at that scheme and decided it was not a value-for-money scheme. What has been announced this morning seeks to learn from previous approaches in this area and draw on international evidence as to what works.
"The main difference is that this is directed at the private sector. We are looking to the private sector to create jobs for the future, as we know that the number of public sector jobs is going to be coming down. We are learning from the Future Jobs Fund and trying to use a much more targeted approach."
PA
Join our new commenting forum
Join thought-provoking conversations, follow other Independent readers and see their replies