Nick Clegg vows to veto Michael Gove's secret plans to let hedge funds and venture capitalists cash in on schools
Lib Dems will claim during election campaign that they acted inside the Coalition as brake on Tories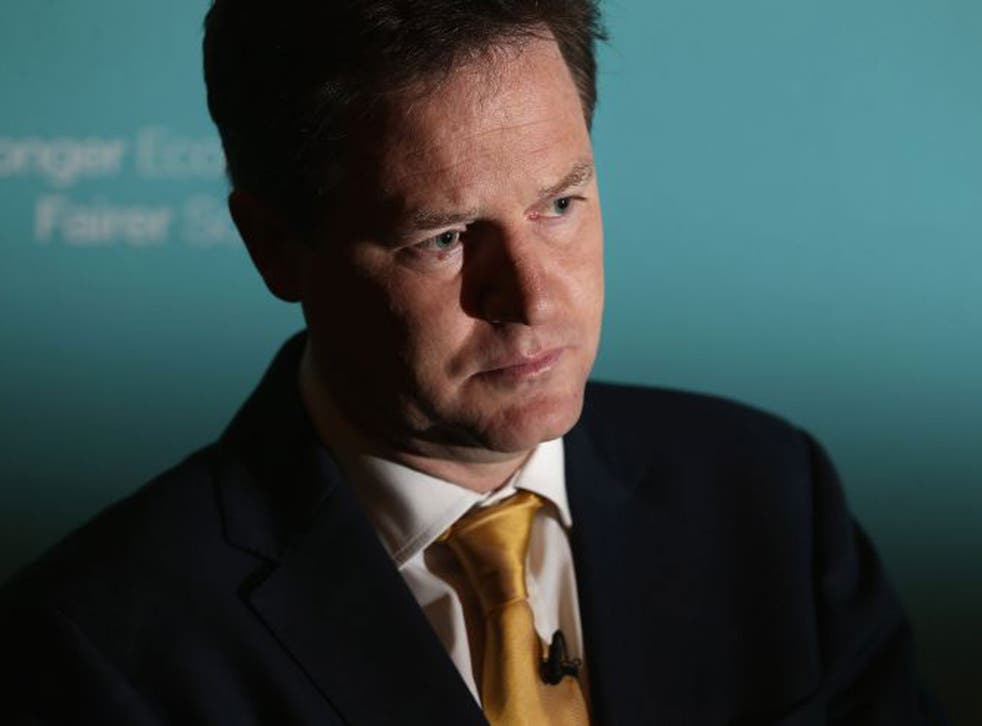 Nick Clegg vowed today to veto any move by the Conservatives to allow academies and free schools to become profit-making businesses.
The Deputy Prime Minister intervened after The Independent revealed that Michael Gove, the Education Secretary, is considering plans to redraw the rules to allow the schools to use hedge funds and venture capitalists to raise money.
The Liberal Democrats will block any moves to change the rules before the 2015 general election. During the election campaign, Mr Clegg's party will claim that they acted as a brake on the Tories inside the Coalition. "We will say we stopped them running schools for profit, privatising the NHS and eroding workplace rights by allowing employers to sack people at will," one Lib Dem minister said.
Plans to change the rules for academies and free schools could resurface in the Tory manifesto in 2015. But the Lib Dems could make them a non-negotiable "red line" in the event of a hung parliament and negotiations on a second coalition.
A senior Lib Dem source said yesterday: "We have made it crystal clear that we will not allow the running of state schools for profit. The Conservatives can put what they want in their manifesto for 2015 but this is a Coalition Government and running schools for a profit in the state sector won't happen while the Lib Dems are in it. This idea has been floated before and has been stopped in its tracks by the Lib Dems. Every time it comes up, exactly the same thing will happen."
Outlining his stance in 2011, Mr Clegg said: "Yes to greater diversity; yes to more choice for parents; but no to running schools for profit, not in our state-funded education sector."
A Department for Education spokesman insisted: "There are no plans to introduce profit making and it is wrong to state that this is needed if more schools are to become academies."
Allies of Mr Gove denied that the issue was on his agenda, not least because he knew the Lib Dems would thwart any attempt to pursue it. They insisted that academies and free schools are charitable trusts, which under charity law are not allowed to transfer their assets to profit-making companies.
For Labour, Stephen Twigg, the shadow Education Secretary, said: "Making a fast buck from children's education is wrong and will damage standards. Michael Gove shouldn't experiment in this way. In Sweden, we've seen standards in literacy and numeracy fall and schools collapse since profit making was introduced."
Register for free to continue reading
Registration is a free and easy way to support our truly independent journalism
By registering, you will also enjoy limited access to Premium articles, exclusive newsletters, commenting, and virtual events with our leading journalists
Already have an account? sign in
Register for free to continue reading
Registration is a free and easy way to support our truly independent journalism
By registering, you will also enjoy limited access to Premium articles, exclusive newsletters, commenting, and virtual events with our leading journalists
Already have an account? sign in
Join our new commenting forum
Join thought-provoking conversations, follow other Independent readers and see their replies