Nicola Sturgeon launches scathing attack on Labour and the 'out of touch and uncaring' Tories
The SNP leader contrasts the party's 'voice of hope and fairness' with the two 'can't do parties'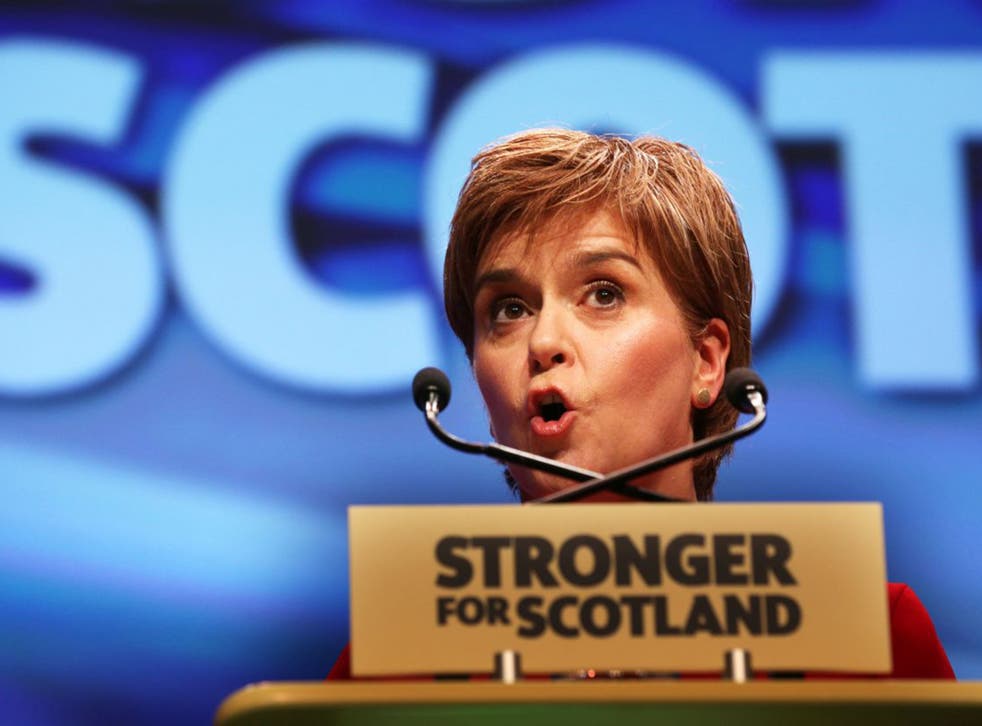 Nicola Sturgeon has launched her most scathing attack yet on both Labour and the Conservatives as she told her party to work "harder than we have ever done before" to win the trust of Scottish voters ahead of next May's elections.
Contrasting the SNP's "voice of hope, fairness and social justice" against the Conservative government's" extreme, out of touch and uncaring" approach, Scotland's First Minister labelled the Tories and Labour in the same brush as "can't do parties" and said it would be her mission to make Scotland a "powerhouse" on the world stage.
The loudest applause in Ms Sturgeon's speech came when she referred to piggate, accusing David Cameron of being an "arrogant, patrician and out of touch, pig-headed some might say" in his "betrayal" over failing to honour the vow he made on the day after last year's Scottish independence referendum to deliver a raft of new powers to Edinburgh.
She singled out the Government's "scandalous" plans to hit working people by cutting £4.5bn a year from the tax credit bill from next April, branding it the "most iniquitous policy since Margaret Thatcher's poll tax".
Ms Sturgeon, delivering her keynote speech to close the SNP's biggest ever conference in Aberdeen, claimed the cuts to tax credits would hit Scottish families harder than those south of the border.
She accused George Osborne of lying to the public by refusing to give details before the election about the impact of the cuts.
Ms Sturgeon also launched a further attack on Jeremy Corbyn, saying how she had held "high hopes" that he would change Labour. "But, so far, Jeremy Corbyn isn't changing Labour - he's allowing Labour to change him," she said as she attacked him for his "incoherent position" on issues that have divided his party such as Trident and austerity.
In an unusually personal appeal she asked her party to put their trust in her as she seeks to lead the SNP to a historic third term in office.
"I pledge again today that for every hour of every day that I am privileged to hold this office, I will work to repay the trust placed in me," she said.
Closing the speech, she said: "Trust us - trust me - to always do the best for you, for your family and for your community. And trust the SNP to always be stronger for Scotland."
It was tax credits that she saved her most detailed and sustained attack on the Tories. She said up to 200,000 working families face losing an average of £3,000 a year, she said. In the UK as a whole three million families are set to lose an average of £1,300 a year.
But she said big numbers "mask the real human impact" as she described in detail how the cuts would affect a couple with two children living on a council house.
She said: "Closer to home, it is the Tories' plan to slash tax credits that is causing alarm in households across the country.
"Make no mistake, tax credit cuts are right up there with the bedroom tax as the most iniquitous policy since Margaret Thatcher's poll tax."
Ms Sturgeon attempted to play down hopes of another vote in the next parliament in her opening address on Thursday, urging delegates to trust her to decide when the time was right and saying that a second referendum must only be called when they are sure it can be done.
In her speech on Saturday, which mentioned independence on just eight occasions, she said the fight for a separate Scotland was not about nationalistic identities such as flags and anthems, but instead about Scotland's five million people.
"We believe in independence - in our hearts and in our heads," she said. "But our ambition for this country is not about flags and anthems.
"It's about five million people. It is to them - each and every one - that we owe our allegiance and our duty.
"The duty to build a strong economy and a safe society. The duty to make our schools and hospitals the best in the world.
"The duty to give every person in our land the chance to reach their full potential, no matter their background or circumstance."
Join our new commenting forum
Join thought-provoking conversations, follow other Independent readers and see their replies