Appointing Nigel Farage as ambassador to the US would be 'barking mad', says former British ambassador
Exclusive: Sir Christopher Meyer told The Independent the Ukip leader would be 'beholden' to the President-elect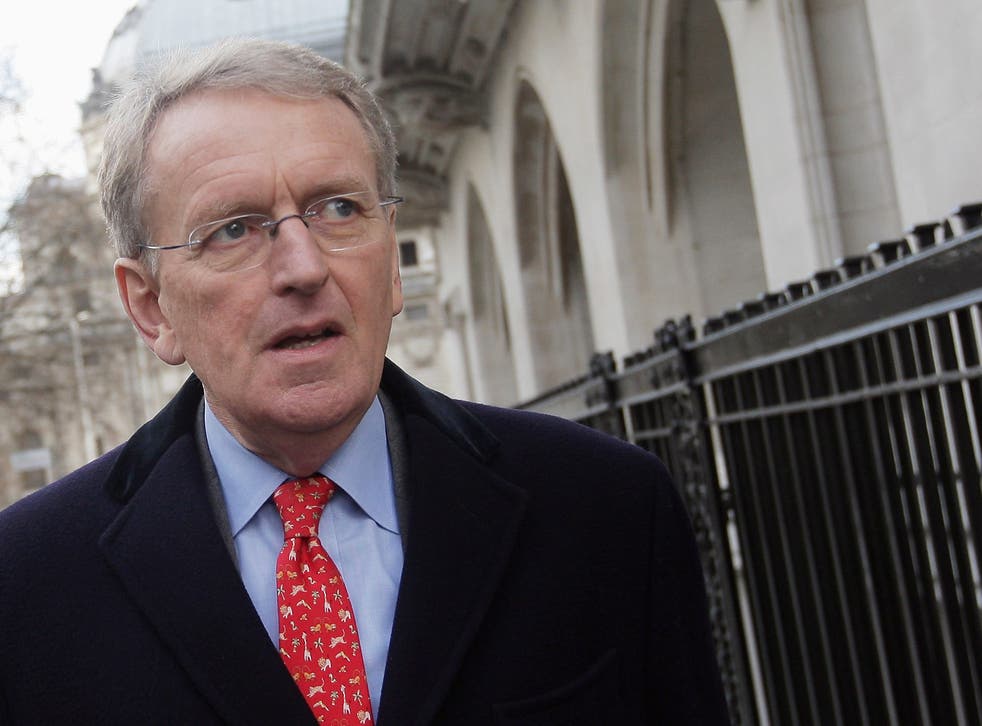 Sir Christopher Meyer, the former British ambassador to the United States, has suggested it would be "barking mad" for the Government to appoint Nigel Farage to his former role.
Speaking to The Independent Mr Meyer, the diplomat who served in the role between 1997 and 2003, also claimed the interim Ukip leader would be "beholden" to President-elect Donald Trump, rather than the British Government.
His comments came after an unprecedented intervention by Mr Trump, who broke all diplomatic convention to claim many people want to see Mr Farage given the influential role in Washington. Both Downing Street and Boris Johnson, the Foreign Secretary, have been forced to issue statements suggesting there is "no vacancy" for the influential post and expressing confidence in Sir Kim Darroch.
"Downing Street and Boris [Johnson] have said there is no vacancy and that Sir Kim Darroch is an excellent man. He is an excellent man – I could declare an interest here, I know him quite well. He's a first-rate ambassador," said Sir Christopher.
"So the notion that you can sack a first-rate ambassador to replace him with a politician who is at odds, most of the time, with Theresa May and her Government and would be beholden to Trump is barking mad."
He told The Independent that the situation was "most unusual", adding that he knew of "no precedent" where a President-elect of the United States had ever suggested to the British government that a certain candidate would be good as British ambassador.
He added: "Secondly, I'm not aware of a President-elect or a President even suggesting privately that such a such a candidate might be good as ambassador. It is pretty uncharted territories and it's quite a surprising intervention by the normal standards but by the standards of Trump, I suppose it is par for the course.
"Anyway, you can't have a US President, any more than any other president, suggesting to us whom we should appoint as our ambassador in the capital of the country concerned, because the first duty of any ambassador is to his or her country, to his or her own national interests."
Sir Christopher said Mr Farage would be "hopelessly compromised being beholden to Trump when he should be 100 per cent beholden to his own Government".
However, he dismissed that the unexpected episode would be the cause of any diplomatic row between Ms May and the President-elect, adding he'd be "astonished" if it did so.
World reaction to President Trump: In pictures

Show all 29
He was more concerned about the precedent being set by Mr Trump. He said: "The principle that a nation can appoint its own ambassador to another country without the president of that country saying, 'oh by the way, I'd like so-and-so in the embassy' – it doesn't matter whether it's Trump or Farage that principle, in my view, is sacred. And that is what is fundamentally at stake.
"I think Trump is going to give us a lot of surprises like this, simply because he's never been in Government before and he likes tweeting in the wee small hours."
Asked whether it places the current ambassador in an awkward position, Sir Meyer replied: "If I was in Washington I would find it a bit awkward, but the most important thing for me would be to know that behind my back the British Government were standing four-square behind me."
Earlier on Tuesday MPs in the Commons mocked the suggestion by asking the Foreign Secretary to recommend Hillary Clinton, the former Democratic nominee for president, for the role.
Sir Simon Burns, the Conservative MP for Chelmsford and a lifelong supporter of the US Democratic Party, poked fun at the tycoon's "extremely generous" advice. Speaking in Foreign Office questions, he said: "Although there is no vacancy, would the Foreign Secretary think this is extremely generous of Donald Trump to suggest who should be our ambassador in the United States?
"And in that measure of fraternity, might he suggest that the best person to fill the vacancy of the ambassador to the United Kingdom next year would be Hillary Rodham Clinton?"
Join our new commenting forum
Join thought-provoking conversations, follow other Independent readers and see their replies